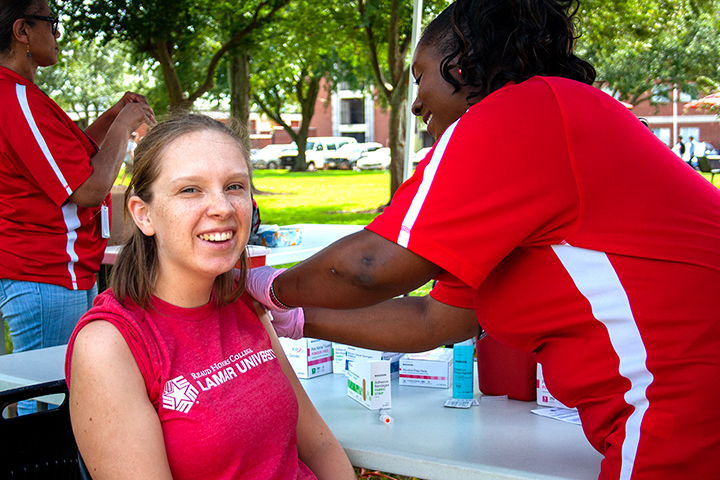 The Student Health Center is providing flu vaccinations for $20 for students and $30 for faculty and staff until Dec. 6. to bring awareness to the importance of influenza vaccines. The university has joined a national campaign to address the issue.
"Get your flu shot," Danette Dover, assistant director for medical services said. "Not only is it helping you, but it is protecting those who cannot get a flu shot. It's protecting young children — for those who have young kids at home. Maybe if you live with your elderly grandparents, you're protecting them too in case you get sick because it spreads so easily."
Called "Alana's Challenge," the campaign is a competition to increase flu vaccination rates among college students. Students, faculty and staff who have been vaccinated are encouraged to fill out the survey online at bit.ly/AFNationalFluChallenge2019 to document their vaccination. The three institutions – based on size (small, medium, and large) – with the greatest number of surveys completed will be presented with the Alana Yaksich Memorial Trophy.
The story of the challenge is a cautionary tale about the dangers of influenza. Alana Yaksich in 2003 was a 5-year old that contracted the flu and within a matter of hours developed a 106-degree fever and subsequently died from swelling and injury to her brain.
Her parents had not vaccinated her, and wanted their story to be a way to advocate young people getting flu vaccinations.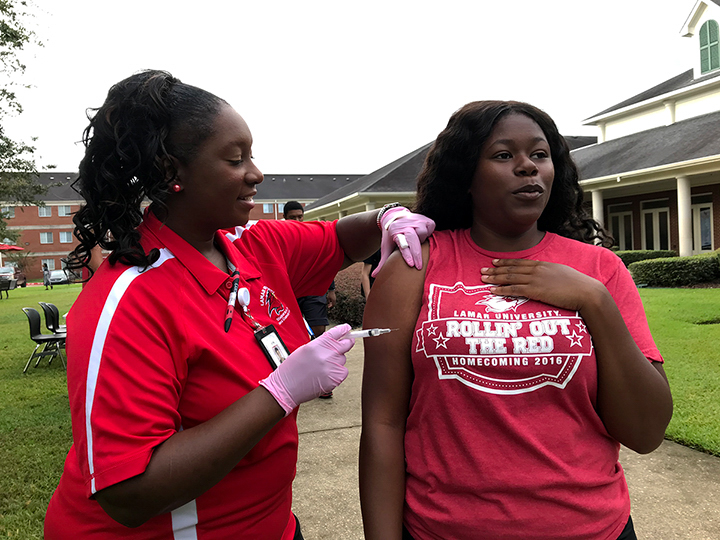 "I was on the CDC (Centers for Disease Control and Prevention) website this morning, and last year there were over 60,000 people in the United States who died from influenza," Shawn Gray, director of the student health center said. "Influenza can be deadly, so we want to make sure the students are not at harm. We are protecting not only the students themselves, but we also offer this to faculty and staff."
Dover said if somebody wants to get their flu shot, they have two options. When the Student Health Center is set up outside of the dining hall, people can walk up to the tent, fill out an information page, get their flu vaccine statement, get their shot on site and help themselves to some snacks.
The second option involves going directly to the Student Health Center clinic and getting a flu shot there. Staff will provide students, faculty and staff with appointment information then.
She said the two main reasons people don't get their flu shots is because they don't like needles, or they believe the flu shot will give them the flu.
"The flu shot will not give you the flu," she said. "It is an inactivated virus. A lot of times when people complain about feeling a little achy and stuff — your body is doing what it's supposed to do. It's reacting to that shot and it's building up your immunity so that hopefully when you get into contact with somebody with the flu, you will not get sick. If you get the flu after you get the flu shot, it's because you were exposed before you got the shot."
Dover said after last year's flu season, the clinic noticed the number of flu shots on campus were low compared to the number of students in attendance. In response to this number, the university joined the Alana's Foundation's challenge.
She said that in order for this challenge to be successful, the workers at the clinic decided to go out onto the campus grounds to be where students see them. She said that so far, they've had a wonderful response.
Gray said the rate at which vaccinations are being given this year are just ahead of the rate that they were being given last year.
For more information contact the Student Health Center: 409-880-8466 or dept_healthcenter@lamar.edu