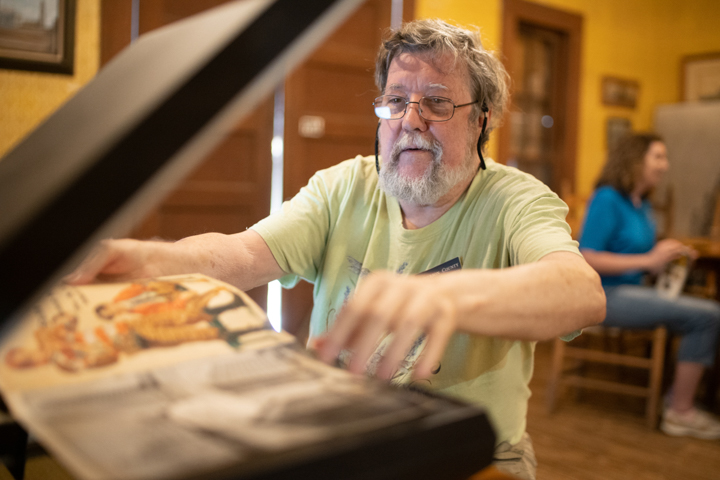 Community members donated artifacts, objects, documents and images tied to the history of Lamar University to Spindletop Gladys City Boomtown Museum, Oct. 5. The heirlooms were collected by the Center for History and Culture of Southeast Texas and the Upper Gulf Coast to be documented and shared at the university's centennial celebration in 2023.
"In many ways, the history of LU is the history of our region," Brendan Gillis, assistant professor of history, said. "The university counts nearly 90,000 people among its alumni. For many Southeast Texans, it has created opportunities that would not be available to them anywhere else. And each one of these stories matters. Understanding Lamar's history will help us better understand ourselves, our community, our culture and our economy."
Gillis said that about 30-40 people attended the event and a approximately 40-50 historical items were documented.
"People brought all sorts of different memorabilia, everything from a 1930s Lamar College football uniform to a scrapbook of college memories," he said. "Every object, photograph and document helps us begin to piece together a better understanding of each era in Lamar's history, so it may take a while for us to fully grasp what we can learn from them."
Gillis said the most interesting items collected were two copies of an unofficial Lamar student magazine from the late 1930s, called "Hawk-Eye."
"None of the historians or archivists on hand had ever heard of this particular publication before, let alone seen a copy," he said. "This likely has something to do with a disclaimer included on the first page, "'Although published by students of Lamar College, this magazine is absolutely independent of the College.'" To me, at least, this seems to hint at an interesting story, and I can't wait to learn more."
Gillis said the CHCSTUGC is planning to repeat the event in the hopes that they will collect more artifacts.
"In the meantime, we'd love to hear directly from anyone out there with a Lamar story they'd like to share," he said.
For more information, contact bgillis@ lamar.edu.