Triple threat leads Southeast Texas Showcase
Lamar University gained three new drum majors for the Southeast Texas Showcase, LU's marching band. Olajuwon Taylor, Melissa Ehrlich and Meredith De Leon are ready to stand tall while leading the band during halftime performances.
Eric Shannon, director of athletic bands, said the three-man team is all new since last year's drum majors graduated.
Shannon said instead of having ranked drum majors, all three are equal.
"We intend to allow them to rotate to different podiums, so they all have a chance to be the center," he said. "The center conductor is the main focal point and everyone, including the other drum majors, looks to that main person for tempo and for changes.
"We do this now, because as a program, we found we were underutilizing great talent who had won assistant drum major (positions), and were never really getting a chance to gain that experience, or for the band to get the benefit of their particular approach or skill set."
Shannon said the three drum majors all have different strengths and weaknesses, both musically and socially.
"I think having them equal allows all of them to feel like they can employ those skills without deferring to a head drum major, who then goes to a director," he said.
The drum majors have multiple physical and ethical tasks during the year, Shannon said.
"Their main job is to conduct the band at halftime shows, stand-still concerts, and every rehearsal," he said. "The main leadership role is to set a good example for the other band members of how to be responsible and positive. That is all you could really ask for. I think, too, to demonstrate the level of how we want to do things here by conducting well and marching well to get that position."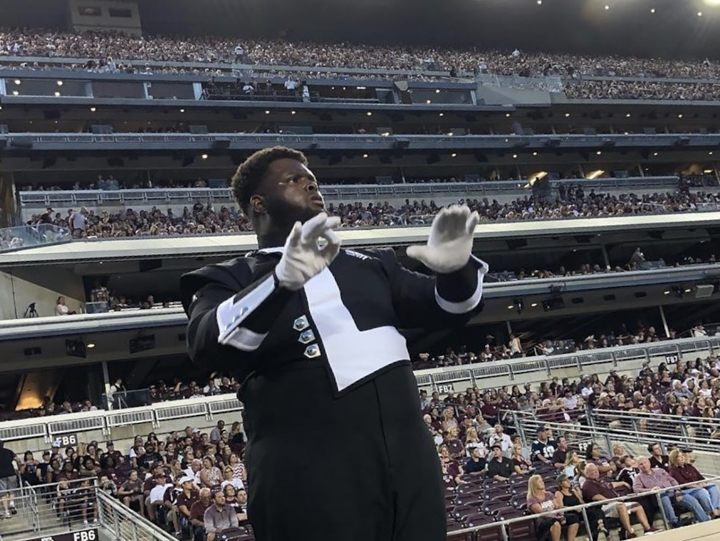 Olajuwon Taylor, Buna junior, is a music education major and has been playing drums since he was seven-years old, and has been a percussionist since sixth grade.
"My parents just bought me a drum set," he said. "I just started messing around with it and got hooked from there."
Taylor said he felt qualified for the role from previous leadership positions he has held.
  "I was a drum major in high school and I loved it, so I wanted to be back in that realm of things for marching band," he said. "I was drum line captain and section leader, too, in high school.
"Freshman year of college I was on the drumline, and sophomore year I was in the front ensemble — or the pit as they call it. I worked with Buna bands to gain teaching experience and that helped me muster up the courage to audition for drum major for Lamar, because I felt like if I could handle some wild seventh graders, I could handle this gig."
Taylor said he wants to be a band director and eventually a symphony conductor. He said he has great faith in the band.
"The band does not necessarily need help, but just some strong guidance in a way —  someone positive on the podium, someone stern and passionate," he said. "So, I feel like that is how I can contribute."
Taylor's goal is to promote the individual musicians' self-confidence.
"Keep the music alive," he said. "Always keep trying to perfect your craft. Keep trying to be the best you can be, because the more you know the more you can help someone else."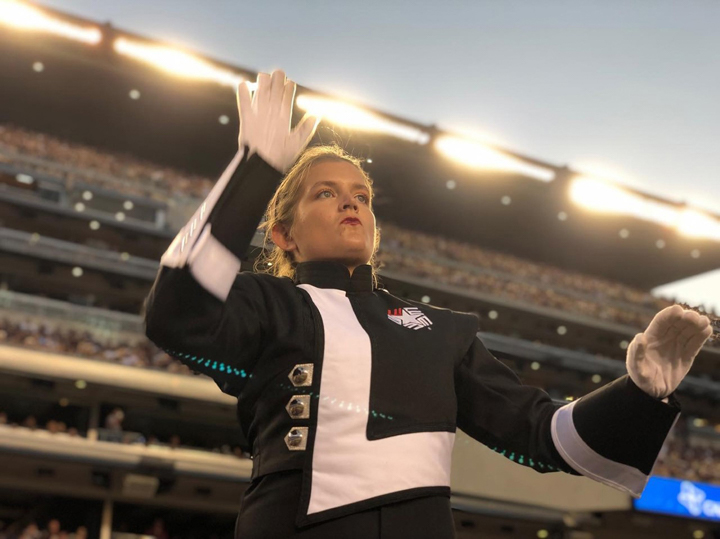 Melissa Ehrlich, Flower Mound senior, has played French horn since she was in sixth grade, but said she has been involved with music since she was born.
"My grandpa sings in a choir, my brother played trumpet, and my family was basically the reason why I went in a musical direction," she said. "My brother playing trumpet inspired me to play a brass instrument, so I chose French Horn because I didn't want to play the bigger instruments like tuba, baritone, or trombone. So, I only had one option left really."
Ehrlich said she feels prepared to serve in the band's highest leadership position.
"Junior year, I served as the band librarian," she said. "My senior year, I served as squad leader, which is like a type of section leader. And in the Showcase, I have served as a mellophone section leader for the past two years.
"Being an education major and being a drum major goes hand in hand with educational and teaching experiences."
Ehrlich said she hopes to establish a culture in the band that is hardworking.
"But (a culture that) is also passionate and loving, because everyone knows that your showcase is your home or your break, because you get to have fun but also learn to work hard," she said.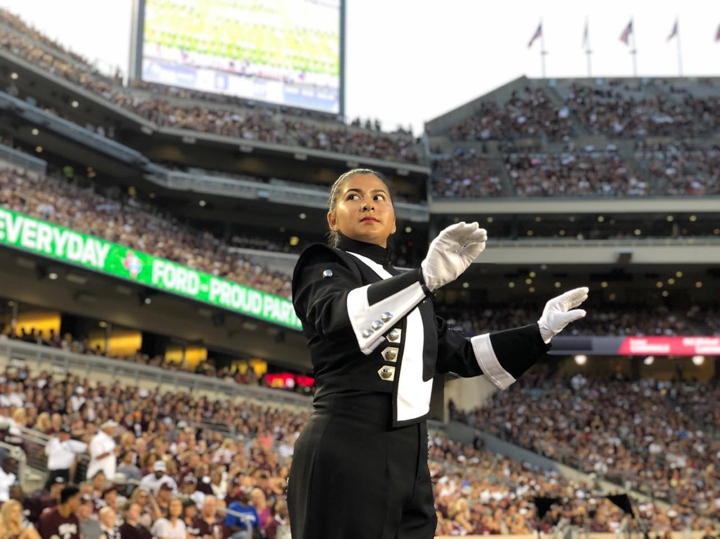 Meredith De Leon, Baytown senior, is a music education major who plays French horn and has also been a mellophone section leader for the past two years.
De Leon plans to be a high school band director.
"I want to be able to have a prestigious band, but most importantly, I want to help kids who were like me," she said. "The small kids, the bullied kids, the ones that didn't have a lot of friends — find something they are good at and something that they love and have a passion for, so, hopefully, they can go on to do the same thing and be music educators."
De Leon said she expects the band to be more energetic than in previous years.
"I want this year to be fun," she said. "I want people to enjoy being in band, even though it is hot and we have late rehearsals, but that is part of the experience and it is important. I want the Showcase to share the same love for all of it."
De Leon aims to inspire through her actions and attitude.
"I have been told, whatever I feel I tend to pass it on to those around me, so I try to stay with a positive attitude and hype people up to let them know it is OK to dance around a little and not be so serious, because you can have fun and do work, too," she said. "All three drum majors are pretty good about hyping people up, and I think that will be very helpful this year."
De Leon said all three drum majors have prepared to ensure they are the best leaders they can be.
"I think that having all new drum majors has helped, because we are all learning together and listening to each other to figure things out," she said. "We have practiced on our own and practiced together once band camp week came. We practiced in front of mirrors and in front of each other, so we can give each other critiques just to make sure we are as prepared as we can be for conducting them, so they can have something reliable to watch."
De Leon said her philosophy is one of perseverance.
"Just keep doing it," she said. "After doing it one season, people (may) think they do not like it, but I think in order to get a good idea of something you have to do it multiple times to give it a fair try. There is always going to be something that makes you not want to, but if you have to do it anyways you might as well be positive.
"Even I don't love everything about marching band, but the activity as a whole I love. So just try to find that one thing that makes you love it, because that is what is important."
For information, visit, www.lamar.edu/marching band.