Road trip, guitar picks and Dean Winchester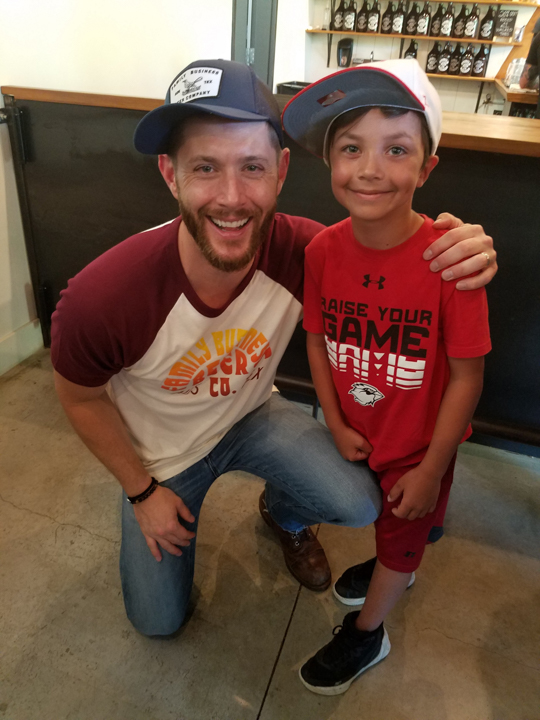 DRIPPING SPRINGS —I sat in front of my computer with multiple tabs open, ranging from "Supernatural" convention ticket prices, air fares and hotel rates, and feeling at a loss with the lack of money in my bank account to pay for a trip to meet Jensen Ackles, who plays Dean Winchester in the TV show "Supernatural."
I really wanted to surprise my 9-year old with a birthday treat to see his favorite fictional hero, but it looked like I was going to have to settle for a bounce-house party.
Then I saw a Facebook post that the Family Business Brewery, owned and operated by Ackles and his family, in Dripping Springs was set to celebrate its first Family Reunion Festival from May 31 to June 2.
The site did not promise that Ackles would be attending, but it was the only shot I had.
The day school let out for summer, Gabriel skipped the farewell day and was riding shot gun, fueled on angel food cake and excitement. After five hours on the road, we made it to the brewery.
When we walked through the barn doors, I heard Dean's laugh before I saw his face. He looked up and locked eyes with me and smiled a welcome to me before turning his attention to his other guests.
I looked behind me and realized that my son had not yet spotted his hero.
"Dean Winchester is standing right behind you," I said.
Gabriel quickly flipped around and locked eyes on his hero — then ran as fast as he could in the opposite direction.
He made it to the double doors before I caught him. He looked overwhelmed and I had to wait for him to catch his breath. We walked together to Ackles. I intended to introduce them, but my son just shook his hand, introduced himself, and they both turned to me to take a picture. As I fumbled for my phone, Ackles turned up both his and Gabe's hats and they had the biggest smiles on their faces.
They spoke about the 1967 Chevy Impala that Dean Winchester drives, and when it would be at the brewery. Before we left, Gabe asked Ackles if he would be there again tomorrow, and Jensen said yes.
During our adventures the next day, we came across a music store with graphic T-shirts and guitars, with classic rock coming from the building.
Gabriel spotted a collection of guitar picks and picked out a bag, insisting that he use his birthday money to buy Dean a present. He clutched his little bag and wouldn't let it out of his sight until he saw Dean.
When we got back to the brewery, the band on stage was in full swing, and the festival was packed with both people and dogs.
We sat down by the playground, my son still holding his bag, when he saw Alan, a tour guide for the brewery, and asked him when Jensen would be there.
Alan looked at him with a twinkle in his eye and a grin on his face and said, "I definitely can't tell you that It will be after five o'clock."
He walked away laughing as my son tried to follow him, clearly not understanding his cryptic answer. I grabbed Gabe and told him that Ackles would be there in less than two hours.
When Jensen arrived, the crowd went wild and we got stuck in a mob of fans. As we made our way out, we noticed that Ackles had snuck from the crowd and was on the back porch of the brewery.
I pulled my son to the back of a small line that formed and waited for our turn to talk to Ackles again.
When it was our turn, Gabe told him that he bought him something for his guitar. He and Ackles high fived, took pictures and talked for a minute before Gabe, pleased with his hero's approval, took off for the playground.
On our way home, my son held my hand and said, "Mommy, I can't explain to you how happy I am. I am more than happy right now. Thank you for being my mom."
As I drove back toward Southeast Texas, I was grateful that a big, famous actor had lived up to the expectations of a little boy. And that his mom was his hero, too.