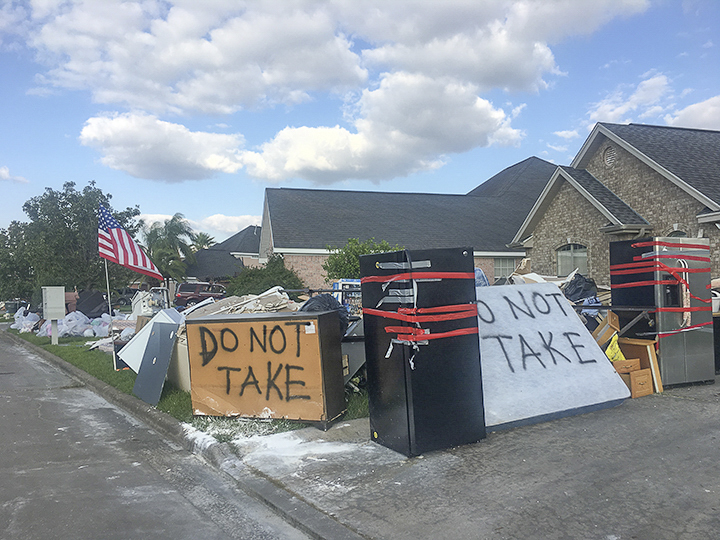 Two years after Hurricane Harvey dumped record rains on Southeast Texas, some students and their families are still recovering. LU Strong provides assistance to students recovering from the storm's effects. The office is located in 230 Setzer Student Center.
"Students began receiving funding from LU Strong in March of 2019," Judith R. Mann, executive director of  LU Strong, said. "Recovery services are available to affected students from grant funds from Department of Education, which is $500,000, and Rebuild Texas/Qatar Harvey Fund, that totals $1.1 million."
Individualized plans are developed to meet the concerns of the student.
"Services include financial assistance, mental health support, resilience workshops, case management, and campus and community resource referrals," Mann said. "Financial assistance can potentially take the form of support for tuition, books, academic supplies, mental health treatment, housing, food, childcare or other needs."
Mann said once the students have been accepted for funding, their progress and needs will be monitored. Funds will be contingent on students being enrolled at the time they receive funding, so current, transfer or returning students are eligible. Students must be enrolled in at least three credit hours including any combination of online, campus and mixed schedules.
Students must live in one of the 41 counties which are considered to have been affected by Hurricane Harvey and have financial hardship that has been directly caused by the storm. 
Students must be in good academic standing, be in good student conduct, must have utilized all current awarded financial aid and must have completed a FASFA , even if they do not qualify.
Students must complete all questions on the application with documentation supporting Hurricane Harvey losses. 
"Everyone that applies to LU Strong is treated as an individual," Mann said. "It has been two years since the storm, but we know that many people are still living with the after-effects on a daily basis. We have a team that works hard together to make sure that every student receives the support they need."
Mann said students must complete an electronic application on the LU Strong website and post their supportive documentation.
"Next, they will be contacted to schedule an intake interview," she said. "These interviews can take place either face-to-face or by phone, as Lamar University students that have been affected by Hurricane Harvey live throughout the Gulf Coast region. A financial aid specialist will assist in the intake interview to coordinate the maximization of resources. The person who completed the intake interview will present the student's application and recommend interventions to the decision team."
Mann said an individualized plan will be developed and financial awards will be made once resource referrals are completed.
"Cases management, resilience workshops and program specific services, such as support groups, continue," she said.
To fill out an application, visit lamar.edu/lustrong.