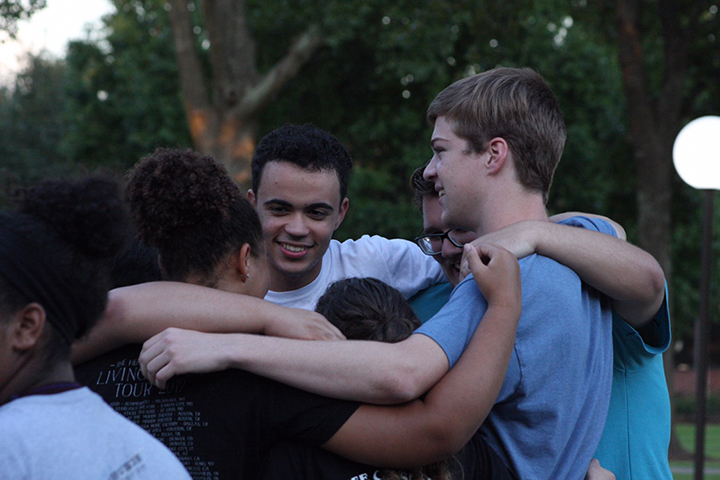 Sojourn College Ministry, a Lamar University campus student organization, has introduced a new program, Freshman Adventure Time, that allows freshmen to meet students of all classifications and become familiar with campus and the Beaumont area through games and activities.
"The goal for Freshman Adventure Time is that freshmen would connect with one another, that they would create good, strong community here on campus, and that they would be connected with upperclassmen who could help lead them," Daniel Carpenter, pastor of Sojourn Community Church, said.
Carpenter said the goal is for participating freshmen to become mentors themselves.
"(I hope they) grow into upperclassmen that would want to pour into other freshmen next year," he said. "We see this as a way to set up a mentoring situation where there are people that are getting to know upperclassmen, who are helping them find their way around campus, and just having a great time."
The first Freshman Adventure Time event was a clue hunt, Aug. 28, where teams of three freshmen and two older students received video clues leading them to a location on campus. The first team to find and take a picture at each location received a $250 prize. Following the hunt, participants met at the John Gray Center for ice cream.
"I think everybody had a lot of fun, and, of course, there was ice cream — more than that though, I think we made some really good connections with the freshmen," Grace Granger, Groves junior and one of the program's organizers, said. 
Anna Shaffer, Beaumont sophomore, said the events have impacted her relationships with freshmen.
"A lot of times, the first week of school can be crazy, and I really think the beginning of when school starts is when you need to draw freshmen in," she said. "We really did draw in a lot of freshmen that were interested."
Shaffer said she enjoyed getting to know freshmen in a competitive atmosphere. Emmalee Calvert, Dripping Springs senior, said Freshman Adventure Time has made it easy for her to meet freshmen.
"The majority of freshmen I know are from Freshman Adventure Time," she said.
The second event was a water balloon fight in front of the Dining Hall. It included games such as Capture the Flag, Lava Medic and The Hunger Games.
"These events provide another opportunity to come out and have some fun, get a break from studying, and connect with other freshmen, and connect with Sojourn leaders," Granger said.
The next Freshman Adventure Time will be a mini-golf tournament at Colorado Canyon, Oct. 2 at 7 p.m.
Following that, will be a Quidditch tournament, Oct. 9. Future events will alternate every other Wednesday at 7 p.m.
"I'm super excited for that — I think it's going to be great," Granger said.
For more information, visit Sojourn College Ministry Facebook and Twitter and Instagram @sojournlu.