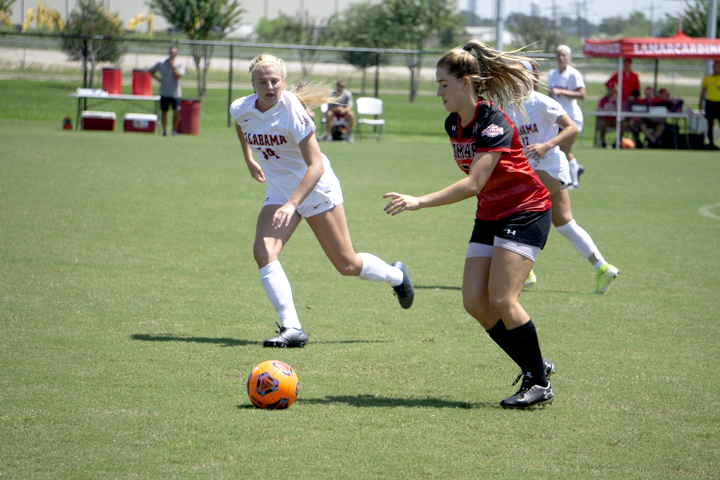 The Lady Cardinals soccer team lost to the Alabama Crimson Tide, 5-0, Sunday at the LU Soccer Complex. The Cards fall to 1-3 on the season.
"We know that Alabama is one of the top teams that we will play this year," head coach Steve Holeman said. "They had very good possession, and on a day where it is 95 degrees possession is critical, so we chased the game a bit."
In the first half, the Crimson Tide controlled play throughout. In the fifth minute, Alabama forward Carly Wyatt fired a shot to the bottom right corner that was saved by LU goalkeeper Jocelyn Hanrath. However, Alabama forward Gabby Duca got the rebound and scored the first goal of the game. In the next minute, Duca found forward Casey Wertz for the second goal.
Following the two goals, the Cardinals got their first shots of the game, both by forward Lucy Ashworth. The first went over the bar and the second was saved by Alabama goalkeeper Alex Plavin.
Alabama grew its lead 15 minutes into the game when midfielder Kat Rogers scored. The Cards had three more shots in the first half. Ashworth had a shot go wide left of the goal, midfielder Juana Plata had a shot blocked by Plavin and Meg Sheppard hit over the top right of the goal. After 45 minutes, the Cardinals trailed 3-0.
In the second half, the Cards came out and fired two shots in the first four minutes. Ashworth put a shot wide right in the 48th minute and in the 49th minute she fired over.
"We had some moments at the start of the second half," Holeman said. "We pressured them a little bit and created some chances."
In the 71st minute, a foul was called in the box on LU midfielder Ali Hebert resulting in a penalty kick. Alabama midfielder Carlee Giamona took the PK and LU goalkeeper Sandra Nygard was unable to save it, putting Alabama up 4-0.  In the 83rd minute, Wertz found forward Riley Mattingly in the box and she turned a shot past Nygard to complete the scoring.
"At the end of the day, we are too thin of a roster to maintain that level for 90 minutes," Holeman said.  "However, we can certainly take some positives from this game. The plan when we scheduled this game a year or two ago was to get ready for conference play. There is no one in the Southland Conference that is as good as Alabama and our team knows that. "
The Lady Cards will play their first game away from home, Sept. 5, when they travel to Fayetteville, Ark. to take on the Arkansas Razorbacks. Kick off is set for 7 p.m. at Razorback Field.
"We have to recover and get healthy," Holeman said. "The game on the road is a great way for the team to get away from home and create some team bonding. Last year Arkansas was undefeated at home and one of the top team's in the country. We just have to maintain our mentality and know that there is a purpose to all of this."