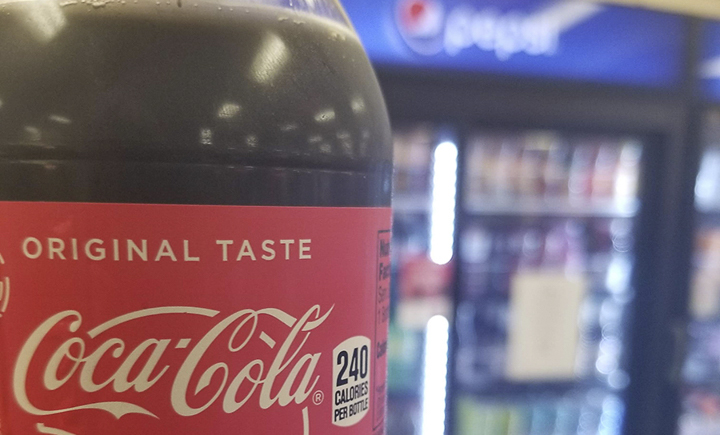 Students may have noticed there's a big change in the Dining Hall, the Setzer Student Center, the bookstore and vending machines around campus. Instead of the regular red Coca-Cola coolers and fountains, in their wake are bright blue PepsiCo coolers.
This is because Lamar University's contract with Coca-Cola ended Aug. 31, Amberr Melo, contract manager, administrative services at LU, said.
"Early in 2019, Lamar began the formal solicitation process and in April 2019 released a Request for Proposal (RFP) to the public in order to execute a new services contract," she said. "The successful respondent with the overall highest weighted average score is then awarded the opportunity to contract with the university.  In this instance, PepsiCo was the awarded vendor."
The respondent's bids go to a formal review and evaluation process conducted by an evaluation team, Melo said.
"Each team member independently reviews packets submitted by respondents for that particular RPF," she said. "Each team member then provides a numeric score based on set weighted criteria listed in the RFP."
The switch follows the end of Coca-Cola's almost 20-year partnership with the university.
"Coca-Cola won the last two bids and has been the exclusive pouring rights vendor for approximately 20 years," she said. "We are excited for the new partnership with PepsiCo, and look forward to the changes and new beverage offerings around campus."
The student body has had varying responses to the switch.
"Pepsi is superior in every way to Coke," Keith Ruggles, Silsbee senior, said. "Pepsi owns Mountain Dew, Gatorade, Brisk, among others. I'd say, personally, I prefer Pepsi products over Coke products."
However, not all responses have been positive.
"I'm not a big fan of Pepsi products," Ana Plake, Vidor junior, said. "There's nothing like a Coke after a long day of classes."
Products owned by PepsiCo that are already making appearances around campus include Lay's potato chips and bottled Starbucks drinks which can be found in vending machines across campus.
"This past Friday, a new Pepsi Spire digital fountain machine was installed in the Setzer Student Center food court," Melo said. "Now drinks can be personalized with various flavor shots."
Other PepsiCo products include Lipton teas, Propel water and Aquafina, among others.
The contract transition comes at the beginning of a new semester, leaving the university with left over Coca-Cola products it had purchased in preparation for the upcoming semester. The university requested the ability to sell the remaining competitor products so departments would not be out money preparing for a new semester. PepsiCo honored this request.
­­With the remaining time left, the university is selling discounted Coca-Cola products in the Barnes and Noble bookstore for $1.