NFL backup QBs Brees Bridgewater, Rudolph take rein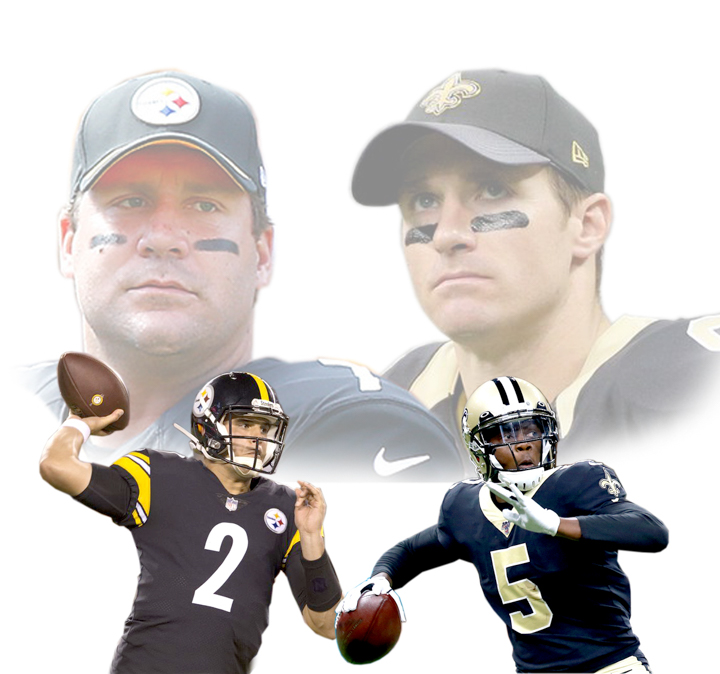 NFL fans were hit with heartbreak, Sept. 15, as quarterbacks Drew Brees of the New Orleans Saints and Ben Roethlisberger of the Pittsburgh Steelers both left their respective games with injuries.
Brees left the game late in the first quarter against the Los Angeles Rams when his right throwing hand made contact with Rams defensive tackle Aaron Donald's hand at the end of an incomplete pass. Brees was later seen in full uniform, with his right thumb, along with his lower hand and wrist, taped and did not return to the game.
On Sept. 18, Saints head coach Sean Payton announced that Brees would likely miss at least six weeks due to surgery and that backup Teddy Bridgewater would take his place as quarterback.
Roethlisberger, on the other hand, came off the field against the Seattle Seahawks, grabbing his right elbow on his team's final drive of the first half. Roethlisberger previously had complained of arm soreness in the Week 1 loss to the New England Patriots. Steelers head coach Mike Tomlin announced Sept. 16 that Roethlisberger would require season-ending surgery on the elbow.
On Sunday, ESPN reporter Adam Schefter reported that Roethlisberger would not require the dreaded Tommy John surgery that is common with Major League Baseball pitchers. Roethlisberger is expected to be ready to go for the 2020 season.
The main question on fans' minds is, what does this mean for both teams in regard to their quarterback situation?
For the Saints, they have backup Teddy Bridgewater, who is the highest paid backup QB, with a one-year, $7.25 million deal. Bridgewater led the game against the Rams in Brees' absence, going 17-of-30 for 165 yards, in their 27-9 loss to the Rams.
Bridgewater is a seasoned quarterback, having had a stint with the Minnesota Vikings from 2014 until March 2018, when he signed a one-year contract with the Jets only to be traded five months later, along with a 2019 sixth-round draft pick, to the Saints who offered up a 2019 third-round pick.
For the Steelers, they relied on backup Mason Rudolph, who went 12-of-19 for 112 yards, two touchdowns and an interception, as they lost to the Seahawks, 28-26. Rudolph was named the starting quarterback to replace Roethlisberger. Rudolph was drafted by the Steelers in the third-round, 76th overall in the 2018 draft, and has not had any experience leading a team except in college at Oklahoma State University.
The Saints have a better chance of being successful for the reminder of the season with Bridgewater and his experience being a starter. He proved that Sunday, completing 19-of-27 passes for 177 yards and two touchdowns, defeating the Seahawks 33-27.
Bridgewater has a solid core around him in three-year veteran running back Alvin Kamara, wide receivers Michael Thomas and Ted Ginn Jr., and tight end Jared Cook. Those guys are a solid threat on the offensive side and have proven that they can get the job done with Bridgewater under center.
However, when it comes to the Steelers and the younger, less-experienced Rudolph, their season will be a challenge. Rudolph struggled in Sunday's 24-20 loss to the San Francisco 49ers, going 14-of-27 for 174 yards, two touchdowns and one interception.
The Steelers have relatively strong receivers in JuJu Smith-Schuster, Donte Moncrief, James Washington and Ryan Switzer, a strong run game with James Conner, and tight end Vance McDonald. In all honesty, the Steelers will not have a winning season with Rudolph under center, unless Rudolph can prove he can handle the league and reduce the mistakes.
Fans will not have to worry about the Saints with Bridgewater and, hopefully, Brees can recover in six weeks and return strong and be ready for the playoffs, because Brees needs to avenge the heartbreak he faced in the NFC championship game versus the Rams.
I would like to be wrong about Rudolph's performance with the Steelers — but I doubt I am.