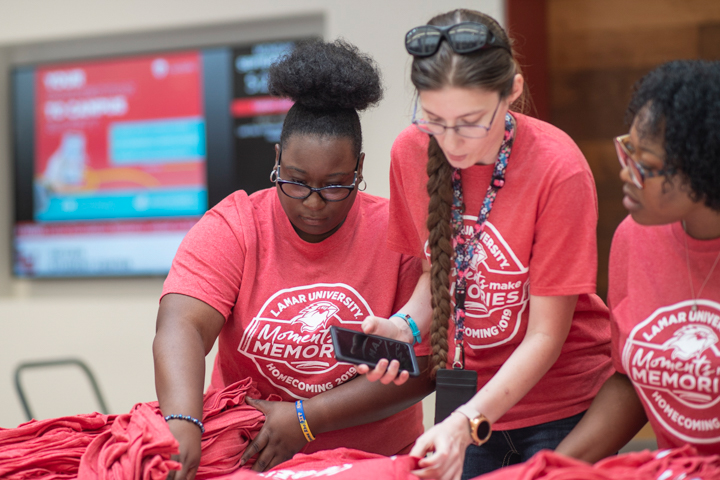 Homecoming week is in full swing. The Lamar community is encouraged to participate in the various events hosted by the university.
Royal Court candidates were announced at the Homecoming kick off, Monday.
"The significance of the Royal Court is to highlight the best leaders of your organization," Canaan Daniels, associate director of programming and events, said.
Voting for homecoming court ends today. Students can find a voting link on Orgsync or banner.
"We will also have polling booths the week of Homecoming," Daniels said. "Those will pop up around noon, at the Setzer Student Center, and then at our events as well, so people can go in and vote."
All winners except for the king and queen will be announced at the bonfire tomorrow. The bonfire will start at 6:30 p.m., weather permitting.
The king and queen winners will be announced at half time of the Homecoming football game Saturday.
"They get the title, win sashes, crowns, and scepters that say Homecoming 2019 on them," Daniels said. "We also always invite last year's winners back to campus to announce the winners of the new king and queen."
The Pep Rally tomorrow is a returning tradition.
"Students can expect to hear and watch the dance team, the cheerleaders, the marching band and the football team," Daniels said.
Daniels said he encourages organizations to join the Alumni Tailgate on Saturday.
"Students organizations can tailgate any game they want to," Daniels said. "Right now, we have over 20 organizations that will be tailgating at it. Athletics has created a new area called Cardinal Alley. They have corporate sponsors, free food, giveaways and things of that sort. We always have live entertainment. The student section will have a DJ, free food, water, snacks and things of that sort as well."
Other events include late-night breakfast and the Homecoming comedy show at 9 p.m., today.
All events are free to attend.
"Anyone can attend and watch the student's events," Daniels said. "But to be a part of the competitions you have to a part of a student org."
The Homecoming game against Southland Conference rivals Stephen F. Austin will be Saturday, and there will be many activities leading up to the game, including the parade that will begin at 2 p.m.
"In 2014, President Evans asked me to head up a group that would plan Homecoming activities that would enhance the Homecoming day experience," Horton said. "That is when we had our first Homecoming parade, and from that 2014 event has grown the art extravaganza and activities provided by the Lamar University art department, art studio and the Art Museum of South East Texas."
Also scheduled is Big Red's Ride Classic and Antique Car Show at Spindletop Museum.
"It is a free car show for anybody that has a car that qualifies," Horton said. "They do not have to pre-register and we have great prizes. We also have shuttle buses running that will take people out from the parade and fan fest site, so people do not have to get back in their cars and drive out there."
In addition to the regular tailgating, organizers will be bringing in Homecoming Fan Fest, Horton said.
"We will have live bands from noon to 5 p.m. including Champagne Room and The Flavor band," she said. "We will have food vendors and activities provided by community organizations and museums."
In the event of rain, all activities will be moved to the Montagne Center.
"A parade and a car show are outside activities, so we just have our fingers crossed," Horton said.
Horton said that President Evans is committed to Homecoming being the day we celebrate Lamar.
"Our goal is to create a full day of activities for people who might not already be on our campus tailgating," Horton said. "Homecoming is something everybody can be happy about — it is one big celebration for our students, our alumni, our community and our faculty and staff to celebrate Lamar University altogether in a fun way."
For more information, visit www.lamar.edu/homecoming.