Brown's bad behavior earns move from Raiders to Patriots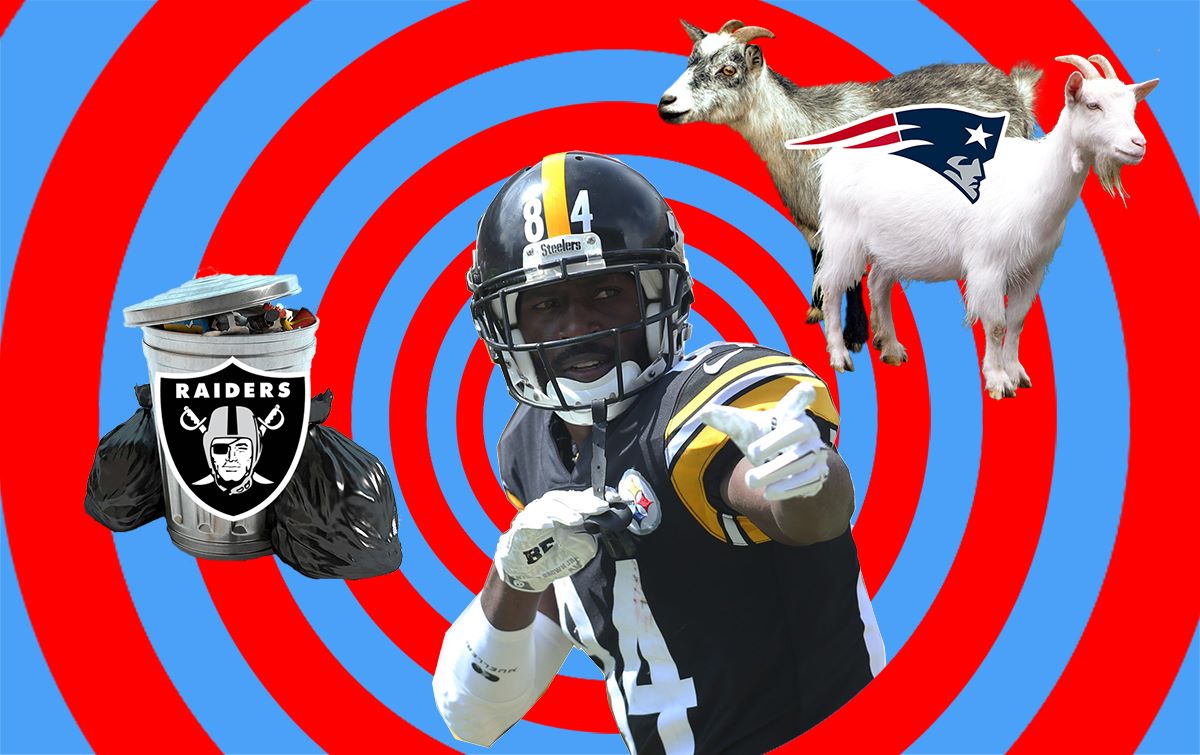 Current New England Patriots wide receiver Antonio Brown has made the headlines a lot recently for his dissatisfaction with NFL rules and regulations.
Brown's downfall started on March 13, when his former team, the Pittsburgh Steelers, decided to trade him to the Oakland Raiders for third- and fifth-round draft picks.
He was given a three-year, $30.1 million extension. Things seemed positive for the football veteran in May when he impressed the Raiders staff. Brown even said that head coach Jon Gruden "challenged" him, saying there were no gloomy days with Gruden.
However, in July, things took a negative turn when Brown showed up to the Napa, Calif. training camp with frostbite on the bottom of his feet due to a mishap earlier in the month, after not wearing proper shoes to a cryotherapy session.
A few days later, on July 30, Brown went to training and left early. He did not return for two weeks due to his foot injury — and his dissatisfaction with a new NFL regulation.
Brown protested the NFL's banning of the Schutt Air Advantage Helmet, which he had used throughout his career. The NFL banned the helmet due to its traditional foam, that the league found did not do enough to ensure players' safety. Brown preferred the helmet because he believed it enhanced his performance. 
We all might prefer to use our old, worn baseball glove that fits us perfectly, but eventually better technology comes along. Brown needs to realize that the better-equipped helmets might protect him in the long run and lessen the head injuries that he potientally could face. 
He was fined $40,000 by Raiders general manager, Mike Maycock, for his unexcused absence. Maycock later told reporters that he needs Brown to be "all-in, or all-out." Brown continued to protest and did not show up for team activities. Brown's agent, Drew Rosenhaus, suggested that he get an endorsement deal, and play on as per usual.
Brown took to Instagram on Sept. 4, posting a letter sent to him by Maycock detailing the original $40K fine and a new one for $13,950 that he received from skipping a pre-game walk-through.
On the same day,  Browns performed his drills indifferently, argued with strength and conditioning coaches, and fired a football into a nearby fence. Brown later got into a confrontation with Maycock, leading to him being suspended the next day for his conduct. The altercation set a voidance of his guaranteed money and a fine of $215,000.
Saturday, Brown asked that the Raiders release him — on his favorite social media site, Instagram — and the Raiders agreed. Only a few hours later, Brown signed a one-year deal worth up to $15 million, including a $9 million signing bonus, with the New England Patriots. The contract included $10 million guaranteed and $5 million in incentives. However, Brown did not play in Sunday's game against the Steelers, his former team.
Tuesday, Brown made the headlines again — this time he was accused of rape in a lawsuit filed just one day after he signed with New England. The lawsuit detailed sexual assualt against Britney Taylor, a gymnast whom he met at his alma mater, Central Michigan. The Patriots made a statement saying they would do an investigation as to whether Brown will face suspension.
As a sports journalist, when dealing with athletes, one knows one is dealing with massive egos.
Brown's attitude is unjustified, and he is acting immaturely. Athletes need to be held to a high standard and Brown falls short of the mark. 
Fans have speculated that Brown's behavior may stem from a concussion in the 2016 Wild Card game against the Cincinnati Bengals. Others feel his behavior was a stunt because he didn't want to be traded to the Raiders in the first place.
Brown wanted more money from the Steelers. He definitely knew that the Patriots would give him the money and recognize his talent as a player — and Brown definitely has talent. 
Given his track record, Brown will probably continue to be a problem, even for the six-time Super Bowl champion Patriots, under the tutelage of Bill Belichick, who is notorious for giving players second chances.
I hope that Brown is on his best behavior and still will be a solid receiver in the league. Only time will tell — I hope that he learns from his mistakes.