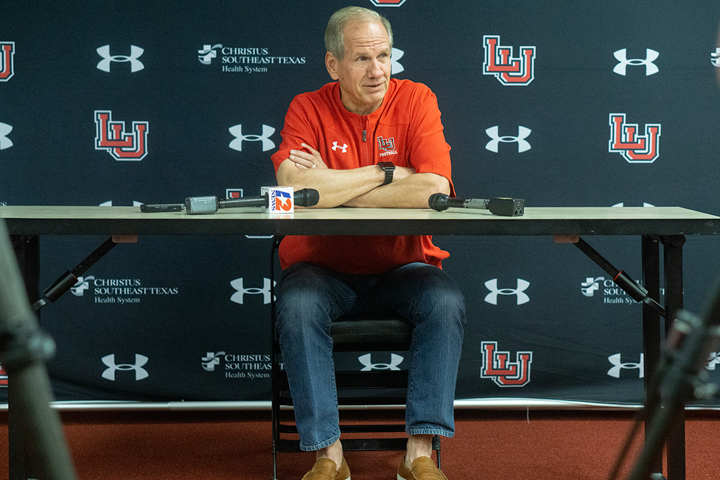 The Lamar Cardinals will return to winning ways at Homecoming, Saturday, after suffering a 45-34 Southland Conference loss at the hands of the Southeastern Louisiana University Lions last weekend. With the loss, the Cards are now 2-2 (0-1 SLC).
"I think we played extremely hard and pretty good against them," head coach Mike Schultz said in a press conference, Monday. "Down the stretch, it actually comes down to five or six plays, and they won those plays and we didn't. I felt that both teams fought hard and this is their best football team in the last three years since I have been here."
Schultz announced that linebacker Dallas Martin had suffered a torn Achilles tendon.
"He will probably be out for the rest of the season," Schultz said. "We are going to move forward and find a replacement and have that in play. Also, there are more players that we have that are on a wait-and-see basis on how well they will heal up."
Tropical Storm Imelda hit the Beaumont community hard. However, Schultz said the storm did not affect practice. "I am more concerned with the community," he said "People have made the comparison to Hurricane Harvey — that we got as much rain as Harvey. The thing that made the most impact from Harvey was the flooding, and when I hear that it makes me concerned for the community. I think it was a burden on everybody."
Flood water aside, the Cardinals will take on the Stephen F. Austin Lumberjacks for the Homecoming game.
"They are a big name on our schedule right now," Schultz said. "I know the first thing people are going to say is that Stephen F. Austin haven't won a game. They have been in every game, and every game they have played they had a chance except for one. Just by looking at them, they could easily be a 3-1 team.
"I know Colby (Carthel) leads a very successful team and he is a successful coach. His defensive coordinator does a terrific job of making small, neat adjustments very quick during the game. We have to make sure we come up with a great plan that we can address all of those things and make sure our scheme fits."
The Cards have not won a Homecoming game since Nov. 1, 2014, when they defeated the Houston Baptist Huskies, 72-14.
"We are going to approach this game like we have in the previous ones," Schultz said. "We are going to work through our process — there is no difference to us, I don't think you can do it that way. Our players and student athletes thrive and do best when they have great detailed structure. We are going to keep that structure, and at the end of the week that will give us our best opportunity."
The game against the Lumberjacks will kick off at 6 p.m., at Provost Umphrey Stadium. The game can be heard live on Newstalk 560 KLVI and will be televised on ESPN+.