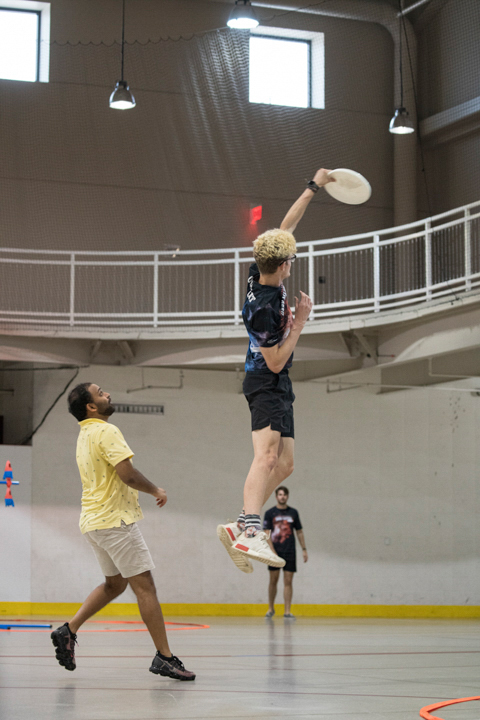 Intramural and Club Sports offer a variety of activities for students.
"(It is) a great way to stay involved on campus," Conner McCauley, Nederland junior, said. "It really helps you build the college experience, and make friends that you would never know you could have."
McCauley participates in the Ultimate Frisbee team that plays against other schools in the club league.
"Getting the opportunity to go play against other universities has been a great experience," he said. "The best tournament we have ever had was when we got to go compete against other schools at the University of Texas."
Intramural sports include basketball, volleyball and, flag football competitions. The Sheila Umpmphrey Recreational Sports Center hosts games including air hockey, table tennis and e-sports.
"E-sports is something, that if you've never gotten involved with sports, don't like sports, or if you're injured, you can still get involved with intramurals," Jenna Malone, recreational center graduate assistant, said.
E-sports involves students going head-to-head in games such as Madden or FIFA. Club sports include Ultimate Frisbee, soccer, baseball, tennis, mixed martial arts and archery. The club archery team is the national champion.
To sign up for intramurals, visit IMLeagues.com, find Lamar, and create an account. Students can sign up as a free agent and wait to be picked up by a team, or use the messaging tool to request to join a team.
For club sports, contact one of the team captains — information can be found on fliers —or log on to Orgsync to find the sports options.
"It's important to know that you don't have to be professional, or even good, to compete in intramural sports," Malone said.
Malone said the program is working on several new competitive activities, including cricket and basketball for club sports, and indoor wiffleball and archery tag for intramurals.
Allison Guckes, recreational sports graduate assistant, said archery tag is a spin-off from dodgeball, but instead of rubber balls participants try to hit each other with rubber arrows shot from plastic bows.
Guckes said archery tag is not yet a sport at Lamar, but the program is planning a tournament this semester with the date to be announced.
Rec Sports is seeking students to officiate intramural sports. Interested students should visit the office in the Rec Center. Officiating positions are paid positions.
Malone said the Recreational Sports Center is recruiting work study-eligible students to officiate games.
"They can start off at minimum wage, and eventually work their way up to be a supervisor and make $10 an hour," she said.
For more information, call 880-2306, or visit lamar.edu/intramurals.