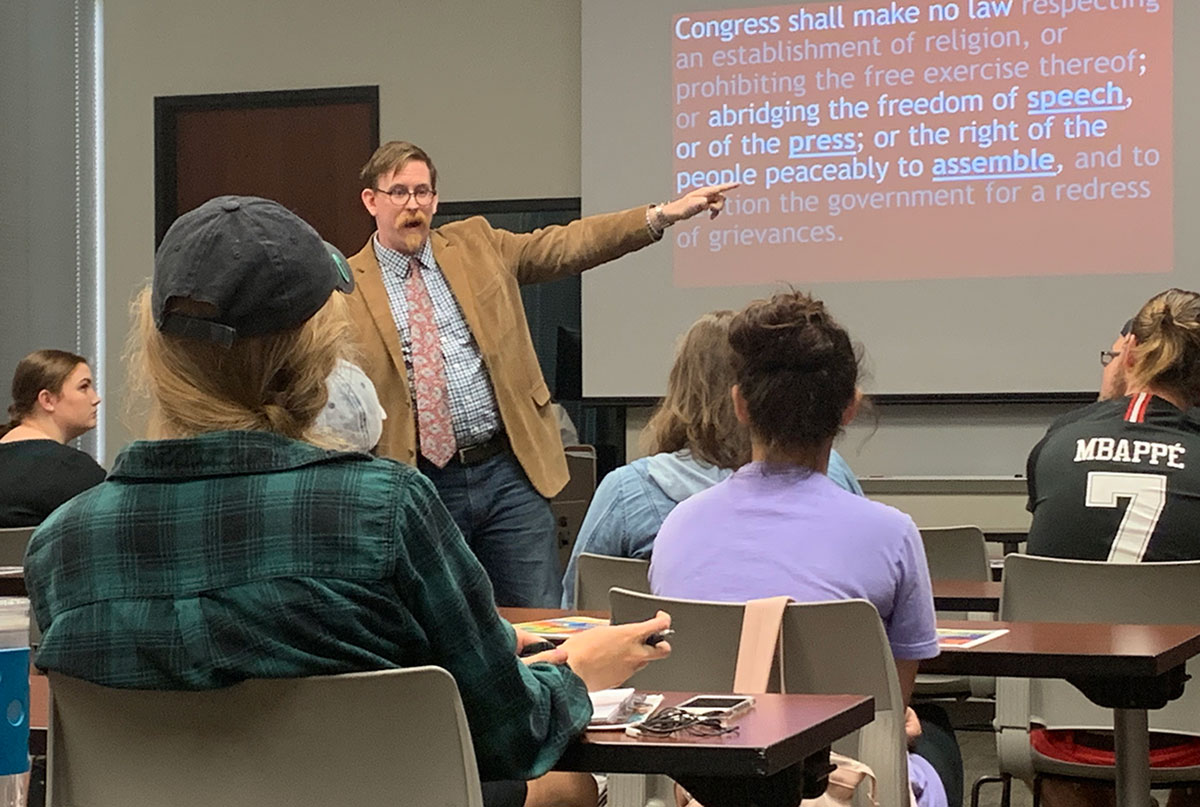 The Lamar University Student Chapter of the Society of Professional Journalists and the department of dommunication and media held a First Amendment Bootcamp, Sept. 5.
The bootcamp was held to inform students about the importance of knowing what forms of speech the First Amendment protects, and what forms it does not.
"Our mission at the SPJ is dedicated to the perpetuation of free press as the cornerstone of our nation and our liberty to ensure that that concept is met," Olivia Malick, president of LU SPJ and University Press editor, said. "The American people must be well informed in order to make decisions regarding their lives and their local and national communities. It is the role of journalists to provide this information in an accurate, comprehensive, timely and understandable manner."
One of the missions of the SPJ is to protect the freedom of speech and the press.
"The First Aamendment applies to not only people in journalism and the press, but to everyone in this room and everyone in this country," Malick said. "It is guaranteed by the Bill of Rights."
Ken Ward, professor in the Lamar University's department of communication, said the first amendment is the cornerstone of our democracy.
"Just 45 words, but they mean a great deal," Ward said. "We are talking about law, not about right and wrong. There are lots of things that you should and should not say in certain context. However, keep in mind that whether you are legally able to say those things is completely different as to whether it is appropriate, whether you want to or whether you should not."
Ward said that we can break the 45 words into five components.
"First is regarding religion, you can practice whatever religion you want," he said. "Speech and press are both coupled together, we have the right peaceably to assemble, and, finally, to petition the government."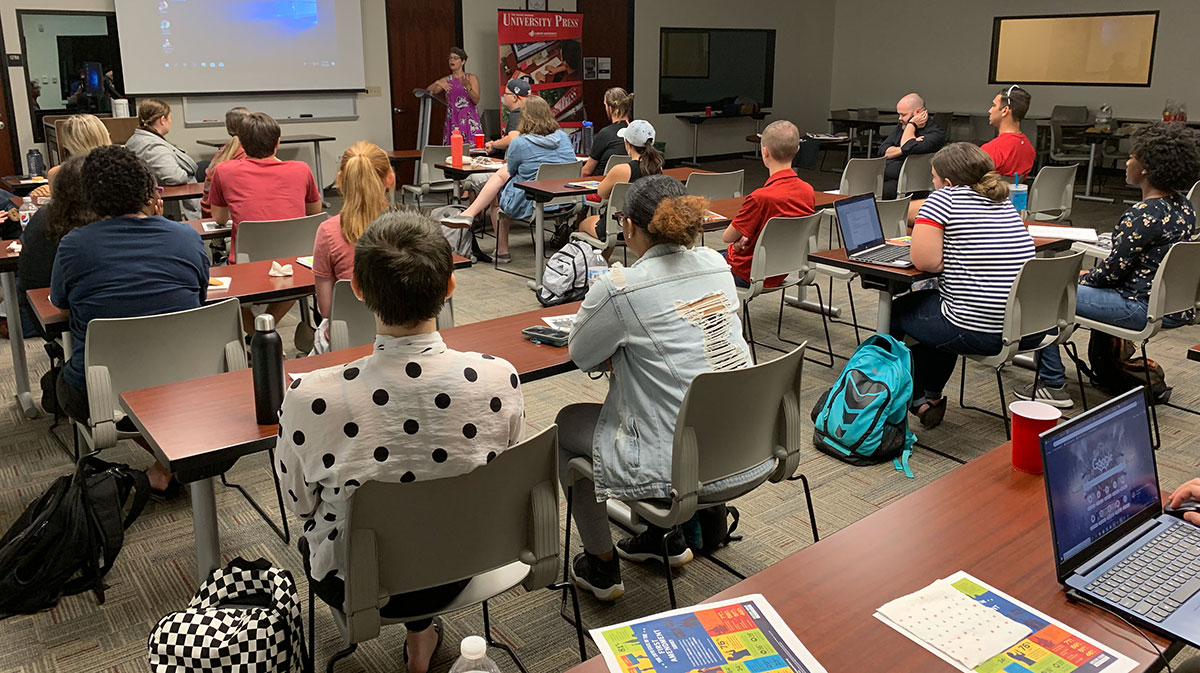 While it specifically says congress, the First Amendment is also saying that the gGovernment can not infringe on those rights.
"Who does that leave out? — Everybody who is not the government," Ward said. "This is one thing that is really crucial for people to understand. We have these protections in public places."
Ward said a private shop owner is well within their rights to ask someone to leave, if they are saying things the owner does not agree with, even if what is being said is not based on a protected class.
"Individuals are not covered by the First Amendment in terms of restricting the speech of others," he said. "So, say someone goes on Facebook, or any of these sites that are becoming more and more moderated, do they have the right to restrict your speech? Absolutely. Those are not public spaces. They are not the government."
There are certain types of speech even the government can intervene in, Ward said.
"Disruptive speech, which is any speech that is directed toward inciting immediate, illegal action and is actually likely to make that happen, is one of them," Ward said." If you are holding a rally, and you are stirring up hatred against some other people who are around you, and you say, 'Let's get them,' you have suddenly stepped into the realm of unprotected speech."
Another form of unprotected speech is fighting words.
"If you are saying things to an individual person, and those things, just because of how terribly emotionally damaging and aggressive they are, trigger a reaction, those are called fighting words," Ward said.
True threats are also not protected by the First Amendment.
"Any sort of speech that is directed at one person and is specifically intended to cause the listener to fear for their life or their safety is also unprotected speech," Ward said.
Offensive speech is perfectly acceptable according to the first amendment.
"Your completely free to offend at will," Ward said. "Offensive speech is totally okay with the first amendment. Hate speech is totally protected by the First Amendment, too."
Ward also said the First Amendment can change over time.
"We like to think of the First Amendment as stable, and as if these protections are always afforded to us," he said. "In reality, they are not. Especially, when the citizens of united states feel like they are threatened by someone from the outside, they will totally clamp down and restrict First Amendment rights."
Ward said another way the amendment can change is if we fail to use and stand up for the rights we are given.
"Unused protections tend to disappear," Ward said. "When we are afforded protection, if we do not defend those protections by using them, those protection often legislate away. The interpretation of the First Amendment is just that, an interpretation. As a result, it can be interpreted in a more restrictive way if people are not making their voices heard."
One of the protections guaranteed to us is the access to gather news.
"You cannot report the news, if you do not have access to gather the news," Beth Gallaspy, adjunct instructor and freelance writer, said. "I see the Federal Freedom of Information Act and the Texas Public Information Act as extensions of the First Amendment right to free press."
Gallaspy said that when she was a newspaper journalist covering public meetings, she would have to make sure she had access to agendas in a timely manner and access to all the supporting documentation that went along with the agendas.
"If you have ever been to a meeting of a governmental body, you will quickly find out that a lot of decisions that are made in public meetings are not really discussed in the meetings," Gallaspy said. "A lot of those decisions are made based on information that is presented to the deciders ahead of time, so as journalists we need to be able to get access to that information as well. "
One of our roles of a journalist is to be watchdogs for government entities, Gallaspy said.
"Most decisions have to be made by public bodies, in the public open sessions, but there are some exceptions where meetings can go into executive session, which is when the meeting becomes private," Gallaspy said. "Sometimes, as a journalist, we get to challenge that."
Getting the documents needed to add information to a story is not always easy. Some documents are protected by federal laws. David Short, Lamar University registrar, said that FERPA, or the Family Educational Rights and Privacy Act, is a federal law that is written to protect students and records.
"Our job is to make sure students records are safe, and as journalists, you are working around that being our first priority," he said.
Short said FERPA means that without the consent of the student, Lamar cannot release any student records, although, there are some exceptions.
"The list of exceptions is where we really come into the interesting pieces of it," Short said.  "Basically, FERPA protects the educational records of enrolled students. Both of those are kind of open to interpretations. Each school sets their own interpretation of what an enrolled student is, and for Lamar it is from the minute you enroll for a course."
The biggest exception is if an employee of the university has a genuine educational interest, but even that has limitations, Short said.
"If you are a student worker in the Undergraduate Advising Center, you are an employee of the university," Short said. "But if you just want to check your friend's GPA just to see what they made in a class, that is not a genuine educational interest. Just because you work here does not mean you have the right to know everything in our system."
Democracy is the act of everybody coming to the table and talking — it gets messy," Ward said.
"The First Amendment specifically says that you as a citizen have the right to do certain things to express your voice and as a result, you really have to," he said. "If you hear the First Amendment and think, 'Oh, I really do not like to speak out that much, I do not like to raise a fuss,' that is the way that our government works. If it does not work that way, it is not working."
Ward said that there are some unconstitutional consequences for speaking truth to power and standing up for the First Amendment.
"Power is rarely happy to be challenged," he said. "If we are going to work toward justice by exercising our voices, it requires resolve and follow through. Do not let that discourage you or stop you from seeking justice."
For more information, or to join LU SPJ, email lamarstudentchapterspj@gmail.com.