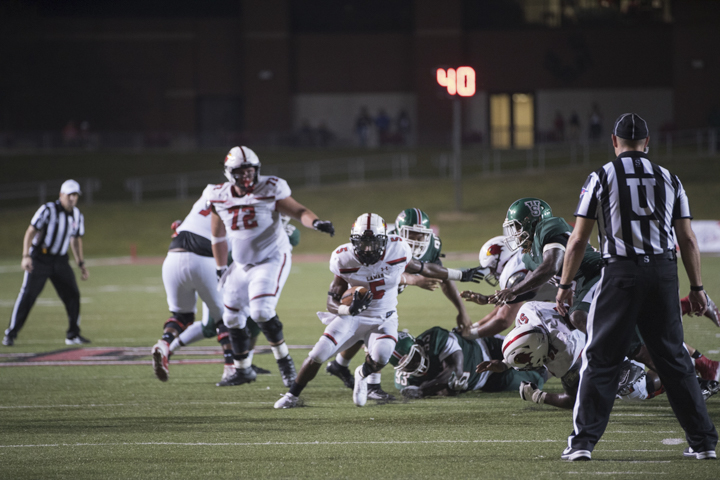 Lamar Cardinal kicker Bailey Giffen had just hit a 44-yard field goal in overtime and now Mississippi Valley State University faced a fourth-and-25. The Cardinals defense hit the field hoping to stop the Delta Devils from scoring on their last opportunity of the game. Delta Devils quarterback Dejerric Bryant hiked the ball and dropped back to pass and released the ball, intended for wide receiver Jarius Clayton, only to see it hit the ground.
The team crowd stormed the field in celebration as they defeated Valley, 23-20, at Provost Umphrey Stadium, Saturday. With the win, the Cards are now 2-0 on the season, the first 2-0 start in the head coach Mike Schultz era.
"It's a win," Schultz said. "I was thinking walking in here that we wouldn't have won this game two years ago. (Valley) had a good game plan offensively."
Valley was held to only 301 yards of total offense in a game that was mainly dominated by defenses.
"They spread us out and Bryant was hard to tackle," Schultz said. "We missed too many tackles. He was a good runner and was fairly accurate in his passing ability. But what I told the team before the game was that we had to contain him."
It was a defensive battle for both teams as they traded possessions for the majority of the first quarter. With 5:43 left, LU defensive tackle Hunter Adams  forced Valley running back John'Derrick Smith to fumble. It was recovered by LU middle linebacker Dallas Martin. Giffen missed a field goal from 43-yards out leaving the scored tied at zero.
In the second quarter, with 11:43 left, Valley quarterback Bryant called his own number from two yards out for a touchdown, putting them up 7-0. About three minutes, later the Cardinal offense answered back with an eight-play, 70-yard drive that ended with LU quarterback Jordan Hoy rushing from two yards out to tie it up. Five minutes later, LU defensive back Michael Lawson picked off Bryant and returned it seven yards to set up the offense, but Giffen's 48-yard attempt was unsuccessful sending both teams into the locker room tied at seven.
"We had a great play call coming in," Lawson said. " I saw them run a corner, I tried to bait it a little bit and tried to help the corner out. He kind of floated it, so I just saw it and came down with it and made the play on the ball."
In the third quarter, with 11:56 left, Giffen hit a field goal from 22 yards out putting the Cards up for the first time, 10-7. On the Cardinals next drive, with 7:07 remaining, Hoy passed to wide receiver Kirkland Banks for 14 yards. However, Banks fumbled the ball when Valley free safety Jonathan Jones forced it out and it was recovered by strong safety Keonte' Daniels, who returned it for 18 yards. After the fumble, with 4:40 left, Bryant threw a four-yard touchdown to wide receiver Johnny Wilson. However, the Cards blocked the point after, leaving the Delta Devils up 13-10 going into the fourth.
After several turnovers, with 5:39 left in the game, Giffen hit a 39-yard field goal to tie the game at 13. Two minutes later, Bryant called his own number from 22 yards out for a touchdown. With 30 seconds remaining, Hoy responded in kind from two yards out to tie the game at 20, sending it into overtime.
Giffen's field goal came after a possession where the Cards were called for holding on the first play and Hoy got dropped for a five-yard loss on third-and-seven. The Cardinal defense came out onto the field and forced the Delta Devils backward on three consecutive plays to end the game in their favor.
"I was just trying to stay simple," Giffen said. "Early in the game, I think I was trying too hard and was psyching myself up too much — towards the end, I just wanted to really calm down and know that I could trust myself to perform."
Hoy finished the night 21-of-39 passing for 233 yards, carried the ball 18 times for 68 yards and two touchdowns. On the ground, Myles Wanza led with 22 carries and 91 yards.
"Throughout the beginning of the game we were struggling," Hoy said. "We were getting things rolling but our turnovers were killing us. We knew as long as everyone was hitting their assignments we could get downfield and score."
Martin led the defensive effort with a career-high 14 tackles and was one of three who finished with double-figure tackles. Defensive tackle Darien Wilson had 11 (three for a loss) and linebacker Isiah Spencer came away with 10.
"Their quarterback is a tremendous athlete," Lawson said. "Once he gets his space it's hard to tackle him in open space. Our game plan was to try to confine that space, try to get him in holes and not let him get to the perimeter. We let him get to the perimeter, so going into next week we are going to fix that."
The Cardinals return to action Saturday, when they hit the road for the first time this season to take on Southeastern Conference's Texas A&M at Kyle Field in Bryan-College Station. The game will kick off at 6 p.m.