Bus company takes stand against hate
Editor's note: This is the second in an ongoing series on public transportation and accessibility in Brighton, England. These reports were compiled by Lamar University study abroad students.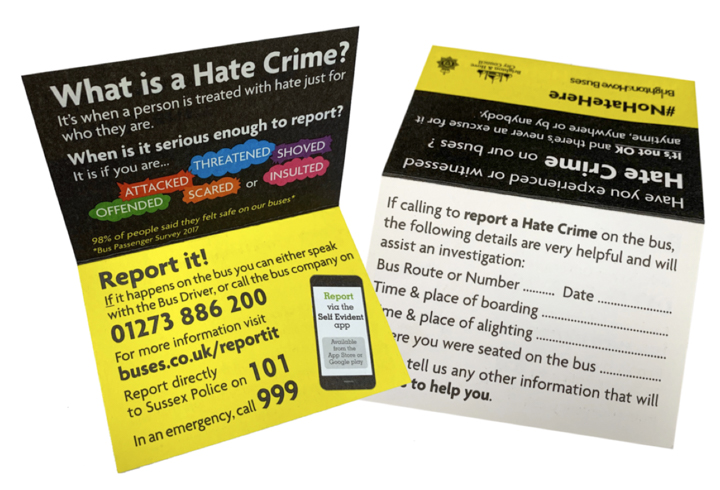 BRIGHTON, England — The Brighton & Hove Bus Company launched an anti-hate crime campaign aimed to confront hate, reduce reporting barriers and promote inclusivity.
"Great strides have been made to improve accessibility for disabled citizens," Victoria Garcia, accessibility and communities officer, said. "But we want to do more for the community we serve."
Communications manager Marie Sansom said the company is looking at the complete message about accessibility.
"People should be able to ride the bus and not have the experience of being shouted at on a bus because of the color of their skin, their religion, or they are wearing a hijab," she said. "While incidents of hate crime are low on their buses, they want every passenger to feel safe and respected on every journey."
A hate crime is when a person is treated with hate, hostility or violence because of who they are or who someone thinks they are, according the National Association of Citizens Advice Bureaux in the United Kingdom. Hate crime incidents include insults, shoving, attacking or intimidation. These can be verbal or physical.
"(The campaign) started last March, when a member of the Muslim community approached us about the anti-hate idea," Garcia said. "We linked together with the local community groups such as the Racial Harassment Forum, the LGBT Community Safety Forum, the Women's Bangladesh Womens's Association, the Sussex Police and Brighton & Hove City Council. All these organizations had input into it.
"When we first met with the community groups, we were told some pretty awful horror stories about things we weren't aware. Things that happened to them from other customers on our buses. So the need for the campaign came from the community and the stories from people actually using the buses."
Sansom said that victims often did not report the abuse.
"Sadly, they hadn't reported it to us or to the police because they were unsure if anything was going to be done about it. So, the reporting issue was very strong," she said.   
The company wondered what stopped victims and witnesses of hate crime from reporting incidents. Garcia said people wondered who represented the buses? Do they really care about what's happening?
"I asked them a question — what would you like to happen? What is going to help this?" Garcia said. "(This) is when this strategy became forward thinking and the campaign (became) very visual. People need to know, 'Who am I talking to? Do they really care?
"We set up a hate crime reporting team and appointed Kevin Carey as head of safeguarding. He personally oversees every hate-related report."
People can report incidents on the company's website — it's #NoHateHere — where they will find pictures of Garcia and Carey and a police officer.
"We want to get that message across that we're here, this is me, this is who you're speaking to," Garcia said. "And we've got very positive feedback about that and that's really helped."
"We made the campaign visual on the buses. With help from community groups, we designed a poster to get that message across. We plan to have them on every bus. So this message is how the person on the receiving end of hate feels, how to report acts of hate, and that we take this seriously."
Garcia said there is a mobile app where people upload a photograph of a perpetrator and report it using the app, or on social media using #NoHateHere. There are also phone numbers where people can report incidents.
"We give these wallet-sized reporting cards to the community groups and they distribute them," she said. "The community groups are the ones that can actually ensure that it's getting to the people. Of course, if somebody asked for one, they get one. The cards are also at our reception area. On the back of these cards is the information we need to investigate — the date, bus route or number, time and place of boarding – then we can go back and see directly on the CCTV."
Samson said feedback from community groups has been positive.
"People have said they probably wouldn't have reported it until they saw the anti-hate crime poster," she said. "And now they know how to do it and feel like we actually are taking it seriously and we care."
The campaign is building up to Oct. 13, the start of England's Anti-Hate Crime Awareness Week, encouraging people to report incidents.
The anti-hate crime campaign also makes good business sense, Garcia said.
"If, because of our anti-hate campaign, a person feels less anxious to take the bus, they're more likely to use the bus next time," she said. "And that customer will go out and tell friends.
"And it's not just ourselves. We all have relatives, children, neighbors or friends — somebody we want to travel on the bus with. So it's about all citizens, and there is real commercial viability in that."
Garcia said the campaign is not solving everything.
"It's not taking the issue totally away, but it's giving another avenue for people to go down," she said.
"Because at the end of the day, everybody's a customer and anybody that feels, 'I don't feel right to be on that bus and I don't want to get on that bus again because something's happened' — that's not right. We need to do what we can to ensure all of our customers feel safe and respected."