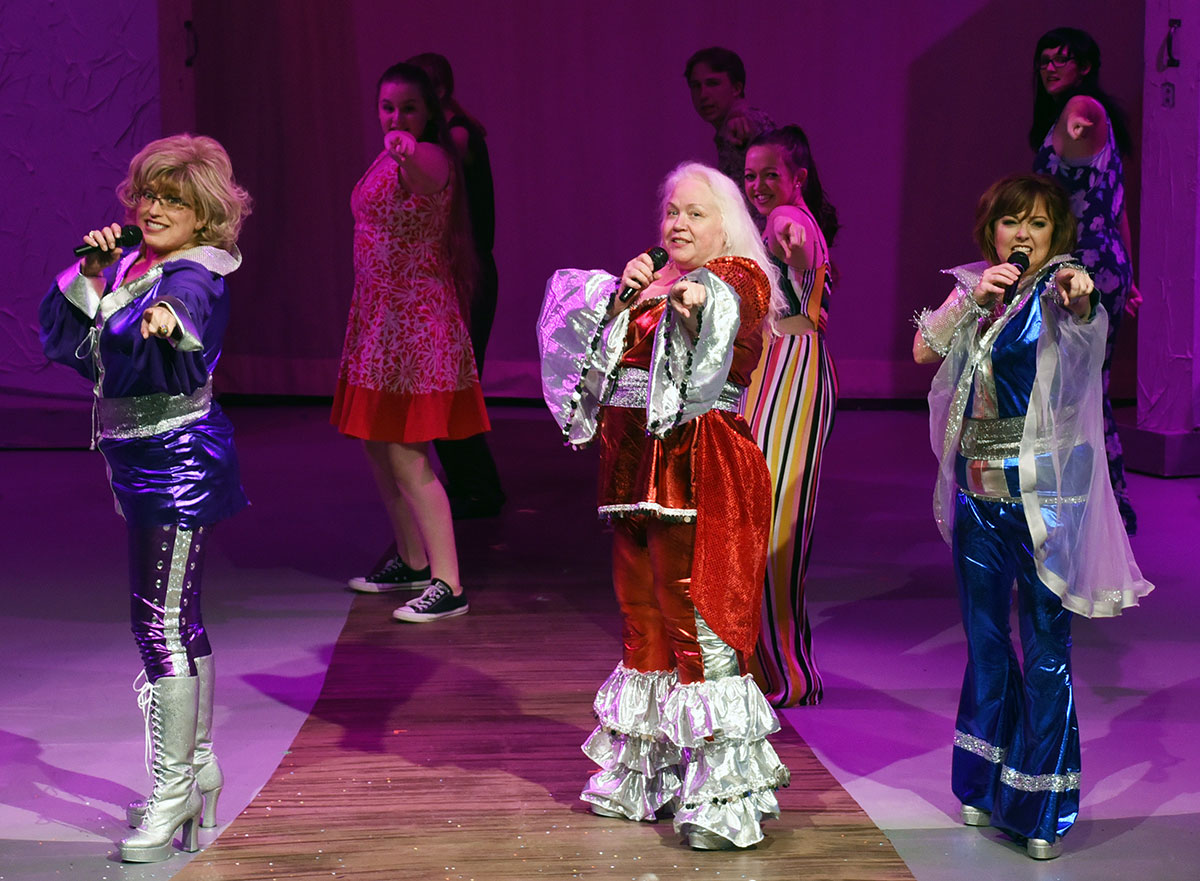 "Mamma Mia," the musical based on ABBA songs, is incredibly corny — but that is what makes it so much fun to watch.
The show, directed by Jerry McMillan, runs Sept. 20, 21, 26, 27 and 28 at 7:30 p.m., with a matinee at 2 p.m., Sept. 21, at the Beaumont Community Players. 
The opening-night performance had a packed auditorium, showing that theater has the remarkable ability to bring people together, ranging from children to senior citizens. 
"Mamma Mia" does not have much depth, but an evening of frothy fun is just what is needed in this dim world that we live in. The plot revolves around Sophie, played by Devin Medley, who steals her mother's journal and invites three men, Sam (Allen Anderud), Harry, (Marque Thibodeaux) and Bill (Tom Rodman), to find out who her real father is in time for her wedding. Donna, her mother, played by Roxane Gray, along with her character's best friends, Rosie and Tanya, played by Janci Kimball and Suzanne Kibodeaux, attempt to thwart the men from attending the wedding.
Medley is the best part of the show. Her singing is incredible, and she has immaculate comedic timing as she deliveres her lines. She sounds absolutely beautiful on, "Honey, Honey," joined by co-stars, Katelyn Kirk and Evan McKenna Bradford, who play her best friends Ali and Lisa. 
Kimball, embodies Rosie's character in every way, which makes it clear why she was cast in this role, and she is a standout among the supporting cast. Her singing is strong on every song as she shows both her comedic and sensitive sides. 
Kimball has fluid chemistry with the other actors, and shines bright during big numbers such as, "Super Trouper," as Donna and the Supremes, and "Take a Chance on Me," performed with Rodman.
Rodman not only resembles the character from the acclaimed movie, but he acts and sings almost identically. His presence makes the audience lean forward in their seat when he steps into each scene. He delivers a wonderful performance.
Another standout is Kibodeaux. She has comedic timing that has the audience roaring with laughter, and in rapt silence as soon as she begins to sing.  
Thibodeaux's dominant presence on stage and confident delivery of his lines make him the perfect fit for Harry.
The best numbers are those that feature the full ensemble, due to the excellent supporting cast who back up many of the well-known ABBA songs. 
When the male cast danced across stage in their swimwear and flippers during, "Voulez Vous," the audience roared with delight. 
The choreography, by Peyton Cole Jones, fits the show well.
Act one is lively but act two doesn't quite maintain the energy level. 
However, "Mamma Mia" is well worth the trip for either a date or a family night as you listen to "Dancing Queen," and other beloved classics.
"Mamma Mia" is presented at the Betty Greenberg Center for the Performing Arts, 4155 Laurel Ave.
For tickets, visit www.beaumontcommunityplayers.com.