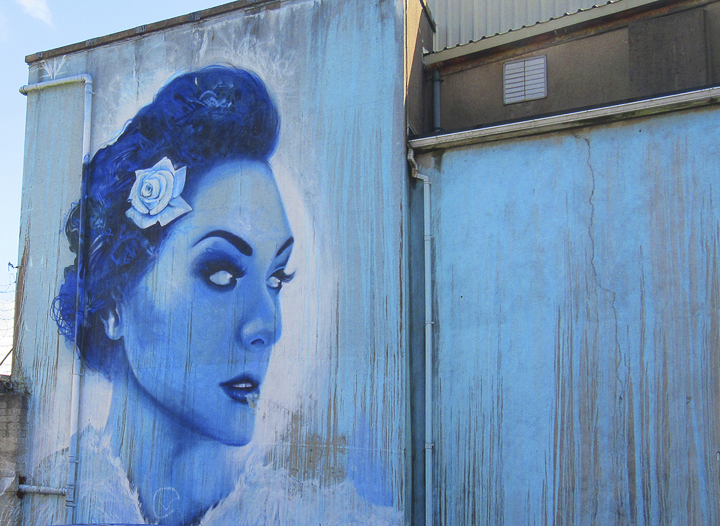 WATERFORD, Ireland — Public art is the most democratic form of art. It has the power to bring diverse groups of people together to engage in conversations about perspective, history, culture and beauty. Public art, done well, is transformative. It humanizes civic spaces and provides visual mechanisms for understanding cultures different from one's own. Public art reinforces social connectivity.
For lovers of public art, there is no place like Waterford, the oldest city in Ireland, where Vikings first landed in the ninth century. Now, Waterford is home to an extensive open-air gallery where numerous pieces of grand scale art can be found while strolling down a lane, turning a street corner, or glancing over one's shoulder.
When I spot a Waterford Wall, I walk a little slower and feel deep appreciation for their shapes, patterns and colors ― their deep blues, bright greens, warm yellows and brilliant reds.
Edel Tobin, a local primary school teacher, sought to revitalize Waterford after the economic downturn and subsequent widespread unemployment following the 2008 recession. Waterford became a ghost town, full of empty streets and empty buildings. Tobin wanted to give Waterford a facelift, physically and psychologically. She wanted to create, or reinstate, civic pride among its residents. The vehicle she decided on was a public art campaign, and she wanted to use Waterford's unused city walls as canvases.
Tobin got the idea after hearing about a similar project called Djerbahood. Tunisian-French artist Mehdi Ben Cheikh spearheaded the Djerbahood project in the village of Erriadh on the Tunisian island of Djerba. It is the site of severe devastation caused by the 2011 Jasmine Revolution, an intensive 28-day campaign of civil resistance which led to the ousting of longtime president Zine El Abidine Ben Ali and the beginning of Arab Spring. Tall letters depicting the phrase, "The Hood" are located at the village's entrance, hence the art project, "Djerbahood."
Tobin worked with Waterford's city council to develop relationships with property owners, gaining access to 25 walls throughout the city. The project was ultimately titled "Waterford Walls" and launched in 2015 as a street art festival. Artists from all over the world were invited to draw, stencil, spray and paint the walls. And they came ― they came from Switzerland, Belgium, France, Portugal, Spain and Russia to join hands, and brushes, with their Irish cohorts. During the art festival, visitors wander through the streets and observe artists at work, many working on ladders and scaffolding. Waterford Walls is now an annual event, and the painted walls bring color and beauty to a formerly dying town once dominated by shades of brown and gray. Since its inception, Waterford Walls has welcomed more than 130 artists to city.   
Polish born Magdalena Karol, or Madga, was one of the 2017 artists. She works part-time as a day manager and breakfast chef at the guesthouse where I stayed with my family in 2018. She came to study art in Waterford 15 years ago and witnessed firsthand how the city went from prosperity to despair. Karol loves what Waterford Walls has done for her professionally and to the city she calls home.
The project has had so much citywide support that even though much of the art is on ground level and easily accessible to passersby, rarely are the works defaced. It was not long ago that graffiti or street art was considered vandalism.
Waterford is a magical place largely due to its whimsical, wild and wonderful walls that serve to unite, not to divide.
For more information, visit waterfordwalls.ie.