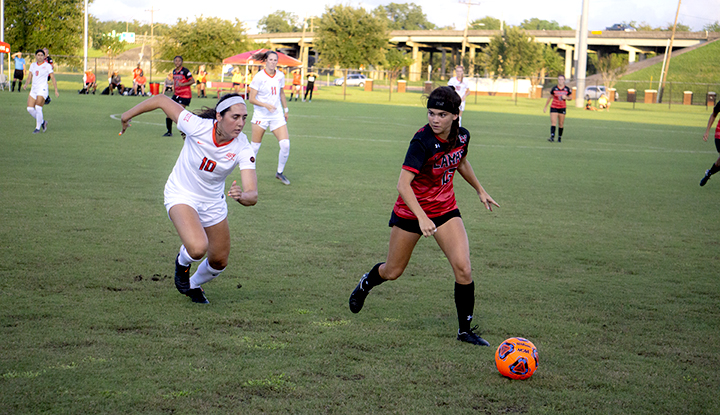 The Lady Cardinals soccer team lost their season opener, 3-0, to a Oklahoma State Cowgirls strong second-half offense Thursday at the LU Soccer Complex. The game was the first match of the Cardinal Classic, a series of three home games hosted at Lamar University.
            "Regardless of the score line we fell good where we are," head coach Steve Holeman said. "I think we made a big improvement from our exhibition match against Rice. I think we kind of had our fair share and they are certainly good on the nine. However, we created some good chances and they definitely tested our defense."
            In the first few minutes of the game, the Cardinals held the Cowgirls defensively until midfielder Jaci Jones in the 20th minute fired a shot out left that was saved by LU goalkeeper Sandra Nygard. The Cardinals would prevent the Cowgirls from scoring until the 40th minute when Cowgirls midfielders Julia Lenhardt and Olyvia Dowell played the ball to Jones who fired a shot into the back of the net to take the lead, 1-0.
             A minute later the Cardinals tried to tie the game when midfielder Paloma Martinez had an opportunity of her own to score. Martinez fired a shot from the bottom left corner of the goal, but Cowgirl goalkeeper Hannah Warner made the save, leaving the Cards trailing 1-0 at the half.
            In the second half, the Cowgirls returned on the attack in the 51st minute when Jones found Dowell for a goal, putting them up 2-0. The Cardinals looked to retaliate seven minutes later when forward Madison Ledet fired a shot, but Warner saved it.
            In the 70th minute, LU forward Wasila Diwura was carded with a foul that set up a penalty kick from Cowgirl midfielder Kim Rodriguez that was saved by Nygard, giving the Cardinals a relief. In the 80th minute, Cowgirl forward Gabriella Coleman fired a shot past Nygard to extend their lead to 3-0, causing the Cardinals to drop in their home opener. 
            Holeman said that the team will take a different approach when it comes to the University of Louisiana- Lafayette on Sunday.
            "We will certainly break down some video and talk about this game and see if we can improve," he said. "They are a different program and a different team — it is a different challenge. Tactically they play a completely different system than Oklahoma State."
The Lady Cards will host the University of Louisiana- Lafayette Ragin Cajuns , Sunday in game two of the Cardinal Classic at the LU soccer Complex. Kick off is at 7:30 p.m. The game is free to LU students with their valid student ID card and tickets are $5 for general admisson and $3 for children and seniors.