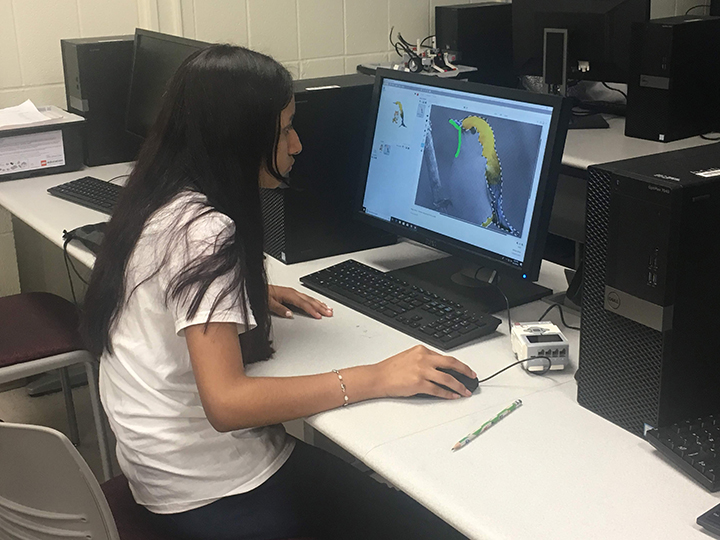 Lamar University hosted the Bernard Harris Summer Science Camp for 7th-graders excelling in math and science from June 10-20.
Students learned 21st century STEM skills while working with guest scientist Texas A&M University Entomologist Dr. Michael Orrin "Mo" Way, renowned globally for his work with rice farmers, at the science, technology, engineering and mathematics (STEM) camp.
"We'll immerse campers in curriculum one day and then the next day, they'll spend the entire day at the Rice Research Center in the field," said Urbina. "For 80 percent of the time they'll be outside where they are all hands on, looking at the rice and sorghum and doing real research with real researchers."
The Bernard Harris Summer Science Camps (BHSSC) have been funded at Lamar University for the past 12 years and is one of only 10 of the camps available across the nation.
Otilia Urbina, executive director of the BHSSC camp and two other LU STEM camps, the gO Women for Engineering, Science and Technology Academy and the gOlden Opportunities for Southeast Texas Construction Career Academy for Women said the camps are offered in hopes young people will consider careers in STEM fields.
"The purpose of STEM summer camps is to provide students with best practice, inquiry-based, real-world, hands-on activities to determine whether our 'grow-you-own' pipeline inspires young students at an early age to enter STEM-based careers," Urbina said. "We hope through their experience in the summer camp, these young people feel 10 feet tall and dare to dream."
She said the STEM camps are designed to inspire high-achieving mathematics and science middle school students to pursue STEM-related careers.
"Early exposure to positive STEM experiences that provide lasting impressions can inspire students to pursue STEM careers," Urbina said.
All camps are based on national standards for STEM and the latest skills in the industry.
The camps also have a theme supported by hands-on activities. This year's BHSSC camp theme is "Biodiversity: The Spice of Life."
"Biodiversity is the spice of life," especially here where we are surrounded by industry and refineries," she said. "We have to become stewards of the environment — coastlines, rivers and lakes - because if we don't, we're going to lose what we have."
LU has partnered with venues that provided excursions complementary to the camp's theme. Including Shangri La Botanical Gardens and Nature Center in Orange, which is situated in the middle of the Cypress-Tupelo swamp adjacent to Adams Bayou and offers a unique and interactive way to explore the world of nature.
Another partner is The Big Thicket National Preserve in Kountze where camp participants engaged in a wide range of core curriculum-based interdisciplinary conservation and environmental educational programs that emphasized wildlife and the environment.
Texas A&M AgriLIFE Research Center at Beaumont also provided a wide range of real-world, hands-on activities but with an emphasis on soil and crop nutrition; crop, weed and water management; varietal improvement; and entomology.
During the two-week camp, participants also had lessons not only in the environment and conservation as it related to science and engineering but also to robotics, nutrition, team research, technology and more.
For more information about the Bernard Harris Summer Science Camp and STEM programs contact Otilia Urbina at (409) 880-7793 or ourbina@lamar.edu.