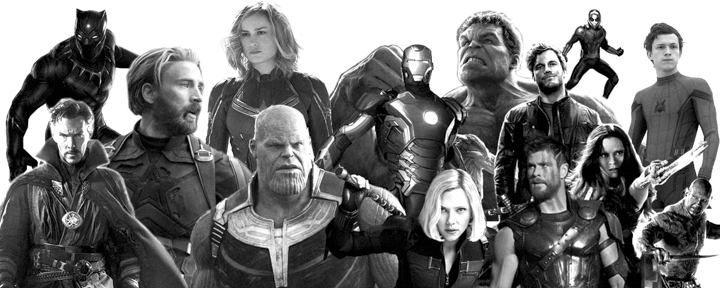 On April 26 one of the most anticipated films of the year hits the box office, "Avengers: Endgame." But before anyone sees this epic series conclusion, I think that people should prepare by watching all the films leading up to this monumental event in cinema history.
Since the series humble beginnings with "Iron Man" premiering in 2008 to present day, Marvel has released a whopping 44.7 hours worth of superhero movies all leading up to one epic showdown. If you were to watch all films within the Marvel Cinematic Universe continuously, you would sit and stare at your TV for approximately 1.87 days.
Some people may see this as a daunting challenge, not for the faint of heart, and those people would be correct. Viewing 21 films is a daunting task but I think it is necessary to fully appreciate what happens in the series ending. However, if watching 21 films in a row for nearly two days straight doesn't seem fun there may be a way to slim down the challenge.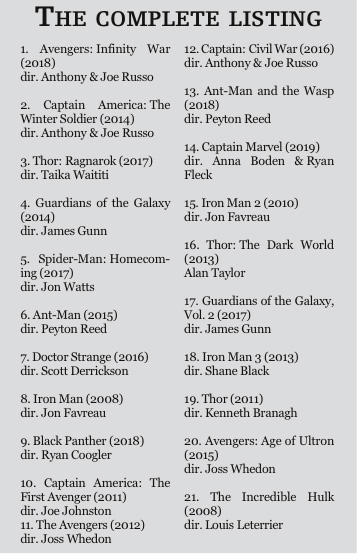 For those who want just the gist of the storyline there are five key films to watch, these include (and must be watched in this order) "The Avengers," "Guardians of the Galaxy," "Avengers: Age of Ultron," "Doctor Strange" and "Avengers: Infinity War." The laziest of superhero fans should watch these films as they discuss the biggest key factors and figures to the storyline and how they affect each other.
For those who want a little bit more backstory you should watch (including aforementioned films) "Captain America: Civil War," "Thor: Ragnarok," and "Black Panther." These films will fill in a few gaps in the storyline including relationships between characters and location settings.
In all 21 of the films I do believe some of the films are better than others. Of the entire franchise my top picks would be "Avengers: Infinity War" and "Captain America: Winter Soldier," both directed by Anthony and Joe Russo and "Thor: Ragnarok" directed by Taika Waititi. I think that these directors created something visually and emotionally compelling throughout the respective films and I think that gives them the top spots.
My honorable mentions would include "Guardians of the Galaxy," "Spiderman: Homecoming," "Ant-Man," "Doctor Strange," and "Iron Man." These films to me have either great stories, incredible action sequences, or they are just plain fun to watch and immerse yourself and pretend you are the superhero for a while.
I recommend watching all of them because this is such an expansive universe full of incredible characters and details that deserve your time and attention. Maybe don't watch them all in one sitting, but there is still plenty of time to watch them all. Regardless if you've seen every film the day they came out or you've only seen a hand full of the films, I think we should all prepare for this stunning conclusion to an incredible series of films.