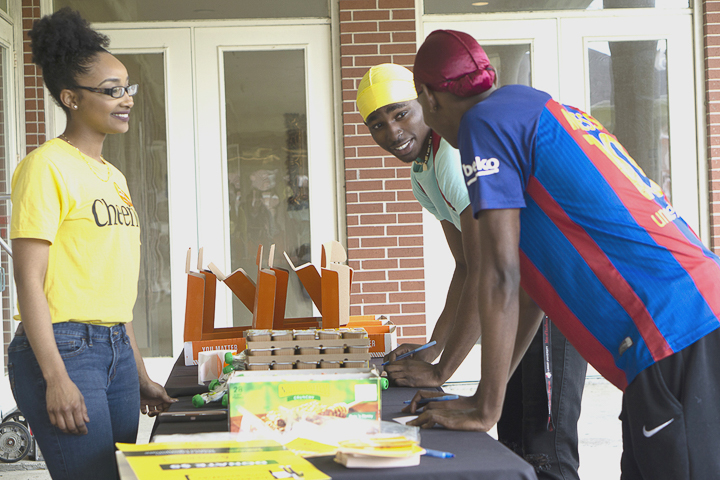 Volunteers with bright orange boxes and pamphlets that said, in bold letters, "YOU MATTER," lined up in front of Brooks-Shivers Dining Hall, March 27-28.
MATTERboxes is part of the One Million Acts of Good initiative, organized through Lamar's dining service, Chartwells, in partnership with General Mills, the "Ellen" show and the Minnesota non-profit MATTER, Jack Spurlock, event organizer and Chartwells marketing manager, said.
Chartwells picked the 100 most successful school accounts in their system to participate in the drive, Spurlock said. Chartwells is a contract food service management for 290 colleges and universities across the nation.
The program gives away healthy snacks and educational material about nutrition to help fight food insecurities nationwide. MATTER's mission is to give disadvantaged people a chance at a healthier life, Chartwells stated in a news release. The company expects to donate 20,000 MATTERboxes this year.
"This volunteer program connects us all through compassion and kindness for a better community with our peers, campuses and communities," Chartwells Higher Education CEO Lisa McEuen said in the release.
LU participants packed boxes with whole grain Cheerios and Nature Valley bars, as well as nutrition information. Each box contained a note that with the words "YOU MATTER" printed on it. Volunteers hand-wrote notes on the back to accompany the donation.
"The hardest part was writing the note," Ruth Stanley, Lamar communication instructor, who donated two boxes, said. "I tried to write a different note for each one, just in case the same person gets both boxes."
Volunteers were encouraged to donate to One Million Acts of Good directly through PayPal after they filled their boxes. Spurlock said he is not sure how many people donated because it goes directly to the non-profit and not through Chartwells, but 400 people on campus helped to fill the boxes.
Keely Breaux, a senior dental hygiene student, said she took part to inspire others.
"I think it's cool to inspire kids no matter what their situation is," she said. "Anything is possible, they can make it. It's important to spread positivity."
Lauryn Brough, freshman pre-nursing student, said the program was personal for her.
"I've been in that position where you actually need something," she said, tearfully. "I think it would be a better place if people took the time to help someone else."
Spurlock is an alumni of Lamar and graduated with a degree in corporate communications in 2015 before he was hired at Chartwells.
"I think it was a success," he said. "We were able to complete 200 of the MATTERboxes and they were actually dropped off at Some Other Place."
Spurlock said the handwritten notes added a personal connection to the donation, and it is one more act of kindness that might brighten someone's day.
"It feels great bringing this type of volunteer event to the campus itself," he said. "The fact that it is a local donation — it's better to bring it closer to home rather than have it somewhere else.
"It's better to get back to those that need help in our community."