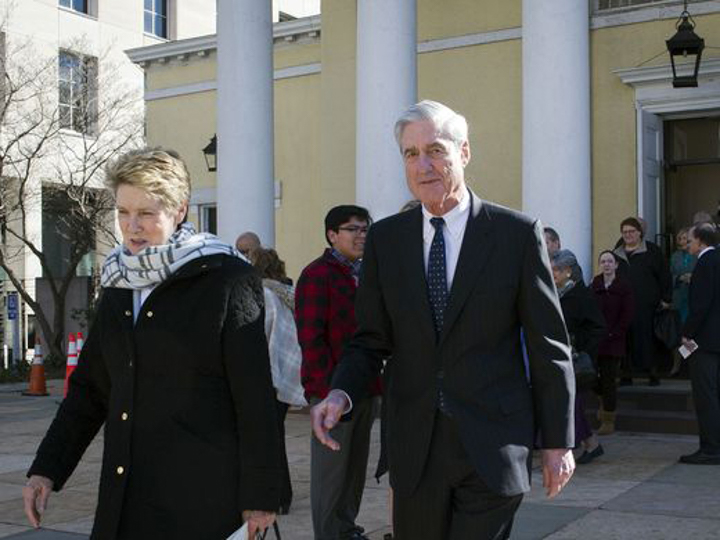 The Mueller investigation, launched in 2017, looked into possible Russian interference in the 2016 Presidential Election, and whether or not President Donald Trump or his team colluded with Russia, and if the President obstructed justice during the course of this investigation.
"'Colluded' doesn't just mean they benefitted in some way," James Nelson, LU assistant professor of political science, said. "That's not the standard. Collusion would mean they were actively working with Russia."
During the investigation, Mueller employed 19 lawyers and was assisted by about 40 FBI agents, intelligence analysts and forensic accountants, among others. The counsel issued more than 2,300 subpoenas, 500 search warrants and interviewed about 500 witnesses. The Special Counsel indicted 34 people from three different countries, and charges were filed against five Trump campaign members.
Mueller, appointed Special Counsel prosecutor in 2017, concluded his investigation, and submitted the final report, exceeding 300 pages, to Attorney General William Barr on March 22. As attorney general, Barr is the highest ranking official in the Department of Justice. Two days later, Barr summarized the report's findings in a four-page letter to Congress, now available online.
"The summary says there is not sufficient evidence of collusion," Nelson said. "(Mueller) put the evidence together so that people who read the report can make their own minds up."
On the subject of obstruction of justice, Mueller declined to make a decision. Deputy Attorney General Rod Rosenstein — who appointed Mueller — and Barr determined there is not sufficient evidence to support prosecution.
In his summary, Barr quotes Mueller's statement that although the report did not recommend prosecution, it does not exonerate the president of all charges.
Exoneration is a legal concept, Nelson said, but it's one that applies to people whose previous convictions have been overturned, such as the case of old DNA evidence found to be faulty.
"I think people are reading too much into the process," he said. "The U.S. legal system doesn't prove people innocent. That's just not how it works — the jury votes guilty or not guilty.
"Some people are going to dislike this. They wanted something to happen because they don't like the president, and others don't like the fact that there's an investigation to begin with, because they don't like people thinking the president might have done something."
In response to the summary, six Democratic committee chairs in the House of Representatives requested Barr submit the full Mueller report to Congress. The reality is that before the report can be shared, parts must be redacted, Barr said.
"I am mindful of the public interest in this matter," Barr said in his summary. "For that reason, my goal and intent is to release as much of the Special Counsel's report as I can consistent with applicable law, regulations, and departmental policies."
Nelson said if something is part of a grand jury proceeding, it will be redacted.
"A grand jury votes on whether there's enough evidence to prosecute," he said. "In these types of cases, if people below the president, like a campaign aide, were to be indicted, it would be through the grand jury process."
Information related to other ongoing investigations would be redacted as well.
Nelson said he thinks it's likely that Congress will see a redacted version of the Mueller report.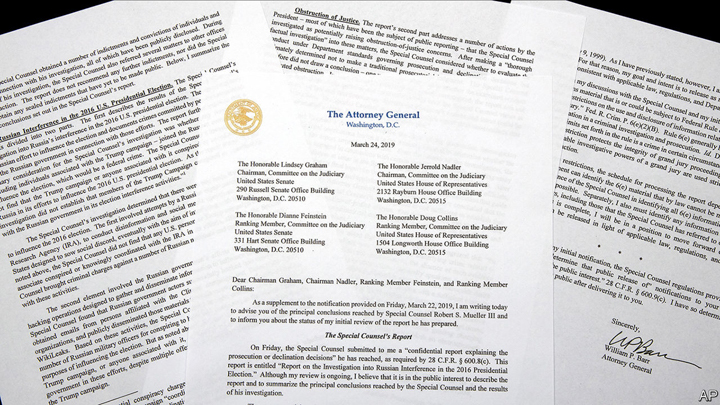 "Barr has committed to wanting to release more of this, but the timetable is unclear because this just doesn't happen that often," Nelson said. "The last time we had something similar happen was about 20 years ago."
Nelson said he also thinks it's likely the public will be able to see a redacted version of the report.
"I'm taking Bill Barr by his word here," he said. "It sounds like he wants to release more of this, but how much more is debatable."
What comes after the release of more information is unknown. Nelson said there is a five-year statute of limitations for obstruction of justice, so if a prosecutor did feel there was sufficient evidence, there is limited time to bring a case to the Senate. This scenario is less likely to happen as there is a history in the U.S. of not indicting a sitting president.
In an interview with NPR, lawyer Philip Lacovara, who served as a counsel to special prosecutors during the Watergate investigation, said the Justice Department has twice said that the president is not subject to indictment while in office, and that no criminal charges can proceed unless he is removed by impeachment or has served out his term.
Constitutionally, there is nothing barring indicting a sitting president, but this was a decision made by the Justice Department while investigating presidents Clinton and Nixon. This policy comes from two theories.  The "unitary executive theory" that says the president is the head of all law enforcement and as such, cannot prosecute themselves. Another theory, used by Clinton, that says that prosecution would distract the president too much from important duties.
"It would have to be incredibly compelling evidence to get two-thirds of the Senate to agree the president is guilty of a crime," Nelson said. "It's an incredibly high bar to clear and it's actually never been done."
President Trump has announced his intention to run for re-election in 2020. If elected, he could avoid responsibility for crimes possibly committed during his first campaign or through the Mueller investigation. 
"I want to add, this is transpiring in a society where trust in formal institutions is declining generally," Nelson said. "Not only trust in government, but also things like organized religion, business leaders and labor unions — what used to be institutions where you placed a lot of trust.
"Pair that with polarization, (and) I think that regardless of what comes out of this, it's going to be hard to say there is a consensus that the right thing happened. I think that adds a layer of complexity to this."
The next chapter of the story will be determined by if and when Democrats see some version of the full report.