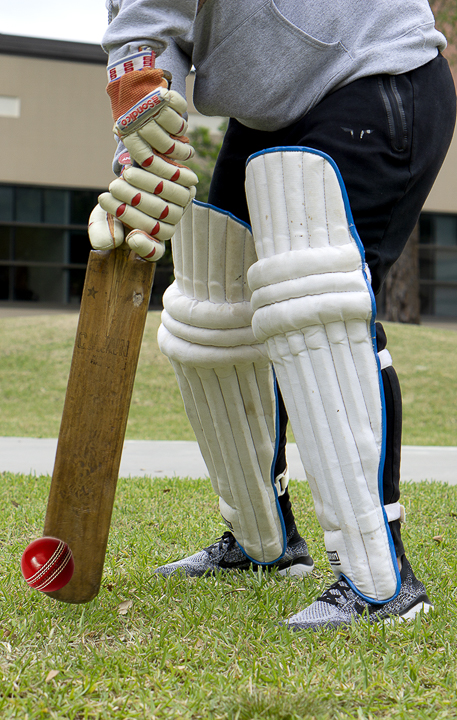 Lamar's intramural cricket league held a clinic, Saturday, to shed light on the rules and gameplay of one of the world's most popular sports.
Cricket is a ball-and-bat sport that draws a lot of comparison to its American counterpart — baseball.
Although cricket's popularity in the United States is low, there are 105 countries that play cricket, and many recognize it as their national sport either officially or unofficially, including India, Australia and South Africa.
"Cricket has been around much longer than baseball, having been around since the 1500s, and without cricket, there would be no baseball," Josh Harrington, coordinator of intramurals and sports clubs, said.
Due to the popularity of the sport in other countries, intramural cricket draws many international students to the league.
"In America, it's football. In India, it's cricket," Pawankumar Sarma, industrial engineering graduate student, said. "When you're young, your parents put a bat in your hand and tell you to play cricket. We're raised watching and playing, and it's the only sport we grow up knowing."
Sarma joined the league during his first semester at Lamar in fall of 2018.
"As soon as I found out there was a league, I signed up," he said. "I don't know anything about American sports. Everyone where I'm from plays cricket and we love it."
While there are similarities between baseball and cricket, there are key differences in the way the games are played. 
In cricket, each team takes turns batting and playing the field, as in baseball. In cricket, the batter is a batsman and the pitcher is a bowler.
The bowler tries to knock down the bails of the wicket — one of two small sticks placed on the wicket, which consists of three stumps driven into the round — and a batsman tries to prevent the bowler from hitting the wicket by hitting the ball.
"In pro matches, you'll see scores of 200 to 300 with games that last for 12 hours, but we scale it down in order to be able to play a full game," Harrington said. "Instead of 40 overs — which is like an inning in baseball — we play eight, and each game takes a couple of hours."
Despite their differences, the similarities between baseball and cricket can help bridge the gap for new players to learn the game. 
"If you know about baseball, it's easier to learn because of the similarities," Lokesh Kolhe, industrial engineering graduate student, said.
Kolhe joined intramural cricket in fall 2017 as both player and umpire. 
"Although there are a lot of rules in cricket, I think it's easy for new players once you let them bat a few times and then let them move on to other parts of the game," he said.
Kolhe said this is the best time to learn the sport.
"This is the best game right now," he said. "I believe there will be a lot of people involved in this game because it's continuing to grow in popularity across the globe."
For more information, call 880-8331, or email intramurals@lamar.edu.