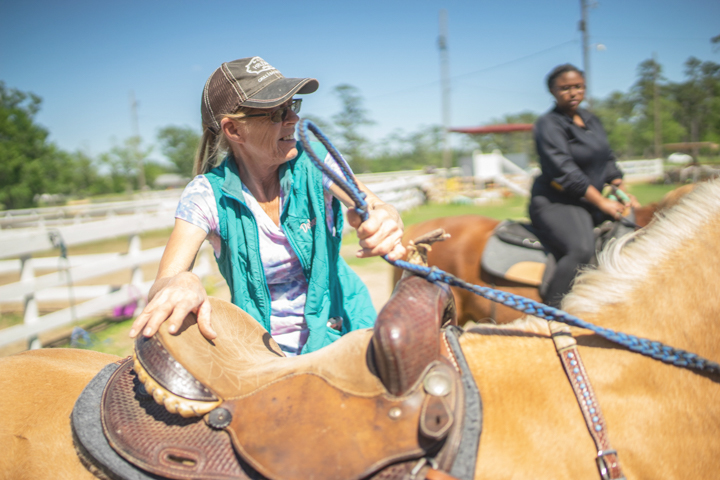 The stables at Beaumont's Tyrrell Park were built by the Civil Conservation Corps in the late '30s and have housed hundreds of horses over the years. Now, nearly 80 years later, the stables are still in use and house a variety of rescue, personal and boarder horses.
    In addition to boarding services, lessons are offered to riders of all skill levels, Rita Hall, stable manager said. Trail rides are available to adults and children over eight years old. Trail rides are $45 for one hour and take riders around Tyrrell Park — depending on the weather, returning or advanced riders may be able to ride through Cattail Marsh.
Cattail Marsh includes 900 acres of wetlands, and offers a variety of recreational activities with a new boardwalk and more than eight miles of gravel levee roads for jogging, hiking, biking, horseback riding, bird watching and wildlife photography along the banks of Hildebrandt Bayou and Willow Marsh Bayou.
"We're currently riding out on Cattail Marsh a little bit," Hall said. "We make the loop around Tyrrell Park. One option is to go straight up Cattail Marsh, and then we can ride down the bayou and come back. We can do longer runs with experienced riders.
"We don't take beginners out there because we might run into hogs. Sometimes the horses don't want to go because they know it's a long ride, so you have to have enough control over the horse to be the boss."
Before the horses hit the trails, they have to be cleaned up and have their hooves checked for rocks and mud.
"When we get a horse out for a lesson, or to ride, we always brush them anywhere the saddle is going to touch them," Hall said. "We don't want them to have an issue with dirt clods under their saddle pad or girth. We also clean their hooves — with all the rain, they get rocks and mud stuck on the bottom of their hooves — it would be like walking with a rock in your shoe."
Lora Cranmer, ranch hand and rider, has a routine that she follows every time she gets ready to ride her horse, Tobi.
    "When I plan on riding him, or using him for a lesson, I bring him up to the front and put him in the cross-ties to clean his legs and feet as necessary, then I brush him out," she said. "I choose a saddle and pad that I know fits him and get his bridle from the tack room."
     After gathering Tobi's tack, Cranmer begins the process of saddling him up.
     "I put his saddle pad on first, then his saddle," she said. "Right before I get ready to take him out of the cross-ties, I put his bridle on and check to make sure that everything is OK and it's not catching or rubbing on him. Before I mount, I always check the cinch strap to make sure that it's secure and the saddle doesn't slip when I get on."
Whether one enjoys riding the trails, or taking a lesson, the stables at Tyrrell Park has something for everyone.
For more information, visit Tyrrell Park Stables on Facebook or call 730-7073.