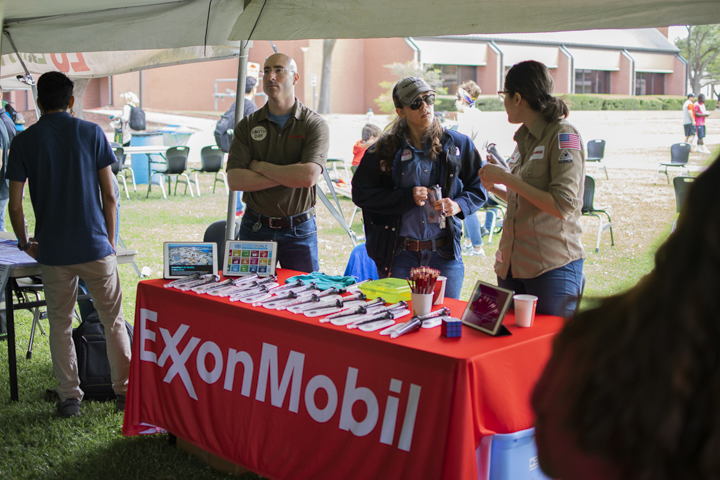 The air quality in Beaumont hasn't always been the city's finest feature. As an oil and gas town, harmful emissions can cause health concerns, a problem that ExxonMobil has been working hard on solving.
"Air monitoring in the Beaumont area has demonstrated an 85 percent reduction in benzene concentrations since 1990," Cindy Holloway, ExxonMobil's public and government affairs coordinator, said in an email interview. "ExxonMobil has reduced sulfur dioxide emissions from its operations by more than 80 percent since 2004. The ExxonMobil Beaumont complex has reduced ozone precursors such as nitrogen oxide (NOx) and volatile organic compounds (VOCs) by more than 50 percent since 2004."
Benzene is an air toxic emitted from gasoline service stations, motor vehicle exhaust, fuel evaporation, and the burning of coal and oil, while sulfur dioxide is a by-product of the burning of fossil fuels. Large exposures to either Benzene or sulfur dioxide can cause dizziness, vomiting and loss of consciousness.
Holloway said the ExxonMobil plant in Beaumont has been working to reduce the harmful dispersant of both emissions, and in 2016 Beaumont was removed from TCEQ's air pollution watch list for sulfur dioxide (SO2) emissions.
Holloway said ExxonMobil's has installed monitors around the Beaumont refinery to make sure that benzene levels stayed at the right level.
"ExxonMobil has installed 27 benzene monitors along the perimeter of its Beaumont refinery and chemical complex," she said. "The resulted data will be published every two weeks in accordance with the EPA's Refinery Sector Rule, beginning June 2019. Monitors in close proximity to the community fence-line consistently register near zero."
Holloway said that by 2020, ExxonMobil will have invested nearly $2 billion on various environmental performance measures at its Beaumont refinery and chemical complex over a 20-year period.
  "We are committed to conducting our business in a manner that is compatible with the balanced environmental and economic needs of communities where we operate," she said. "ExxonMobil remains committed to mitigating emissions from its operations and helping consumers reduce their emissions, including through efficient fuels, lubricants and lightweight plastics.
"When we make decisions about products, production processes and facility modifications, the impact they will have on the environment is one of our first priorities. We work to minimize impact on the environment while managing our operations efficiently."
For additional information contact the ExxonMobil Refinery at 240-4809 or email Holloway at cindy.j.holloway@exxonmobil.com.
This story was produced in partnership with ExxonMobil.