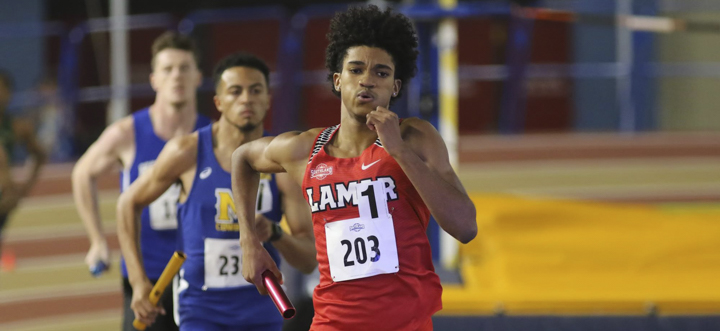 Webster Slaughter, Missouri City sophomore, is taking his passion for track and field to chase Olympic dreams.
Growing up with athleticism in his DNA, his father Webster Slaughter II played in the NFL for 12 seasons, five with the Cleveland Browns, but also played two seasons for the Houston Oilers from 1992-94, and his mother competed in track as well as his three sisters.
"My parents never pressured me into doing athletics, but my siblings and I definitely grew up being competitive against one another and always wanting to perform and do our best," Slaughter said.
Although he is a short-distance runner, Slaughter's track career started with long-distance events but later transitioned short-distance races during his senior year of high school.
"I was getting first in my long-distance races in high school, but then I had coaches come up to me and say that I wasn't a long distance runner," he said. "During my senior year, they put me in the 400 for the first time and I won and that was the end of my long-distance career."
Slaughter now runs the 400-meter race and the 4x4.
The sophomore sprinter aims to qualify for the Olympic trials for the 400-meter race. In order to qualify for the Olympic trials, Slaughter must run a 45.90 race.
The qualifying mark must be made on a USATF certified course, in an event sanctioned by USA Track & Field or a member federation of the International Association of Athletics Federations (IAAF).
"Since my freshman year, every race I have run I have gotten faster," Slaughter said. "Coaches are saying that I'm still learning how to run and that's why I keep getting faster. They also tell me that I don't know my own speed. It's extremely rare that a sprinter continues to get faster, and that's what makes me believe that I can make it to the Olympics."
During this year's prelims, Slaughter ran the best race in the men's 400-meter dash with a time of 47.92, just his third time reaching a sub-48-second race and just about a second and a half off the Southland conference record.
Slaughter won his first career individual title in February at the indoor conference with a race of 47.76, his best race of the year.
"Coach Clark said I was going to get first at the beginning of the season, and I didn't believe it," Slaughter said. "I was 10th last season, but I was getting faster. However, I didn't expect to go to the conference and win."
Although two seconds seems like a small difference, he ran 49.08 in the same race last year for 10th place.
"In track, two seconds is the equivalent of being across a large room from each other," Slaughter said. "Even though it's such a small number, it's the difference between first place and tenth place."
Slaughter sees his improvement in the indoor races as a sign that his outdoor race will push him closer to the qualifying time.
"You run slower indoors than outdoors," Slaughter said. "The indoor track is smaller so you have to run two laps which makes you turn more and it slows you down. Last year, in the outdoor meet, I did the 400 meters in 47 seconds. I should be way faster than that in this year's outdoor meet since I did the indoor in that time."
The outdoor conference begins on May 3 in Natchitoches, LA at the Walter P. Ledet Track Complex.
  In order to prepare for the conference to reach the qualifying time, Slaughter added more training to his regime.
"Practice might be from 2:30 p.m. to 3:30 p.m. and then we do weights from about 4:30 p.m. to 6 p.m., but I also stayed over spring break and I'm planning on staying on campus over the summer in order to train," Slaughter said.
For Slaughter, making the Olympics would be the ultimate payoff for his hard work.
"It's my dream and what I've been working for since I started track, and I don't think I'd be able to describe how I feel if I made it," he said. "All the hard practice and meets to not only to make the trial but to represent my country would be a huge accomplishment and would almost be like paying back all the coaches and my family who believe in me."