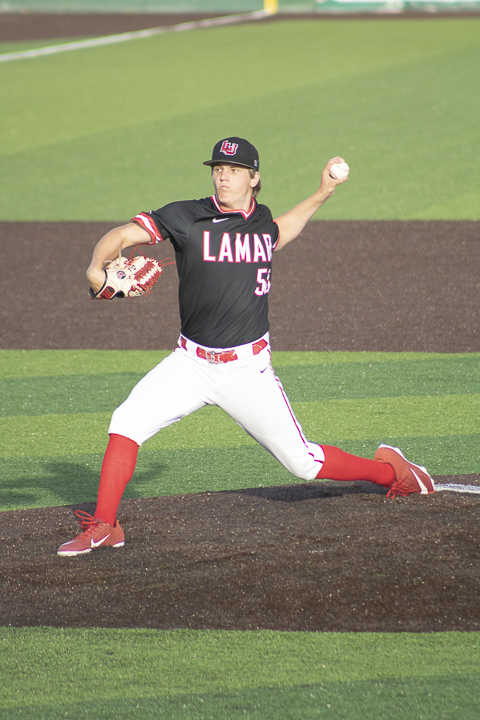 The Lamar Cardinal baseball team fell to the University of Houston, 8-7, Tuesday, at Vincent Beck Stadium in a non-conference game.
The game came down to the wire, but it was a ninth inning home run by Cougars first baseman Joe Davis that sealed the win.
It was a strong start from both teams defensively in the first inning. The scoring began in the bottom of the second inning after Lamar struck first due to a wild throw from the Cougars defense. An attempted double play led to an overthrow from the second baseman, allowing two runs to cross home plate.
The Cougars managed to cut the lead in half during the top of the third inning following an RBI double.
The Cardinals quickly retaliated in the bottom of the third following a pair of singles from left fielder Cole Coker and right fielder Avery George. Following a bobbled ball and overthrow from the Cougars shortstop, two more runs scored giving the team a 4-1 lead.
The tide of the game turned in the top of the fourth inning following a home run from Cougars left fielder Rey Fuentes III. An RBI single from second basemen Brad Burckel followed by a sacrifice fly from third baseman Jared Triolo led to two more scores.
A wild pitch from LU pitcher Austin Smith allowed for one more score in the inning, giving the Cougars a 5-4 lead.
The Cardinals managed to retake the lead in the bottom of the fifth inning following an RBI double from first baseman Anthony Quirion and a fielder's choice which allowed Berlof to score.
An RBI single from third baseman Kirkland Banks gave the Cardinals their final run of the game.
An RBI single from Cougars center fielder Lael Lockhart Jr. and an RBI double from catcher Baker Way allowed for a tied game in the top of the eighth inning.
Following a failed Lamar chance to take the lead in the bottom of the eighth, in the ninth inning, the Cougars took the lead following Davis' home run, completing the scoring.
The Cardinals record now stands at 9-19, 2-10 in conference play.
"We're going to keep showing up to the park with enthusiasm like we do every day," head coach Will Davis said. "There is no consolation prize for losing games by one run.
"When you do keep losing games by one run, it shows that you're close to being good and getting the ultimate goal of winning. I think our guys see how close we are, and we'll turn a corner and finally start winning these games."
The team will be in action next Friday in Huntsville, when they take on Sam Houston State University in a three-game Southland Conference series.