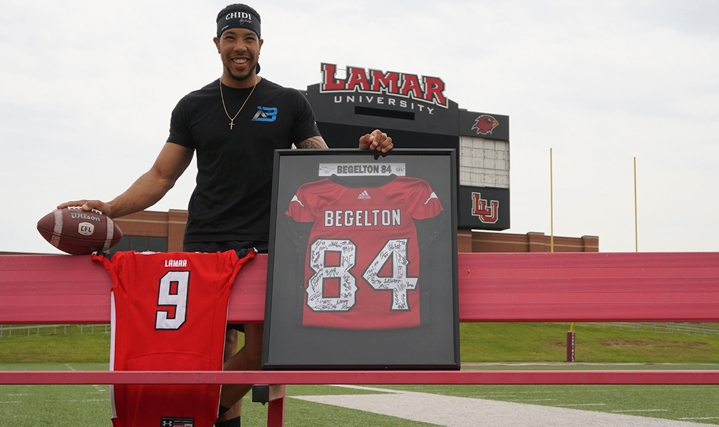 Reggie Begelton takes mark in the endzones of Provost Umphrey Stadium. A timer sounds and Begelton takes off at lightning speed.  The Lamar University alumnus is on offseason from the Canadian Football League and is working to make this year with the Calgary Stampeders a memorable one.
A Beaumont native, Begelton said he was mesmerized by football as a child, although he was more into books than sports.
"First thing I ever did psychically was Taekwondo," he said. "I believe that is what helped me develop self-discipline and everything before I started organized sports. I used to play football in the neighborhood with the older kids, that is also a testament into why my development was a little bit above par."
Begelton said his father didn't push football on him when he was young.
"He didn't know I liked it," he said. "We were watching football on TV one day and I said to him, 'Dad I want to play this,' and he said, 'You do?' That was when I told him that I played all the time in the neighborhood with the older kids. My dad didn't think anything of it at the time. Eventually, he put me into organized sports. The first team I was on was the Salvation Army Mighty Mites. My dad didn't actually come to my first game because he had to work.
"Eventually, word got out and everyone told him how good I was. He then came to the second game and he saw a future in me after that. It just took off after that and football became my passion."
After youth football, Begelton played for West Brook High School and graduated in 2011. He said he really wanted to go to college.
"Really and truly, football was not my number one," he said. "I had a partial scholarship to Abilene Christian, which is a private school, Division II athletics. The thing about Division II is that they don't typically give incoming freshman full ride scholarships, and with it being a private school, I would have had to pay almost $20,000 out of pocket a semester."
Begelton decided that going to ACU was not in his best interest and decided to attend Lamar.
"I came here to get a degree in chemical engineering, as this school is very good for engineering," he said. "I played football just to play it. As far as playing, it was tough. It started off rough at first because I didn't get any scholarships coming out of high school, so I had to walk-on my first year.
"I was a walk-on for two years, and at that point my dad was paying out of pocket for me to go here because I couldn't get financial aid. I had to make a choice whether to quit football or at least ask the coach for a partial scholarship — if I couldn't get that I was going to have to quit football or a few classes."
Begelton said that if it hadn't been for former head coach Ray Woodard, and former wide receiver's coach Kevin Barbay, he wouldn't have a career in football.
"They saw something in me and gave me a half scholarship," he said. "I can easily say after that I took off. That was a blessing all in itself, because I wouldn't be here today without that half scholarship. I graduated in fall 2015 with a bachelor's degree in business."
Begelton said that he didn't go to the NFL combine, instead he participated in a Pro Day at Lamar.
"Only three NFL teams showed up," he said. "I got the opportunity to go the three-day minicamp with the Atlanta Falcons and the Oakland Raiders. Unfortunately, it didn't work out and after that stint I went into a little slump."
Begelton quit football and started working for Universal Coin and Bullion in Beaumont.
"I did that for four and a half months," he said. "I took about a semester off, but I constantly had people in my ear telling me, 'What are you doing?' and saying I was too young (to quit). I was 22 at the time and took that into consideration, and I decided to give it one more try, so I tried out for the CFL. I am thankful and blessed that I did."
Begelton said Universal Coin and Bullion pushed him into the CFL.
"The people in that company were one of the biggest influences on me to move forward in my future with football," he said. "They taught me how to battle adversity mentally and, honestly, it was the stepping stone I needed to get out of my comfort zone."
Begelton decided try out for the Calgary Stampeders.
"I did really well at that tryout and they ended up offering me (a contract)," he said.  "I did go to the Saskatchewan Roughrider's tryout before I went to Calgary's, but they didn't offer me anything until after I signed with Calgary. After I passed the first tryout, I had to go to the next one which was in Florida. After the Florida tryout, I had to go to the veteran or main camp, where I would be competing for a spot with the veterans."
Begelton said that the process for entering the CFL different from the NFL.
"For the CFL process, Americans don't get drafted — you have to go to local tryouts," he said.  "Each of the nine teams in the CFL holds their own regional combine."
Begelton said CFL contracts are also different from the NFL.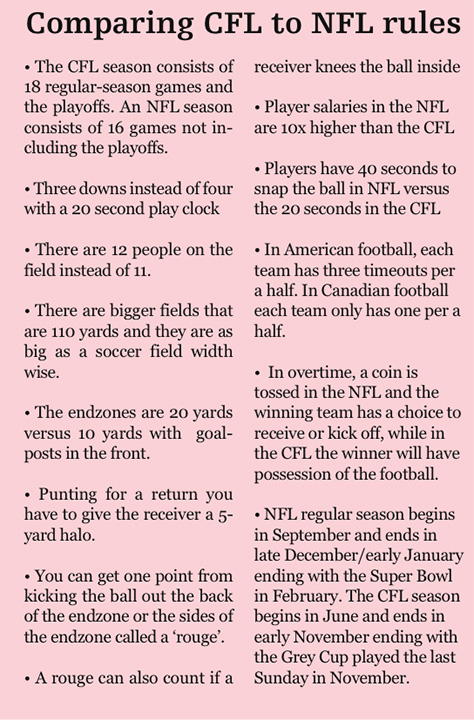 "As far as the contracts go, it can be whatever they negotiate with you," he said. "I ended up signing a two-in-one, which is a two-year deal with an option year. After your two years are up, they can either keep you if they want to, if you are doing well enough, or they can release you." A month after signing with the Stampeders, Begelton was released due to an injury.
"It was a partial knee injury," he said. "Because I was a rookie and got injured during pre-season, they had to release me. I still had made the team and I recovered at home. The injury wasn't too serious, I just need to recover back home and come back. They then had me back on the team to play."
During his first two years with Calgary, Begelton said he had to get used to the training.
"I was a little raw, with basically pure talent, and then I learned the game," he said. "It was a big jump from that first year to that second year and you can obviously see it. I am just trying to grow every year after that and that is the biggest thing. If you can improve from every year you will become a great football player."
On Sept. 28, 2018, during a game against the Toronto Argonauts, Begelton broke his arm and was out for the season.
"I had a spiral fracture on my humorous while I was blocking on special teams," he said. You commonly see this injury in arm wrestling, and I was instantly depressed. Professional football players have a small window of opportunity, and every year that you sit out due to injury or simply on the bench, your window gets that much smaller. I believe that God got me through it, though."
The Stampeders beat the Ottawa Redblacks to win the CFL's 106th Grey Cup in November.
"Man, it felt really good," Begelton said. "It was the first time that I have ever been on a championship winning team. The atmosphere of that team, in particular, I have never been around that either. Everyone was together — I have never felt a team that was together like that before and it was a cool experience."
Begelton said that he is ready for next season as it will be his contract year. His goals are simple — to stay healthy and help the team be consistent.
"That has always been my MO," he said. "Coaches feel that they can always count on a guy that shows up every day, and I want to be that guy. I'm going into this season with a chip on my shoulder and, basically, I am going to give it my all."
The CFL regular season starts a few months before the NFL, with training camp starting May 19 and the first preseason game on May 26.
When Begelton is not playing football or training, he said he enjoys fishing and bowling.
"I love fishing, that is my main hobby," he said. "My grandfather actually got me into fishing and my dad did it a lot, too. I always went fishing with my grandfather and he was a very stern business man. However, because I was his grandson, he was more lenient towards me as opposed to his own children. As I grew up, he knew I loved fishing and it was a great way to keep me out of trouble."
Begelton said that he has advice for anyone wanting to be successful.
"One thing I can say is, if you are going to do something, don't half-ass it," he said. "Do the things that you can, to the best of your ability, and find the joy in it. Find resources that will help you achieve your goal as much as possible."
Begelton makes it to the other side of the field, he is satisfied with the progress that he has made since his injury and hopes to show it on the field this season.