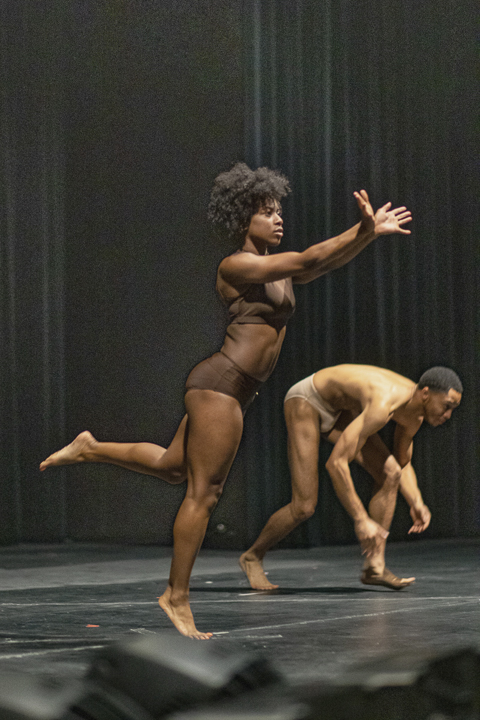 Singing, projections and emotion will supplement "Dance Unleashed," the LU department of theatre and dance spring dance concert, April 12-14.
Travis Prokop, LU dance professor, said the showcase features a new crop of students who are starting to emerge. This year's showcase will push the comfort zones of both the faculty and student performers, he said.
"We're producing art that people can relate to, be entertained to and see a little bit of themselves," he said.
Prokop said the students spend mornings and nights training, not only to choreograph, but to perform and dance.
"This is a fully integrated performance of pre-professional dancers," he said.
Senior Austin Jones will perform with DeShonna Harris. Their costuming gives the impression they are nude.
"Travis told us we should take personal experiences," Jones said.
Harris said there is an intimacy about their dance.
"In this duet, I'm learning that I'm not the only one vulnerable, that we have to get comfortable together," she said.
Another featured piece by Prokop is about a young person's guide to the orchestra called "Fugue."
"The whole piece runs through the entire orchestra, what the instruments are and what their job is," he said.
The showcase will feature student and faculty choreographed pieces that were performed at American College Dance Association in front of 25 colleges.
"We like to include that in our faculty concerts, to show the students we are proud of them," Prokop said. "My job as a mentor is not to tell them how to do it, but to guide them in a path that is interesting for them. It becomes less about reciting information and more about nurturing the artist."
"Dance Unleashed" will feature the performers pushing boundaries and bringing new ideas to the table for people to enjoy and relate to, Prokop said. Genres include aeriel silks, modern, contemporary, tap, jazz, ballroom and ballet.
"We try to pull from as many genres as we can, because that is what we teach our students to be, to master as much as they can, so that when they graduate, they are more hireable," he said.
Prokop said that the concert reflects where the faculty and students are today.
"In terms of what we are bringing to the table, it's a version of ourselves," he said. "This is 2019 — the 2019 of us. This is what art teaches us, to be interested in other people, and to be compassionate and care about the lives of other people, so our society can grow as a whole."
Show times for "Dance Unleased" are 7:30 p.m., April 12, 13, and 2 p.m. April 14 in the University Theatre. Tickets are $7 for LU/LIT students, $10 for faculty, staff, senior citizens and students, and $10 for general admission.
For more, visit lamar.edu/theatre.