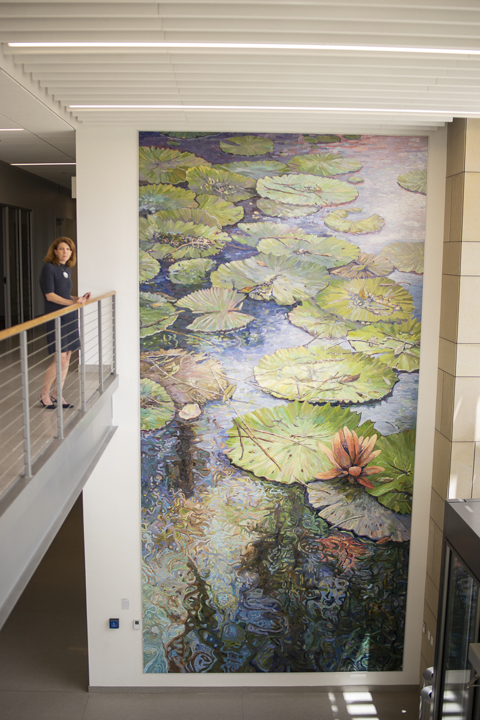 In 2010, the Texas State University System initiated the one percent rule, a state mandate that requires universities that construct any buildings over a million dollars to set aside one percent of the cost for the purchase of art — a mandate that Lamar University has taken full advantage of with the opening of the new Science and Technology building.
Kim Steinhagen, co-chair of the Public Art Committee, said Lamar started the committee in 2014 with the unveiling of the new Reaud Honors College. After officially forming the committee, Steinhagen said she worked with LU's First Lady Nancy Evans and other faculty members to formalize and set requirements for purchases.
"We look for art that would be accessible to everybody," she said. "We want things that are diverse and done in a lot of different media. We want art made by artists who are exhibiting nationally, are in regional art museums and galleries, and have work in art museums."
The committee had a $500,000 budget to purchase art for the Science and Technology building.
"The first artist that we selected for that building was Dixie Friend Gay, who did the mosaic mural," Steinhagen said. "She was somebody we knew about and somebody we were excited about. Mrs. Evans, Donna Meeks, Dennis Kiel and I went to Houston to tour Dixie's studio and visit with her. After about four or five hours, we all knew we wanted her in the building. That meeting was back in 2015, so it took that long to do the process."
Steinhagen said it was almost a year after the initial meeting before the crew could work on the project in the building, a concept that took more than two years to complete.
"The tiles are all hand made in Montreal, Canada," she said. "(Friend Gay) sends her concept painting to Montreal and then they match all the colors, blow the concept up into a full-scale model, lay it out in panels on sticky plastic and cut those tiles into little tiny pieces, put them in shapes, cover them and ship them down to Beaumont in a crate. It took the team almost five days to install."
The mosaic mural, a 25-feet by 12-feet wide replication of a swamp filled with flowers and lily pads, now rests along the wall to the right in the lobby of the STEM building and is one of the first things viewers see when entering the space. Steinhagen said the next piece they bought was by sculptor Steve Murphy.
"Mrs. Evans and I had toured Steve Murphy's studio before and really liked his work," she said. "He had a show at the Art Museum of Southeast Texas about two years ago and that's how we connected with him. The piece we ended up buying from him was actually in that show, so it has that Beaumont connection. We picked a piece that was large and heavy but couldn't easily be toppled over or damaged. It's called 'Willful Suspension of Disbelief,' and is an oxidized piece of steel with a geometric form to it."
The sculpture is located in the north lobby. Next, Steinhagen said they wanted an outdoor piece for which they chose New Orleans artist Lin Emery.
"We bought Lin's piece in New Orleans last May," she said. "President Evans and Mrs. Evans wanted a kinetic sculpture for a long time, and we needed an artist that was in museum collections — Emery fit that profile. She's not a Texas artist, but we aren't limited to Texas artists if we find someone we really love. Her sculpture sits outside the front of the building and moves with the wind. She's a little self-taught and uses trial and error to find ways to make her sculptures move the way they do. They move naturally and are organic, in the sense that they look like leaves that spin."
Another purchased piece includes a painting of egrets by John Alexander, a Lamar alumni who now lives in New York. Steinhagen said when she and Nancy Evans went to New Orleans for Emery's piece, they also bought Alexander's painting.
"When we went to New Orleans, he was having an exhibition in a gallery there during our trip, and we thought it would really make sense to buy a piece after all he's done for Lamar."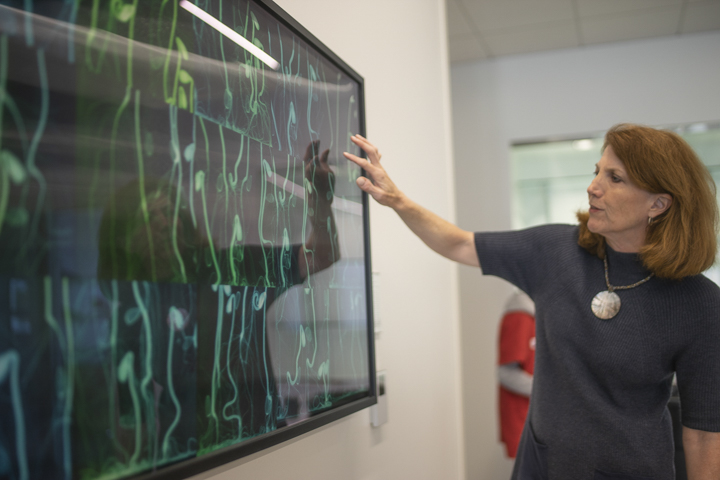 Alexander has donated several pieces to Lamar's campus and convinced other donors to do the same.
"His work fits the theme of the building, because biology is one of the main classes taught there," Steinhagen said. "We wanted to try and acquire works that fit that environment, and that painting does because it's about outdoors."
A photographic triptych by Dornith Doherty is displayed on the second-floor open area against the back wall.
"(Doherty) is also a really big deal," Steinhagen said. "She received a Guggenheim fellowship grant for this project, called 'Archiving Eden.' For that project she went around the world to different seed banks and photographed these seeds with an electronic microscope. Then she blows those images up into a large-scale format. The three pieces we bought, she's taken not just the single seed, but she's collaged these images together, so they are multiple images on a single sheet. They are put on plexiglass panels and they have dimension on them. As you walk across, they change colors — so that is a really nice effect."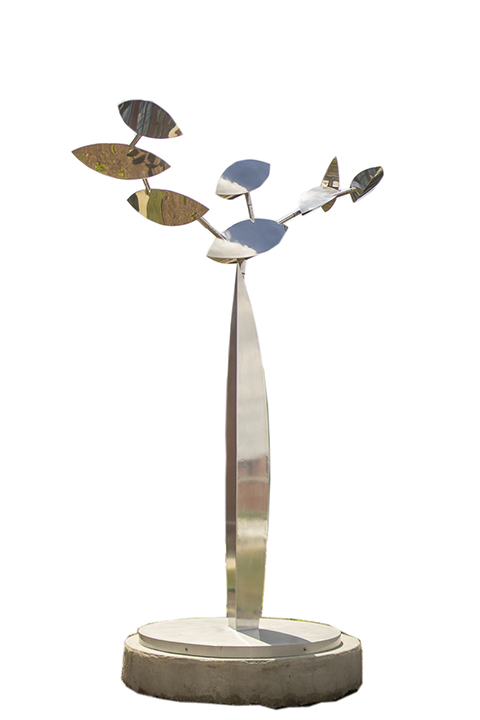 Joan Winter's 'Deep Series' hangs in the first hallway to the left of the swamp mural.
"They are images of clouds and it's all about light — light at different times of the day," Steinhagen said. "We have them in a different order, but they still reflect first light, morning, noon and night. Although they are all in blue tones, they are all made with a single copper plate and it's the ink color that is changed. The inks are all hand mixed, so the colors come out a little differently each time."
Steinhagen said she hopes the various types of art in the building will inspire innovation in the students who will be taking classes and walking the halls where these photos, mosaics, sculptures and paintings hang, sit or stand.
"I hope it sparks creativity," she said. "It makes you appreciate your surroundings that you're looking at something that has been created. The whole point of that building is that it's a 'makers space,' where students will have projects and problems they will have to solve. They are going to have to be creative in there, and with science you have to be able to step out of the box.
"For me, art gives you that different venue and a different way of looking at things. Whether it's abstract or realistic, it's a creative way of looking at life. We need creativity in everything we do. I hope the art will put the students in a beautiful setting and help them to be creative in what they are doing."
Members of the Public Art Committee include Steinhagen who is co-chair with photography professor Carter, art department chair Donna Meeks, Dishman art director Dennis Kiel, and Katherine Fouts who is a community member.
Steinhagen said students should be careful and vigilant around the art pieces, as they are all originals that cannot be replicated and cost the university a lot of time, money and effort.
For more information contact Kim Steinhagen at 656-5675 or email ksteinhagen@lamar.edu.