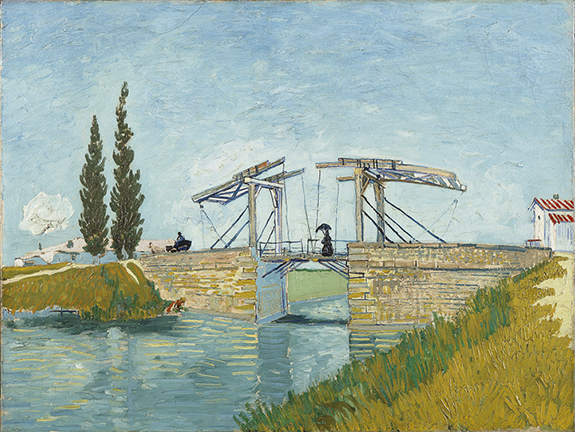 When most people try to conjure up Vincent van Gogh, they think of famous paintings, such as "Starry Night" and "Self-portrait with Bandaged Ear."
"Vincent van Gogh: His Life in Art," on display at the Museum of Fine Arts Houston, through June 27, lets viewers find the man behind the paintings in an easy, informative way. The exhibition layout lets the viewer feel as though he or she is experiencing his life — or at least the decade that was his entire career.
The entryway boasts a large reproduction of a van Gogh self-portrait before widening into a larger room with copies of some of his most famous works. This serves to introduce visitors to van Gogh's art as an overall concept before truly submerging the viewer into each individual stage of his life.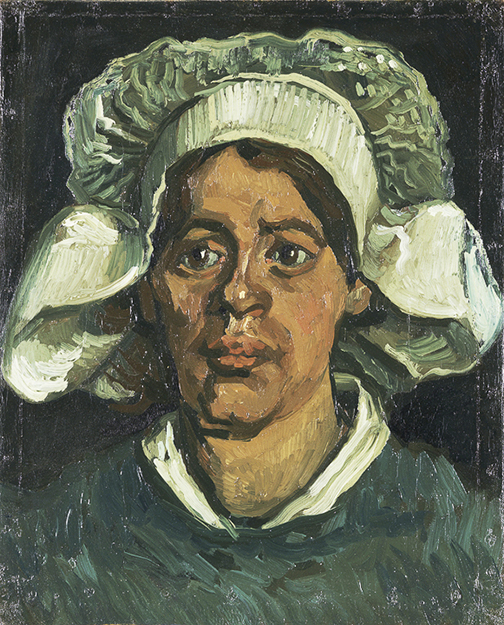 At the press preview, March 7, curator David Bomford quoted van Gogh's response to someone telling him he painted too fast — "If someone says you paint too quickly, look at them and say, 'You are looking too fast.'" To truly understand Vincent's art and life, one should take it slow and let go of any previous expectations about fine art or Vincent van Gogh.
After viewing the opening hall, which was brightly lit. with the walls painted blue and white, the next room, in contrast, was dark with a few framed photos spotlighted on one wall and a large blown up version of one of van Gogh's letters to his brother, Theo, on another.     
The room introduces van Gogh's first steps of study and a reproduction of an early painting, "The Potato Eaters," shows van Gogh's interest in peasant life as he saw it. The subjects in "The Potato Eaters" are real people, and their portraits hang nearby. "Head of a Woman Wearing a White Cap" is daunting as one stares at her face, with its deep lines and mouth set in grim tightness, which provokes deep feelings of sadness as one imagines the hard life she lived.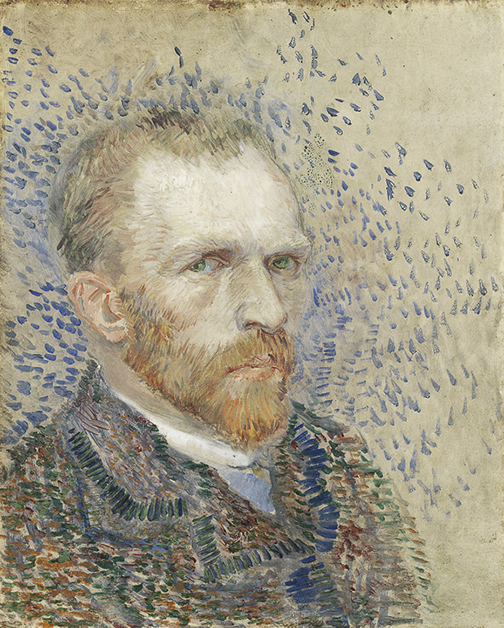 The next room is larger and more spacious as it moves to van Gogh's second phase — becoming an artist. The walls contain dark, black and white sketches of trees without leaves, an oil painting, "The Old Church Tower at Nuenen," shows a house on a hill, laborers work in drawings such as "Reaper," "Peasant Woman Cleaning a Pot" and "The Digger." The room even has a glass display case which showcases the many writing and drawing tools van Gogh used throughout his lifetime.
The adjoining room, separated in orange and white painted walls, follows van Gogh's move to Paris, and features a self-portrait inspired by pointillism. The gallery shows how his style changed as he became under the direction of his brother, Theo, who had become a well-known art dealer. The self-portrait is awash with dots of blue, red and green — the blues turning purple as the pigment faded over time.
Pencil sketches are done in bright blue hues, and some of his first still-life paintings like "Roses and Peonies" and "Vase with Gladioli and Chinese Asters" adorn the walls. Highlighting the period is an oil canvas called "Le restaurant de la Siréne á Asniéres," depicting a restaurant in Paris full of people and color.
The exhibit layout flows as it illustrates each period of van Gogh's career. What starts in a dark room, with dark paintings and rough sketches that spoke of van Gogh's struggles in the Netherlands, slowly blossoms into wider rooms, bright lights and paintings that burst with color and vitality as van Gogh searches for light and recognition in southern France.
The final room is split into several sections. On the walls hang magnificent images of landscapes in every medium, of every size and of every color. The paintings give a sense of being in the countryside —blues and greens in "The Langlois Bridgeat Arles," rows and rows of blue flowers in "View of Saintes Maries de la Mer," and the capture of a gray rocky hill in "Les Rochers." Vincent van Gogh's paintings depict the beauty of towns, fields and rivers. It inspires one to want to travel and see these places in real life.
The sketch, "Café Terrace on the Place du Forum," was made with a reed pen and ink with graphite on laid paper, and the scene perfectly captures how one pictures a French café would look.
The last section of the exhibit takes the viewer through van Gogh's time in an insane asylum, his release and ultimate death. 
"The Garden of the Asylum at Saint Rémy" shows how van Gogh's struggles came out in his art. Hanging next to the garden painting is a sketch of "The Weeping Tree," which is black and gloomy compared to the vivid colors of the garden, showing the raging difference inside of him in those trying times. His final paintings were of wheat fields and are hung up in the exhibit in succession for viewers to ponder over as they leave.
One leaves the exhibition with a sense of art's power of expression. It goes farther than just what is placed on a canvas, it's a background story, it's history, it's imagination and reality at the same — it's a place and a feeling that Vincent has laid out in front of us.
"Vincent van Gogh: His Life in Art" tickets are $25 for adults, $20 for senior citizens, military, college students and youth, and children 12 and younger are free. MFAH members are also free.
For more information visit, www.mfah.org.