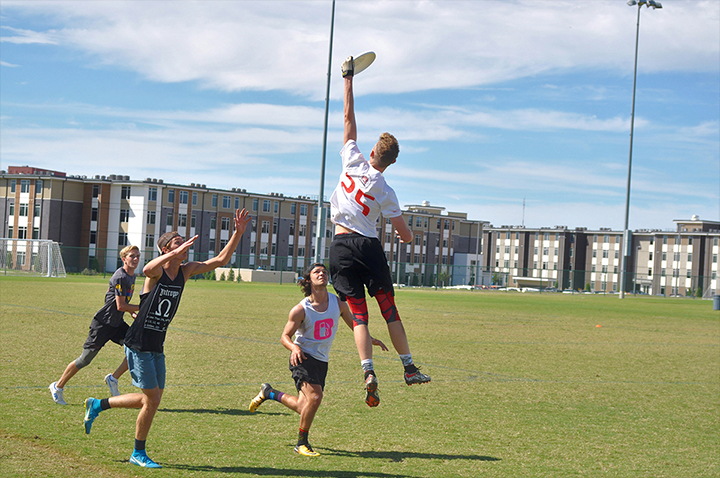 The Lamar Ultimate Frisbee team will host tryouts, 7 p.m. to 9 p.m., Mondays and Thursdays, at the Ty Terrell Track, for the rest of the semester. Current students and incoming freshmen are invited.
"Ultimate is a crazy, fun sport with an awesome community of players," club president Daniel Oliphint said. "The sport itself doesn't get enough attention. Ultimate Frisbee combines concepts from soccer, football and basketball, but is really its own sport. You would just have to sit down and watch it to truly appreciate it."
The Lamar Ultimate Frisbee team, also known as Lamar Dark Matter, includes players from freshmen to seniors from a variety of different majors.
Co-captain Josh Khoury, Bridge City senior, said Ultimate requires a range of skills.
"What we are looking for in a player is, like with most sports, speed, jumping ability, hand-eye coordination, a sports IQ and a good attitude," he said. "But really, any skill level is welcome to come play and be a part of the team."
Since the sport formed in 1968, it has spread across the globe, spanning hundreds of college campuses and multiple continents.
Co-captain Sam Heslep, Beaumont junior, said Ultimate Frisbee means coming together in a fun community with crazy highlight plays and everyone having a great time.
"It is just a recreational sport that I've enjoyed being able to compete against other colleges and make great friends in doing so along the way," he said.
Oliphint said the team hopes to spread awareness about the team so they can share the game with others and teach them how to play.
"Even if you aren't that athletic (but) can work at it and be able to throw the disc well, if you put in the work, we will take you," he said.
Ultimate is listed as a men's club, but Oliphint said tryouts are open to all.
"This isn't just a men's club," he said. "It is technically considered a men's club, but it's not a men's-only club. We've had several girls play on our team."
The Ultimate club is a well-run and successful club, Jason Harrington, intramurals and sports clubs coordinator, said.
"They are a veteran traveling club with goals that help motivate themselves and others," he said. "Currently, Sports Clubs is comprised of archery, baseball, soccer (men), soccer (women), tennis and ultimate frisbee. Two new clubs have completed, or are near completing, the process to be a sport club. They are mixed martial arts and wrestling."
For more information, contact lamarultimate11@gmail.com or find them on Facebook.com/LamarUltimateFrisbee.
For more information about Sports Clubs, contact sportsclubs@lamar.edu.