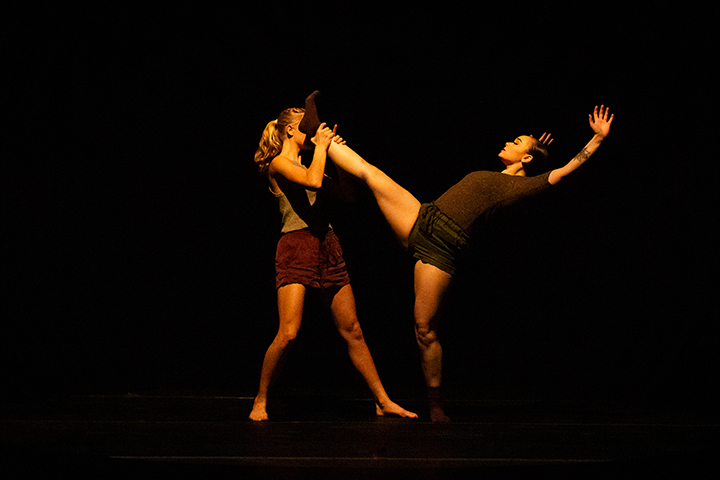 Lamar University's department of theatre and dance received recognition from the American College Dance Association's South-Central Conference for the piece "Fragmented," held at Texas A&M University, March 7—11.
"Fragmented" was originally a  four-minute-long piece choreographed by Golden Wright, department chair, in fall 2018. An extended 12-minute version was created for the ACDA Conference. 
"The piece is about relationships and how you interact with others," Wright said. "It's called 'Fragmented' because you only see a piece of it at a time. You only see seconds of it and everybody dances with everybody."
Only 12 pieces were selected to be recognized at the ACDA Gala show out of 48 pieces submitted. Wright said "Fragmented" is the fourth LU dance since 2006 to receive this recognition.
"The campus hosting the conference brings in a diverse group of three adjudicators," Wright said. "They know very little about the pieces that are being adjudicated. They know the title of the song, the year it originated and the title of the piece."
Wright said it is an honor and a challenge to be selected to do the Gala show. He said organizing dancers to move around the stage between light cues was as complicated as choreographing what was seen by the audience.
The dance is performed on a mostly dark stage between spot lights that fade in and out.
"There are 10 dancers and there were 53 different light cues within a 12-minute dance," he said. "So, it's calm up front and then it's really hectic running around in the back."
The performance was challenged by more than just the choreography. Wright said the first attempt by the dancers was thwarted by a corrupted music replay.
"We actually had to stop the piece," Wright said. "The dancers really handled it in a professional manner."
Wright said the adjudicators gave feedback on every piece performed at ACDA.
"I was really excited that they talked about how well-trained our dancers were," Wright said. "And that we came from a phenomenal institution."
Wright said the critiques from the adjudicators provide important feedback about the performance.
  "Fragmented" will be shown at the spring dance concert, "Dance Unleashed." Tickets are on sale now for the performances, April 12 and 13 at 7:30 p.m. and April 14 at 2 p.m. in the University Theatre. The family-friendly performance will show original choreography by the department faculty in ballet, hip-hop, modern, jazz, tap, and contemporary styles.
Tickets are available at lamar.edu/lutdtix