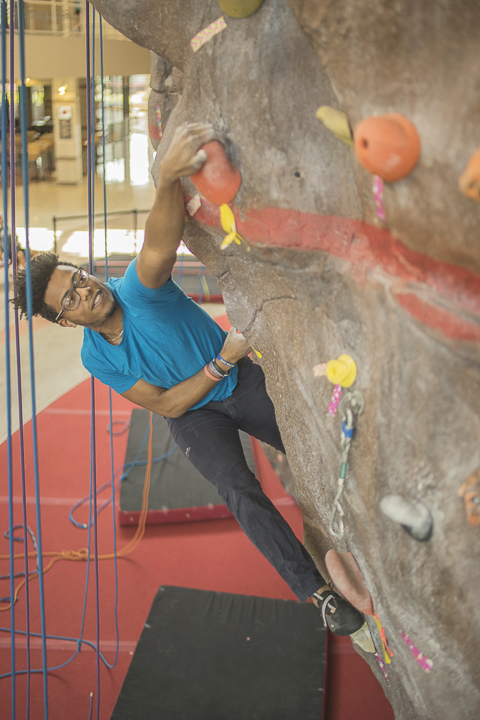 Whether it is gently rocking a hammock side-to-side while relaxing with friends, or suspended 40 feet in the air on a rock wall, Outdoor Pursuits offers a range of options for students with a sense of adventure.
"Outdoor Pursuits has a very wide variety of options for students, faculty and staff to really get a feel for outdoor adventure type stuff," Eric Hernandez, recreational sports program coordinator, said. "Our student workers really take pride in their work and are always willing to assist, teach, train and mentor anyone who wants it."
Located at the Sheila Umphrey Recreational Sports Center, OP provides students and staff the opportunity to climb a 40-foot rock wall that covers 1850 sq. ft. Participants can work towards the "Mile High Challenge" which involves climbing the rock wall 132 times to complete one mile and climbers will receive a free t-shirt and their name on the "Mile High Challenge" board.
"On a weekly basis, Outdoor Pursuits operates the rock-climbing wall from 1 p.m. to 8 p.m. and it is a chance for students to come and either try for the first time ever or, for our regulars, explore some of the more challenging routes," Hernandez said.
Rock wall manager Marcus Rodgers, Lumberton senior, has climbed the wall approximately 600 times since he started attending Lamar University and has completed the "Mile High Challenge" several times.
"I completed the challenge twice in one semester and I complete it at least once every semester," Rodgers said. "It's really great just having fun, but also for the strength training that comes from climbing different ways."
For Grace Granger, Groves sophomore, completing the mile-high challenge became a part of her daily schedule after attempting to climb the wall on the second day of last semester.
"A few weeks before the end of the semester, I was near completion of the challenge," she said. "I couldn't help but feel a little sad that it was almost over."
Over the course of the semester, Granger said, the OP staff trained and mentored her to do more challenging tasks such as lead climb — a technique where climbers clip their rope into carabiners hung from the wall in regular intervals as they climb, instead of attaching themselves to a rope.
"Since I was coming in every day, I got to know the staff pretty well," she said. "Since I loved the staff, coming to the rock wall and encouraging my friends to climb, I was excited to apply to become part of the OP team this semester."
Outdoor Pursuits also runs team building and is highly requested by different groups around campus, Hernandez said.
"We started out with crate stacking every week, but due to the lack of participation from the challenge, we have created other team building exercises," he said. "Team building has many different activities and we prescribe them based on what the requester is looking for."
Last fall, Hernandez said, OP put on about 55 team building exercises for Cardinal Communities, student organizations and Student Tutoring and Retention Services (STARS).
"We have activities that are meant to get people that they've just met for the very first time, a little bit more comfortable with each other," he said. "Then we get some for people that have been a team already for years and they just want to improve different forms of communication."
Team building is offered at no charge for campus-related groups, but also offers the program to outside companies as well, Hernandez said.
"For a small fee, we extend the program to outside companies, which is new to us," he said. "I've had people call me from Exxon that wanted to do team building for 60 plus employees."
Team building manager and Port Arthur junior, Jennifer Galindo said she enjoys the variety of the programs she runs.
"Every group I get is different so even though it's the same activities that I do all the time, the experiences are different," she said.
On top of rock climbing and team building, OP offers free S'mores every Thursday at the Rec Center patio to students and staff.
"S'mores was one of the very first things that Outdoor Pursuits did, because it was around back when I was a student here," Hernandez said. "Before, there wasn't a whole lot of marketing outside of the Rec, so whenever I came in, I started going to tell people about it and now I send my students to go pass out flyers and invite people and we've seen more growth in that way."
Hernandez said about 10 percent of everyone that enters the Rec Center participate in S'mores. The event is held regularly from 6 p.m. to 9 p.m.
"Our student employees run the event and get to talk with the students who attend the event about Outdoor Pursuits," he said. "All of this comes to no cost at the students and to accommodate for dietary restrictions, I bought some vegetarian marshmallows to get everyone out here and to let them know that we do care. We want everyone to be comfortable and have a good time."
With everything OP offers, they also have Project Chill – where student get to sit in hammocks and relax – every Friday 11 a.m. to 2 p.m. near the Cherry Engineering building, and allows students to check out equipment such as tents, sleeping bags, hammocks, canoes and other outdoor items.
Hernandez said one of his future goals is to restore the adventure-ship program, a program where Outdoor Pursuits would go on outdoor adventures and outdoor trips.
"Some of the ones they've done before had been like canoeing in Austin, and some of the places in the San Marcos area," he said. "It's to get people into the outdoors and into the wilderness to really experience outdoor pursuits."
Overall, Hernandez said as interest grows, he will start to add to the current program options available.
"There is so many different things we could do, but it depends on participation," he said. "If someone came up to me and said they were interested in doing something like rowing, I would do my best to explore what's within reasonable limits to do here."
The best part of the job, Granger said, is getting to help the students.
"A lot of students that come in for the first time don't have much confidence in their ability to climb, which gives me an opportunity to encourage them," she said. "The best part is seeing them go farther than they thought they could, and finding enjoyment in that."
Rodgers said the climbing is fun, but he enjoys how laidback and friendly it is at Outdoor Pursuits.
"That's what made me start climbing in the first place," he said. "Everybody is chill, easy going and always helps each other out."
Hernandez said he takes pride in his student employees.
"When I came into this position, I told myself that I would always strive to get everyone to the highest standard of excellence," he said. "Now, I'm really impressed with the quality of students that we have working right now."
For more information, visit lamar.edu/ outdoorpursuits, or call 880-8847.