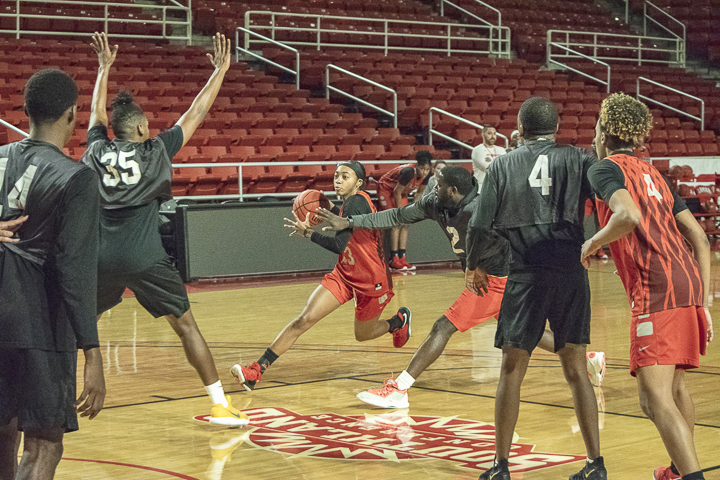 The Lady Cardinals ended their regular season 24-6 overall (17-1 SLC) as back-to-back Southland Conference champions and were seeded No. 1 in the Southland Conference Tournament in Katy. However, they lost in the semi-finals to the Abilene Christian University Wildcats, 79-88, Saturday. 
"I thought that we played pretty good basketball for three quarters," head coach Robin Harmony said. "We were up by 10 with the fourth quarter. I think Moe (Kinard) played a great game, Miya (Crump), our freshman that was our post, and Ashlynn Miles, they played awesome.
"We really didn't get good effort out of Chas (Barrs) and JP (Jadyn Pimentel). I mean you got to have the stats. When you are that primary player that we're counting on, we need you to come through. We can't have just three players playing well — we have to have five. The bright lights came on and they didn't do what they needed to do for 40 minutes."
Harmony said despite the loss in the tournament there were many highs that outweighed the lows.
"I think the highest of the season is that we won our conference back-to-back 17-1," she said. "We beat Texas A&M at their place which was a money game — it was a national recognition game for us, the first one. We were 20th in the nation mid-major which gave us national exposure.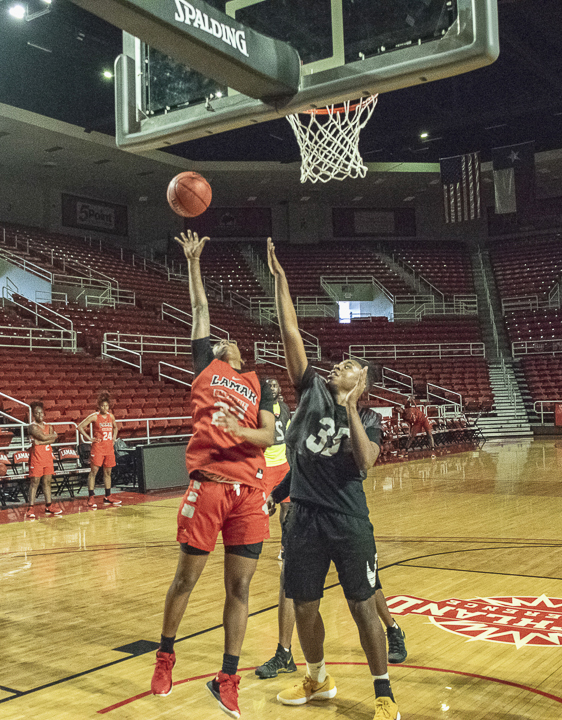 "Chastadie breaking the steal record nationally, which will probably never be broken again just because of the style of the game. When it was 20 years ago that record was set, you could just about kill somebody to get the ball from them just as long as you didn't draw blood. Now you can't really touch them — a touch these days is a foul."
Harmony said another high of the season was beating the University of the Pacific in the Montagne Center.
"At Christmas, they were a very good team," she said. "They were a top 50 team, I don't know how they ended up in the season, but I know they were ranked 50th in the country when we beat them.
"I think the only low for the season was losing to Abilene Christian in the tournament. There were not many lows just a lot of highs to the season."
The Lady Cardinals will lose senior star players in Barrs and Kinard as they will be graduating this year.
"That is what they are supposed to do," Harmony said. "They are supposed to come as fledgling little Cardinals — push them on and they fly out of the nest. They want to continue to play basketball. With Chas and Moe, they need to form in these games, so it helps them — whether it is the WNBA or the European Leagues. They are great leaders and put us on the national map — it is time for them to move on in the next chapter in their lives."
Both Barrs and Kinard have been invited to WNBA tryouts in the Final Four in Tampa, Fla.  later in the year, where representatives that include agents and head coaches scout out future players.
"They have the ability to make it," Harmony said. "It depends on the need of each team. There are only 12 members to the team compared to the 15 we have. They easily could make a team and be impact players for whichever team they make — they can definitely go to Europe and play as well.
"Once they are done with playing basketball, I know Moe wants to pursue the criminal justice area being a detective or something like that. If you asked Chas what she wanted to do, she would probably say business or  something like that. I think they will be successful no matter what they do."
The Lady Cardinals will participate in the Women's National Invitational Tournament, against the University of South Alabama Jaguars, Friday, 7 p.m., in the Montagne Center.
"We know that South Alabama in the Sun Belt is a very good team," Harmony said. "Obviously, we watched them play and heard about them the other night. I happened to watch them in their championship game against Little Rock.
"Even though their RPI is not as good as ours, they are talented and athletic, and it is going to be a tough matchup for us. The only thing we have going for us is that it is at home and we play better here at this gym."
For the Lady Cards, winning the game against South Alabama would mean not just advancing in the tournament, but also keeping their 42-game home win streak alive.
"Obviously, we don't want to lose or mess up that win streak," Harmony said. "Sooner or later someone is going to beat us here — it is just a matter of time. That is not what we are concerned about right now. We are concerned about bouncing back from Katy, getting a win at home and seeing where it takes us. The win streak is the furthest thing in my mind right now.
"South Alabama plays a lot of man, they have a great post player, they can shoot the threes. It is going to be a battle, they are a higher conference than us. We got to tie it up and battle, it is going to see what kind of character we have.
"We want to fight for the 40 minutes and give it everything we have."