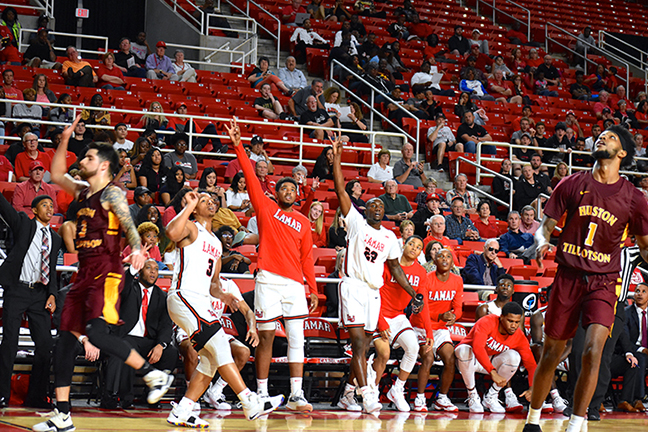 The Lamar University men's basketball team wrapped up their 2018-19 season with a 20-13 overall record and 12-6 record in Southland Conference play. The Cardinals overcame a rough start to the year to turn around and hit a nine-game winning streak before falling to New Orleans, 72-76, in the second round of the SLC tournament, March 14.
"The season showed a lot of character and showed a lot of poise from our players," head coach Tic Price said. "They could have thrown in the towel, but they stayed the course and showed some resolve. I was pleased the way we finished, it's not always how you start — it's how you finish, and we had a strong ending."
LU faced the No. 4 ranked University of New Orleans Privateers after defeating the Houston Baptist Huskies by two points the day before in Katy, 81-79. The Cardinals stayed close to New Orleans through the entire first half, ending it only two points behind at 42-40. The match was a back-and-forth battle up until the very last few seconds when the Privateers pulled away from the tie to land a three­-point shot and the foul. The Privateers sunk both free throws to seal the game and end LU's comeback season.
"Obviously the last game didn't end how we wanted it to, but I still think our kids gave a good fight," Price said. "We were inches away from getting to the semi-finals. The other team hit a tough shot. We did a pretty good job defending 17 and a half seconds out of the last 20 seconds. They had no shot but to take the three. We defended the drive, we were in gaps and we contained the dribbler.
"The kid looked at the clock, realized he had to shoot it and he made it. In my opinion, you get what you earn. They earned the right to move on and we didn't.  It's survive and advance — we didn't survive."
The turbulence of the season led to a lot of highs and lows for the 2018-19 squad, Price said.
"We had some injuries along the way," he said. "We had a couple of suspensions that I thought affected us. We had to change our game plan on the fly in those cases, but it's always been the next man up. That's pretty much how it was for the whole year, but I think the next man up responded well — they didn't back down. I think we had some disappointments in terms of our focus from a couple guys on the team, but I think overall our body of work was good for the year."
Price said he saw a lot of progress in the team's style of play, focus and determination from the beginning of the season to the end.
"Our free throw shooting got a lot better," he said. "We got more focus and made sure we knocked down those shots. I thought from a rebounding standpoint, Christian Barrett came in and gave us the boost on the glass we needed. Everybody was focused on Josh (Nzeakor) and Christian took advantage of that opportunity. Davion Buster also came in at some real crucial times throughout the year and didn't play like a freshman at all. He gave us some valuable moments."
Price said the senior leadership was another invaluable asset as both forward Josh Nzeakor and guard Nick Garth leave the team after four seasons at LU.
  "Our senior leadership on the court was really good," he said. "I thought Nick and Josh both did a superb job in making sure that we never gave up and fought a good fight. As seniors, that's all you can ask. I think that they could sense that their careers were winding down and they saw an urgency to compete at a high level, because that's what we got from both of them."
Price said with both Garth and Nzeakor leaving the team, he has seen promise in the freshmen to fill those shoes.
"Our freshmen were a value to the team," he said. "Grehlon Easter started a few games for us when Nick was out. I thought he didn't hurt us at all. He understood how you get on the court and how you stay on the court. He had good energy and good effort. Davion Buster gave us a good presence, too. He probably wasn't on other teams scouting reports at first, then he started playing so well and I think they started noticing his contribution to our team. Both freshmen played some big minutes in some crucial times."
Price said as he looks to the future, he wants to see more improvement from start to finish.
"We were very inconsistent early in the year," he said. "I hope that because everyone got playing time throughout the year, that there will be some carry over from game experience. They have been battle-tested and they understand that they have to maximize that moment and seize it. Hopefully, they will understand that it's very tough to get a win and they will have to really grind it out, not quit and keep fighting."
Price said the recruiting process for the 2019-2020 season has already begun and he looks forward to a new season and new team.
"Recruiting is what everyone is doing now," he said. "You don't get days off. You have to continue to try to build your program, build your culture and I think we are on track to add some pieces to make us a better team."