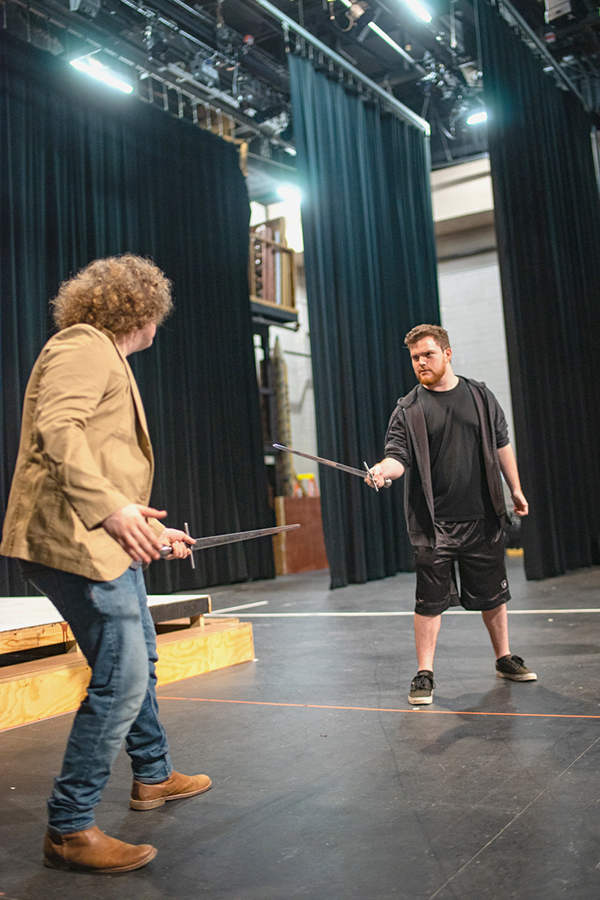 Lamar University Theatre and Dance will present William Shakespeare's "The Comedy of Errors," March 21-24, in the University Theatre.
The play is about two sets of identical twins, separated at birth, who are finally reunited at the same place and time.
This tale of mistaken identities will tickle one's funny bone with its comedic elements, and sweep the audience into a world filled with wild mishaps, wrongful beatings and arrests, false accusations of thievery, infidelity, chaos and demonic possession. 
"There was a set of twins born to this gentleman, and then, in the same place, where they were being delivered, another woman was having twins that she couldn't afford to keep, so this guy brought those set of twins and use them as servants to his sons," director Brian LeTraunik, assistant professor of theatre, said. "Each of the sets (of twins) have the same names."
LeTraunik said that of all of Shakespeare's comedies, "The Comedy of Errors" is one of the most accessible.
"Especially if you're not familiar with Shakespeare, it is very easy to understand," he said. "It's not quite as long or ponderous as some of the later plays. It's definitely a lot of action, very physical — and it's flat out funny."
The play has other unique elements, LeTraunik said, including the use of language and the interactions of the characters. Although it is set in ancient Rome, the play has a modern twist.
"It's not people speaking a certain way and wearing old "Everyone is a main character in their own play, and they each contribute in a very important way to the show," LeTraunik said.
One of the twins is trying to find his birth mother and brother in a foreign city, but he's having difficulties doing so.
"I think there's a part about all of us that we want to know better, and there's a part of us that we try to reclaim as we get older," LeTraunik said. "A lot of us have been in a situation where we're not sure where we are and why we're there, yet everybody seems to know what's going on except you.
"It's like finding footing in a strange land and how the characters navigate this strange, bizarre world, and find their way in it."
Sophomore Matt Hurt plays Dromio of Syracuse, one of the servant twins
"I'm loving the challenge because I've never done Shakespeare before," he said. "Learning the lines is hard and really understanding what in the world you're saying is a challenge, but it's been a blast."
Hurt said that getting into Dromio's head is a challenge on its own. 
"He's a very witty character, and, sometimes, he would say something that's completely off the wall, and the audience back then — during the Shakespearean time — would be roaring," he said. "But here I am — some dude in 2019 — reading the script, and I'm like, 'What in the world does he mean by that?'"
Dromio is the embodiment of confusion, Hurt said.
"This whole show, he's just confused out of his mind, and everybody can feel like that, sometimes," he said. "It's kind of fun to play on that, and it's something that everybody can get behind."
Senior Austin Jones plays Solinus, Duke of Ephesus.
"The Duke, he's disciplined when it comes to doing his job, but he's a very caring person," Jones said. "Once he gets to know the story, his professional face just comes off, and he's so intrigued with everything that happened."
Jones said that the Duke only shows up at the beginning and end of the play.
"I want to make him as memorable as everyone else, especially how he reacts to everything," he said.
The cast portrays the humor well, Jones said.
"The first thing that makes people turn away from Shakespeare is the language," he said. "People easily think that it's poetic and dramatic, but when you know what you're saying and you deliver it correctly, it's hilarious."
Sophomore Brianna Butler plays Adriana, wife of Antipholus of Ephesus.
"She is kind of Shakespeare's first feminist character," Butler said. "While she loves her husband, she thinks that she has as many rights as he does."
Butler said she relates to Adrianna's strength and fierceness.
"She's so outspoken, especially for (that) day and age," Butler said. "She really wants the best for her and her husband, and it's so much fun to play her."
LeTraunik said the cast brings dedication, energy and focus to everything that they do.
"They're finding jokes where I'm not finding jokes," he said. "They're excited about the work. They want to learn and they want to walk out of the rehearsal a better performer than when they walked into the rehearsal."
One of the cast's challenges is adapting to the Shakespearean language and jokes, LeTraunik said.
"Some of the students have never been involved in a Shakespeare production before," he said. "There's definitely that learning curve approaching a language play. The students are very excited to learn, and they've just been absorbing a lot of the information quickly and well."
LeTraunik said Shakespeare was writing about the same things that we deal with today — love, sex, politics and revenge.
"I want the students and audience to take away a greater appreciation for Shakespeare," he said. "Despite it being a 400-year-old play, it's not stuffy, but enjoyable, entertaining, funny and relatable."
Performances are 7:30 p.m., March 21, 22, 23, and 2 p.m., March 24.
Ticket prices $7 for LU students, $10 for faculty and staff, seniors and other students, and $15 for general admission.
For more, call 880-8037, or visit lamar.edu/theatre.