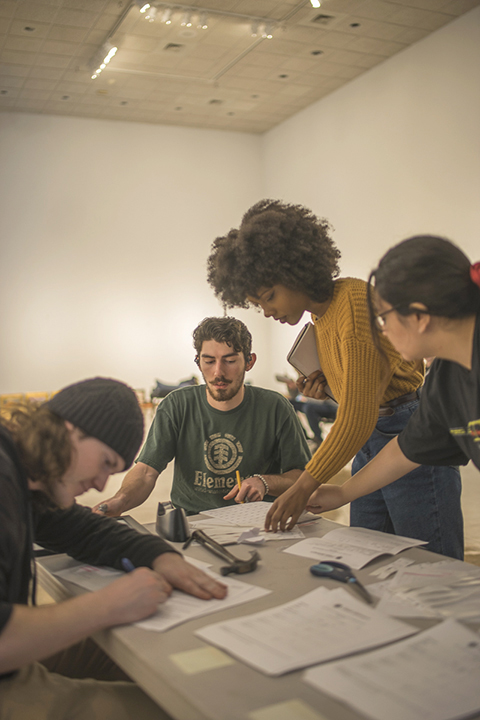 The Friends of the Arts will be hosting its annual fundraiser, Le Grand Bal, Saturday, March 30, from 6 p.m. to midnight in the Dishman Art Museum and the Setzer Student Center. The theme this year will be "New Orleans Inspires LU" and the dress attire will be Southern elegance.
"We will have 'White Linen Night' at the Dishman, and then we'll have what we're calling the sashay social to the Setzer Center for the social and the Commander's Palace celebration, and that's going to be dinner," JT Robertson, marketing communications coordinator of the College of Fine Arts and Communication, said. "It's really going to play of the best of everything."
A sashay social will lead the guests from the Dishman to the Setzer Student Center at 7 p.m. for the main event and dinner inspired by Commander's Palace, a restaurant in New Orleans.
"Le Grand Bal committee chairs Rusty Chimeno and Dean Terrebone really love to go to New Orleans. It's a place that means a lot to them," Robertson said. "New Orleans inspired them to have that theme for Le Grand Bal."
The event will honor long-time Lamar patrons Sandy and Joseph Fertitta and musician Gary Weldon will be the featured artist. The band Still Cruisin will play their bluesy-themed music for guests to dance from 9:30 p.m. to midnight.
The night has two events — A silent auction, beginning at 6 p.m. in the Dishman Art Museum, inspired by the New Orleans' "White Linen Nights," an event that takes place each August in which patrons traditionally wear white linen clothes because of seasonal hot weather and peruse art in New Orleans' museum district.
Southern elegance attire, for the event, is defined with Seersucker suits, silk jackets or white coats or tuxedos. White dresses, ties or some hints or shades of white are encouraged, but not required. For examples of the style, visit the LeGrand Bal website at www.lamar.edu/fine-arts-communication/le-grand-bal.
The auction at the Dishman Art Museum will feature artwork from students, faculty, and staff along with artwork that has been donated for the event, Robertson said.
"Our artists will come and talk about their artwork and it gives our patrons a chance to meet them," Robertson said. "It really humanizes it because the artist can tell their story and what inspired them."
Some of the artwork is already featured in an online auction on the Le Grand Bal's website, and the artwork will be up for display in the Dishman Art Museum a week before the event, Robertson said.
Along with showcasing art from students, the event will also feature some student musicians along with students doing caricature sketches, Robertson said.
"We always highlight our students there," Robertson said. "This year some music students will be performing, and I know some of our art students will be doing caricature sketches sort of like you're actually walking around New Orleans. It's another way that we've evolved our bond with our students."
Proceeds from the event will go towards scholarships for students in the College of Fine Arts and Communication, Robertson said.
For more information and tickets, visit lamar.edu/legrandbal.