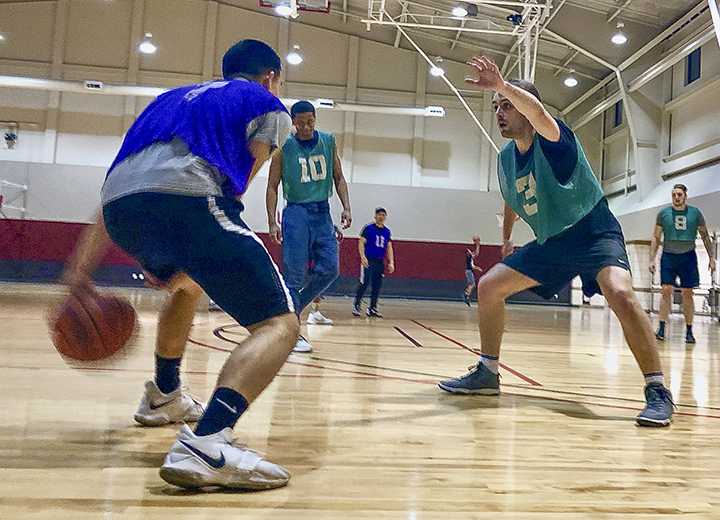 While Lamar's intramural basketball and flag football leagues are in full swing, there are many other upcoming leagues available to join, including indoor soccer, cricket, softball, dodgeball and volleyball. 
"Intramural sports are an outlet for the students," Jason Harrington, coordinator of intramural and sports club, said. "Your primary goals are to attend Lamar, get an education and a degree, but you also have to have something else to take your mind away from that as a stress reliever."
Participating in an intramural sport or team is free, and all results are reported on IMleagues.com with the overall winner of any sport receiving a champion T-shirt.
Harrington said that 5-on-5 basketball is the most active intramural sport of the semester, with more than 20 teams signed up.
"Our next sport deadline is the March Madness Bracket, which is all of the NCAA basketball games," Harrington said. "Both Lamar women and men's teams have a chance of making it if they win out the Southland Conference, so we would love to see Lamar as a team to be picked in that bracket."
The NCAA men's and women's "March Madness" bracket is an annual event where team wins and losses are tracked. The deadline to sign up is Friday. 
The deadline to sign up for indoor cricket is March 22, with the team captains' meeting at 12:30 p.m., on the same day. The season starts on March 23. 
"Cricket is a sport primarily played in England, India, Pakistan, West Indies, Australia and New Zealand," Harrington said. "It's just like baseball but without first and third base."
Tri-5 softball is a new sport that's being introduced this semester, Harrington said, with the deadline set for March 29, with the season beginning March 31.
"We've had some problems with softball in the past because we would need nine to 10 players to play," he said. "It's tough for a lot of teams to get that many players, and a lot of forfeits have happened, so we didn't have softball for a while."
In Tri-5 softball, three teams play at once. Each team has five players and the teams rotate within each inning.
"While one team is batting, the other two teams are fielding — outfield and infield," Harrington said. "We're looking forward to that very much."
Intramural will end the semester in April with dodgeball and volleyball. 6-on-6 dodgeball sign up deadline is April 5, with the team captains' meeting at 12:30 p.m. in 117 McDonald Gym. The season starts on April 15.
The deadline for 4-on-4 volleyball is April 12, with the team captains' meeting at 12:30 p.m. in 117 McDonald Gym. The season starts April 22.
Harrington said intramurals also hosts electronic sports through IMleagues.com to reach those who enjoy playing sports video games from the comfort of their own dorm, apartment or home. 
"We have games like FIFA, Madden football, and NBA 2k for both PS4 and Xbox One," he said. "They can play on their own systems, and they can report their scores to us by sending us a screenshot of their score."
Harrington said that intramurals also offer challenge ladders sports that include air hockey, badminton, table tennis, tennis and 8-ball pool.
"Everyone that you see that are signed up, you get to challenge them to play," he said. "Then one person will report the scores on IMleagues and the other person will confirm it. It will automatically adjust where you should go next."
Xavier Robertson, intramural sports student supervisor, said that the intramural season is looking good so far.
"Our numbers are a little bit lower in the spring compared to past semesters, but we've definitely had a pretty good turnout for a lot of our sports," Robertson said.
Harrington said some club sports compete against other school in the National Intramural and Recreational Sports Association. "NIRSA is an organization that governs all of our rules and sports," he said. "We actually have two IM basketball teams at Lamar that will be going to Texas A&M, on March 22-24, to compete in the NIRSA championship series.
"We have a women's team and a men's team, and we'll have two officials going to help officiate that tournament."
Robertson said intramural sports offers an outlet for students to take them away from the homework, teachers, work schedules and the bosses they can't stand.
"There's definitely a lot of stress and anxiety that's persistent with the college experience, so doing intramural sports that you haven't played since high school on a non-professional level can act as a release," he said. 
For more information, call 880-8331, or visit lamar.edu/ recsports.