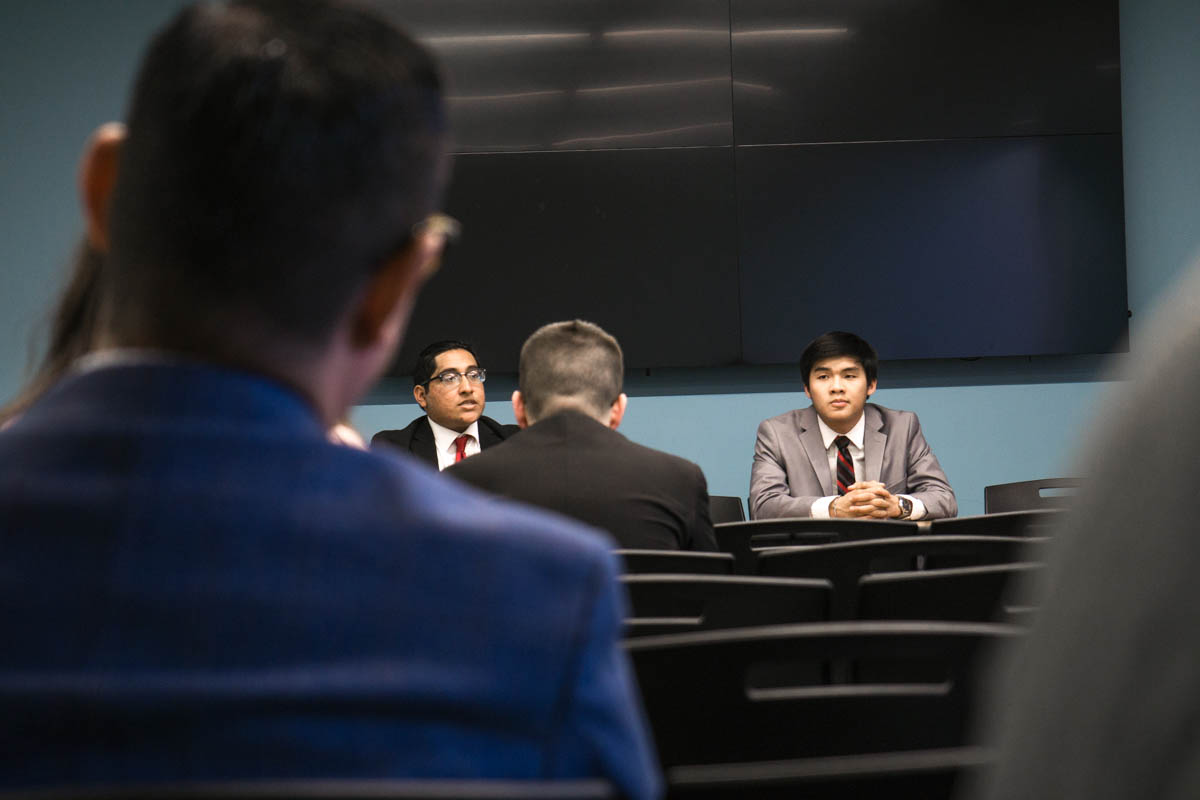 At Friday's election debate, Student Government Association candidates promoted their visions and goals for their platforms for leading Lamar's student body.
Two campaigns presented their objectives in length for the duration of the event —  Putting the 'U' Back In LU and LU: Together We Can.
"What's actually really cool is we haven't been able to hold an SGA debate since 2016," current SGA president, Madison Marino, said. "Some of the other SGA executives just fell behind and I think it was not mentioned, or they just weren't able to hold the debate. But that was just something we really wanted students to be able to do is connect with their potential candidates away from their campaigning."
"Putting the 'U' Back In LU" is an issue of advocating for student empowerment and seeing the potential and believing in the promise of LU," Cesar Delgado, presidential candidate, said. 
He also said he wanted to see a more institutional-level of cultural representation at Lamar and planned to turn to the students to encourage that discussion. Their three main points were empowerment, transparency and representation. 
Edward Noen, presidential candidate from "LU: Together We Can," talked about the importance of networking and getting student's thoughts and ideas to the right people in administration to resolve issues.
"We not only want to represent students and not only hear their voices, but to have their ideas expressed in a meaningful way," Jack Dolce, vice presidential candidate for "LU Together," said. "That's what it ultimately comes down to, how we are able to separate ourselves, because we have that connection with administrators and know who to get in contact with them to make those ideas become a reality."
Noen said one of his policy goals is for more access to technology for students by having laptops available to check out.
Cesar Delgado, being a first-generation student, said he wanted to create student programs that would support LU's first generation students as well as homeless students.
Vice presidential candidates were asked about what makes Lamar unique.
Luiz Espinoza, vice presidential candidate for "Putting U Back In LU," said they understood Lamar's position as a commuter school and want to embrace that through more involvement through social media polls.
Dolce talked about the relationships between students, faculty, staff and administration and how they truly care about the students. He said this is why knowing administration and the policy process is so important.
Julio Delgado, Cesar's brother, said he thought there were weaknesses and strengths in both campaigns.
"In 'Putting the "U" Back In LU,' campaign, it's really good that they're hearing the voices of the students and that they tackle every student organization," he said, "But I fear that their weakness is they haven't forged those working relationships with administrators like the other campaign has. On the other hand, I think that 'LU Together' is very strong in that they have the administration, but I have not seen them actually engaged with the students, so I believe they have concentrated too much on administration. 
"At the end of the day, I believe that if a mix of them get voted in, you'd have the individuals that can voice the concerns of the students and the other members that have the policy and administrators."
For Cesar Delgado, losing would not mean the end of the road for him and his team.
"As for me and my team, if we don't win, our journey does not end here. We will continue to implement change, fight and advocate for the student body," he said.

Polls open on Self-Serv Banner at 8 a.m. on Tuesday. There will be an opportunity to vote at the Setzer Student Center with SGA Elections & Get Out the Vote from 10 a.m. to 2 p.m. on Tuesday and Thursday. On Thursday, Self-Serv Banner polls close at 5 p.m. Students will be able to vote split-ticket. 
Results from the SGA Election & Get Out the Vote will be posted Friday morning on the SGA page.
For more information, go to www.lamar.edu/sga.