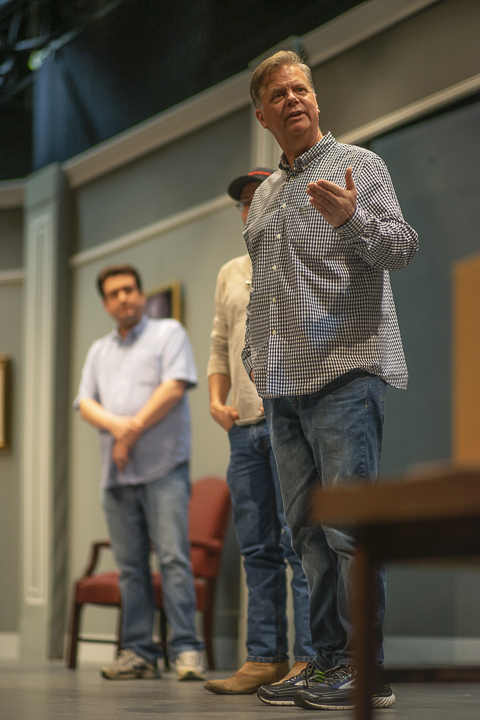 Mild-mannered Elwood P. Dowd has a friend, Harvey. The problem is no one else can see the six-feet tall rabbit but Elwood.
Trouble starts when Elwood introduces Harvey to his friends and family, including his social-climbing obsessed sister, Veta Louis and niece, Myrtle Mae, who find the invisible pookah a societal embarrassment. 
Beaumont Community Players will present the Pulitzer Prize-winning play, "Harvey," written by Mary Chase, April 5 to 20, in the Betty Greenberg Center for the Performing Arts.
Director Bert Smith said that he loves directing comedies or musicals, and "Harvey" is an elegant, wonderfully funny and beautifully written play.
"The thing about it, is by the end of the show, you'd be pretty convinced there really is a pookah involved with Elwood P. Dowd," he said. 
James Jackson plays Elwood and said that Elwood's carefree and in-the-moment character thrives on being purely pleasant towards people, which he can relate to.
"In today's world of mindfulness, I believe that Elwood is fully aware, as he likes to be wherever he is and he enjoys every moment," Jackson said. "That's kind of what today's consciousness is leaning towards, and if I can be just like him, I would love it."
Not everyone can be as pleasant as Elwood. His sister, Veta, played by Rachel Cain, tries to put him into an insane asylum. Elwood walks out of the asylum and didn't have a clue what was going on. His pleasant demeanor means things always ends up in his favor.
"That's what they always say, 'Watch out for him, he'll always get the best of you,'" Jackson said. "But he's not trying to, because he's just being and enjoying himself."
Cain said Veta struggles with balancing her love for her brother and for her daughter.
"On one hand, she loves her brother, and she doesn't want to commit him, but on the other hand, she also loves her daughter," she said. "Veta can't get her daughter into this societal group of people and get her married off, because her brother is such an embarrassment."
People can relate to Veta's character because we all give into societal pressure, Cain said.
"I think we've all experienced that at some point in our life, doing what we think society says we should do as opposed to what we feel in our heart is right," she said.
The play showcases acceptance of people who are different, Cain said.
"By the end of the show, Veta learns to accepts her brother for who he is — and his rabbit," Cain said.
Smith said as his cast and crew dive deeper into the play, they notice little subtleties, references to things and ways that the characters interact, and the interests between the characters are more than meets the eye.
"Harvey is written in the 1940s, which is right after World War II and the Great Depression, and that was a terrible time in the history of the world," he said. "I think that really and truly, 'Harvey' is almost more relevant today than it was then.
"We've got a lot of people that don't get along. We pretend to be offended and we villainize everybody we don't trust or like — we need an Elwood P. Dowd around, who is always pleasant."
Smith said there's a quote that Elwood says to his psychiatrist, 'You know doctor, I know what my family thinks of Harvey, but I often wonder what Harvey's family thinks of me,' which makes his character so refreshing.  
"There's a reality to this good presence in the world that he wants to relate to, and he seems to always do well by always just being nice to people," he said. "We need that. We need somebody who accepts everybody for exactly what they are and doesn't make judgements.   
"One of Elwood's famous lines is, 'My mother taught me that you either have to be oh-so-smart, or oh-so-pleasant — I choose pleasant.'"
Show times are 7:30 p.m., April 5, 6, 12, 18, 19 and 20 with a 2 p.m. matineé April 13.
Tickets are $23 for adults, $21 for seniors and students, and $12 for children.
BCP is located at 4155 Laurel in Beaumont. 
For more information, visit www.Beaumontcommunity players.com, or call 833-4664.