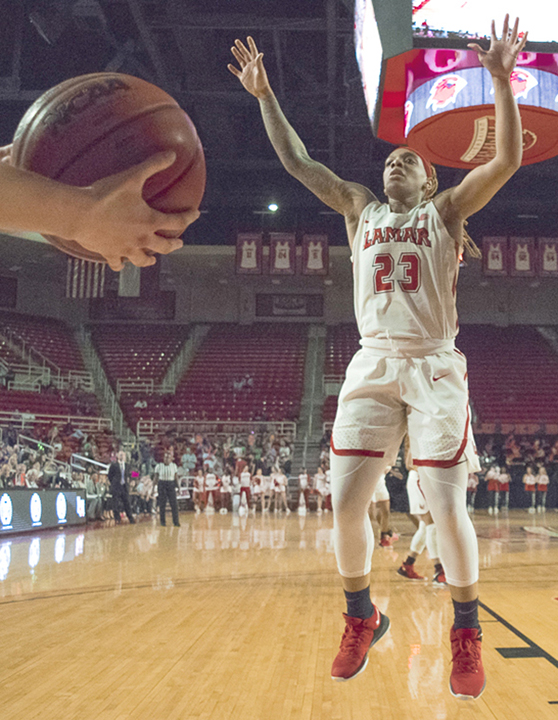 The Lady Cardinals basketball team defeated the Stephen F. Austin Ladyjacks, 62-46, in the Montagne Center, Saturday, making them 23-5 overall and 16-1 in Southland Conference play. With the win the Lady Cards clinched at least a share of the SLC regular-season title and extended their home win streak to 41 games.
"Obviously, we are very happy," head coach Robin Harmony said. "We have our third championship in six years."
The Lady Cards shot 42 percent (26-of-62) from the field, recorded 19 steals and 29 turnovers, scoring 31 points off of them.
"Our defense was more intense," senior guard Moe Kinard said. "When our defense is intense everything flows right behind."
Last time the Lady Cards faced SFA they lost, 58-70 in Nacogdoches. Senior Chastadie Barrs said things were different playing at home.
"I think the last loss we had to SFA, we just didn't play Lamar basketball," she said. "We didn't play our defense like we normally do. We didn't pressure them on defense. They were able to do whatever they wanted to do. We didn't have shots that fell either — we didn't collectively play as a team.
"This time we took the scout more serious — we knew their plays as soon as they called them. We played together as a team and never let up on the defensive end for 40 minutes. That is something we don't always do."
In the first quarter, it was back and forth between both teams. A jumper by LU forward Miya Crump pulled the Lady Cards to down one, 5-4, with 6:41 left. A minute later, Barrs hit a layup and two minutes later Kinard put the Cards ahead. Lamar held the Ladyjacks scoreless for almost four minutes, ending the first quarter up 14-8.
In the second quarter, both teams remained scoreless for the first three-minutes. The first bucket came from SFA guard Heaven Hamling , who hit a 3-pointer to trim the LU lead down to three. SFA took the lead, holding Lamar scoreless for almost five minutes until a Kinard jumper put LU up 16-15.
Center Briana Laidler hit a layup, assisted by guard Jadyn Pimentel, putting LU ahead 23-17. The Ladyjacks scored the next four points before LU extended the lead to 25-21 heading into the locker room.
"Coach Harmony got on our butts about it in the locker room," Barrs said. "She told us to keep driving the ball, so we could have a good offense going."
In the third quarter, LU slowly built their lead to eight, as a steal by Barrs turned into a fast-break layup, putting them ahead 31-23. The lead grew to double-figures, 39-28, after Pimentel recorded a steal and guard Ashlan Miles hit a layup. The Cardinals ended the third quarter in charge, 50-32.
In the fourth quarter, LU built the lead to 20 before SFA slowly chipped away the deficit. When guard Chantell Hayes hit a 3-pointer, LU's lead had been cut to 15. Four minutes later SFA cut the lead to 13 after a layup but that was as close as they would get.
Kinard led the Lady Cardinals with 23 points, shooting 9 of 17 from the floor. 
"I am not going to lie to y'all, I was freaking out at first," Kinard said. "Then Coach Harmony told me to calm down and that the points would come to me. I got a couple of good passes from Chas and JP (Pimentel) and the rest of the team. After that everything started flowing."
Barrs added 14 points, led the team with 10 rebounds and nine assists, and got her 12th double-double on the season.
"I know I couldn't score in the first half as much as I wanted to," Barrs said. "I know that I may be a guard, but I am a rebounder as well, so I tried to get in there. Every shot that went up, I tried to go up there and get the rebound. I did what I had to do win and to get the team this ring."
The Cardinals will return to action, Saturday when they host the McNeese State University Cowgirls in the "Battle of the Border" in the Montagne Center.
"We know that it is our senior night," Harmony said. "McNeese is one of those teams that are dangerous because it is a big rival with them being 45 minutes away. They aren't going to just come in here and roll over for us. We don't want to share our championship. Our kids have to come in with the right mindset — it is a continuation for us getting ready for Katy."
The Southland Conference Tournament is set to begin March 14 in Katy.
Tip off for Saturday's game is set for 2 p.m.