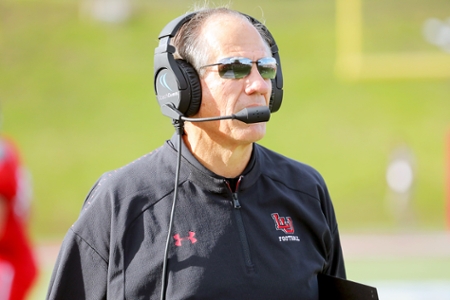 After leading the Lamar football program to one of the best season's they have had since the return of the program, head coach Mike Schultz signed a contract at the end of January that extended his contract through the 2021 season.
In his second year as head coach, Schultz led the Cardinals to 7-5 overall and 6-3 in Southland Conference play, along with their first appearance in an NCAA FCS playoff game to finish the 2018 season with a bang. Schultz said he can describe his feelings in one word — excited.
"It's good to know where you are going to be," he said. "I'm excited to be here. We are excited about the contract extension. I think it was another big thing for us to build on in recruiting. To be able to go into homes and say we got a new contract extension. The kids know we are going to be here, and I am going to be here. All of those are good things when it comes to recruiting and just being on solid ground is a big deal for me."
Schultz said he can't wait for the new season and it's new prospective.
"I don't know if it's satisfied or hungry," he said. "I think the kids are hungry. I think they got a taste of success. We are disappointed on how the first playoff game went. We felt like after going back in we were in a very good position to win the game. I said after that game, 'I think that without a doubt, we proved that we could compete at the national level.' They are hungry, the coaching staff is hungry, and I can't wait to go back and try to win on the national level. That is a pretty big task for us, but that is kind of where we are right now."
The Cardinals kick off the 2019 season, Aug. 31, against Bethel University at the Montagne Center. Time to be announced later.
Story by Cassandra Jenkins, UP editor