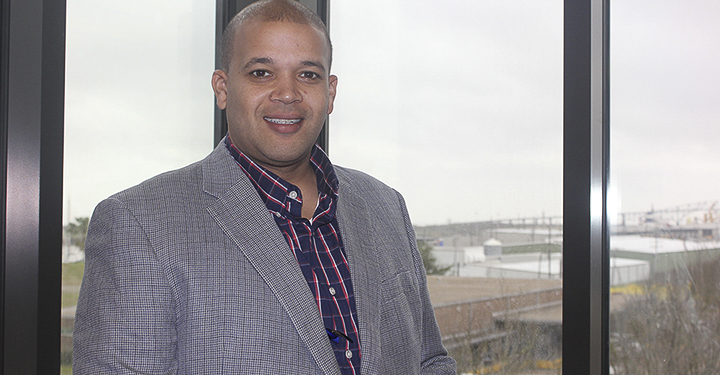 When Derrick Freeman was elected mayor of Port Arthur, his home town, it was the culmination of years of hard work inspired by his father's dying words.
"Derrick, I have taken you as far as I can," his father said, before he died from cancer in 2006. "You gotta take it the rest of the way."
Freeman succeeded Deloris Prince, who was the city's first black female mayor, to be the first black man to hold the office. He said Black History Month is an important reminder of his history.
"Black history for me is just a reminder of how strong my ancestors were," he said. "I grew up with a blond-haired, blue-eyed white woman as my mother and my father was black in the 70s, so my experience is a little different."
Interracial marriage wasn't legal in Texas until 1967. His mother and father married about eight years later.
"You could tell how taboo it was then," he said. "Growing up in Port Arthur, I got to experience both sides. There was only one skateboard ramp in the city, and it happened to be across the street from my house. I was the only black kid that could skateboard in the neighborhood — doing stuff that a lot of times, black kids weren't doing."
Black History Month is a constant reminder that Freeman has to carry the baton, he said.
"My ancestors were so strong, strong enough to get me here," he said. "A lot of times, folks ask how I'm able to handle some of the pressures that come with being the mayor of Port Arthur. I just have so many people that believed in me, so many people before me that were much stronger, that I don't want to let them down.
"I get up every day thinking about them and the sacrifices that they made. My father worked 35 years in the refinery. It was, 'I did this so you don't have to.'"
Freeman's father came from Louisiana, and his grandfather grew up off a dirt road on a sharecropper farm.
"To say that my grandfather's grandson is the mayor of Port Arthur is something that my family is proud of," he said. "It's a testament to their endurance, their strength, their perseverance, their patience.
"They set the stage for me. And, hopefully, I'll be able to leave a legacy for folks that come after me. You don't want to be me, be better than me, I'm not doing this so someone can be the next Derrick Freeman — I'm doing this so someone can be the next you."
Freeman has been in office for almost three years. Port Arthur has term limits, so if he is re-elected in May, his second term would be his last. With five years from city council, he's already been in municipal government for eight years.
"I'm a Port Arthur guy, born and bred," he said.
The Port Arthur-native graduated from Thomas Jefferson High School in 1994. After high school, he went to Lamar University as well as University of Texas at El Paso and Liberty University. He married his high school sweetheart, also from Port Arthur, and together they have five children.
"I started (in office) when my kids didn't have any teeth, now they're in junior high," he said.
The 42-year-old mayor said he has learned from other city councilors.
"As a youngster, what I've learned is that I have to do the basics first. I've had to earn folks' respect. Once I've earned their respect, then they're more open to listen to creative ideas.
"There are folks on council, some of the older generation, that were constant soldiers and troopers during some of the Civil Rights and Jim Crow-era segregation that happened in Port Arthur," he said. "Now that we're a minority-majority city, it's like we're fighting ourselves.
"I still try to pull from their knowledge and the experiences that they've had to move our city forward. It's been good in the city of Port Arthur, but we have a long way to go. We have a lot of work to do."
Freeman said part of his vision for Port Arthur is downtown revitalization.
"I've seen other downtowns in different areas around the nation," he said. "The way they turned the corner and revitalized was with the art community. The downtown area becomes a cove where folks come and feed off each other's artistic abilities, and grow the downtown area.
"Hopefully, somebody sees something in Port Arthur downtown and wants to do something with it. That would be awesome."
The downtown structures are still standing strong after several major hurricanes, he said.
"These buildings have very strong bones," he said. "It's just a matter of someone coming in and seeing the value in the buildings and turning it around.
"The EDC building used to be a savings and loan bank that we totally got redone," he said. "They found murals from the 1920s when they started pulling back walls, so it's extremely beautiful."
The builders chose to keep the original vault door in the conference room, Freeman said, keeping a little bit of history.
Freeman said he has loved having artists paint the seawall. He wants to bring more art to Port Arthur.
Naming a street for Janis Joplin is another dream.
"There's a big resurgence right now with the older crowd, even with the young folks, too — they're starting to discover Janis Joplin," he said. "She doesn't even have a street in Port Arthur and there's Joplin streets in other cities. But the one she grew up in, we don't have that.
"We'll see. We have so many streets to fix, like regular streets with potholes, before I say let's get a Janis Joplin Street."
One of his first initiatives after he was elected in 2016 was rebranding the city logo, which had been the same for more than 40 years. The city paid for a new logo, but Freeman faced criticism when nothing else in the city had changed.
"That was one of the things I learned as a young man, that there are certain things that I have to do first before I put the new," he said. "They just kept throwing that old analogy, 'You're trying to put lipstick on a pig.'"
But after Hurricane Harvey hit, the city's focus shifted, he said.
"That really focused our efforts from logos and colors of uniforms," he said. "We'd fight over what color should the public works uniform be, and all our infrastructure and drainage was failing, all the streets failing. Now after the storm, council leaders, elected officials, administration — everybody's pretty much on the same page."
Freeman said the community came together during Harvey.
"I got rescued from my home," he said. "When the boat pulled up, the city manager at the time was in the boat and he said, 'You don't want to lock your door?' And I'm like, 'I mean, there's three-and-a-half feet of water in there.'
"Times like that, I knew that everybody was affected. I was proud. People were actually trying to help each other, neighbors talking to neighbors that had never talked before. It was a good thing."
While Harvey's floodwaters brought new challenges, Freeman said he still looks to the future with hope. His heritage is one of the things he said he draws on for encouragement.
"Black history is a vast history, it's a long history," he said. "I learn something new every day that gives me pride and strength to move forward and do better."