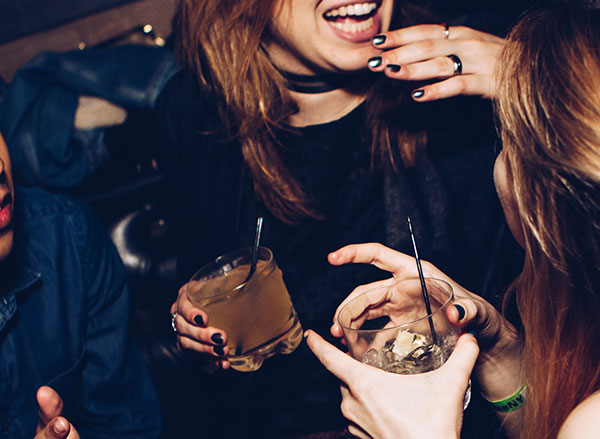 I don't drink. I don't smoke and I rarely ever party.
As a 22-year-old college student, I  can't avoid second-hand smoke and picking up drunk friends after a wild night on the town. While I don't mind hanging around those friends who do drink and smoke, it can be extremely hard to not feel like an outsider around those that do.
At some point, most of my friends will gather around outside with a cigarette in one hand and a beer bottle in the other, and while I do my best to join the circle so I can be a part of the conversation, I always end up drifting quietly away at some point.
I wouldn't say I'm an introvert exactly, I am a journalist after all, but I wouldn't classify myself as a normal party-going young adult who stays out after 2 a.m. every weekend, either. In fact, I stayed out past midnight twice in a row this weekend, without drinking, and I'm still recovering. 
So, you might be asking yourself, what the hell does she do for fun? Well, I will tell you — I like to dance, go to concerts, travel and enjoy nature.
One of my favorite things to do as a non-smoking, non-drinking adult is dance — I love it in fact. I'm not by any means necessary considered good at it, but that's beside the point. Usually drinking and dancing go hand-in-hand, but just being able to lose myself in a song, singing and dancing, with or without someone, is what I call a good time. I've even learned to two-step alongside the usual dances like the Cupid Shuffle and Cotton Eyed Joe. Dance halls in Houston, like Stampede Houston, Wild West or Big Texas, are supreme country dance halls that always play great country, and music with some other genres thrown in, and most  are non-smoking inside or on the dance floor. I even make it a point to try to go to concerts every few months to just enjoy the music and atmosphere.
I also enjoy traveling. Ever since I was a little kid I wanted to travel the world, and now, earning my own income, I have started that journey. Last month was the first time I had travelled out of Texas in almost 10 years. I spent three days in Florida walking up and down the boulevard, going on a safari in Disney's Animal Kingdom, seeing the castle and watching shows in Magic Kingdom, visiting weird museums and eating a lot of food. I was on vacation for my birthday and I didn't have a single drink the entire time — it was one of the best weekends of my life.
In two weeks, I'll be visiting Las Vegas for a weekend for my girlfriend's birthday and we plan on watching shows like Cirque du Soleil, walking down the strip and doing a lot of sightseeing vs. getting blackout drunk and not remembering the whole experience.
When I'm broke, and traveling is out of the question, one of my other favorite things is to just be outside enjoying nature. Whether that means taking a hike, going for a swim or just walking around a city, it is always enjoyable to get some fresh air and roam around with no destination in mind.
For example, instead of spending a lot of money on a fancy dinner inside with way too many people eating and drinking for Valentine's day, we opted to buy some cheap bikes and spent the afternoon riding around Tyrell Park, with a picnic and ice cream afterwards. There are always new places to see and nature never disappoints — it's also free and most natural parks are non-smoking and drinking.
So, while it may seem dull to be sober all the time as a young adult — it's not. It's easy to feel peer pressure nowadays to do what everyone else is doing just to fit in with friends, but it doesn't always have to be that way.
If you aren't a drinking, smoking, partying-type person, like me, just remember that there are other ways to have fun — be a partier of life.