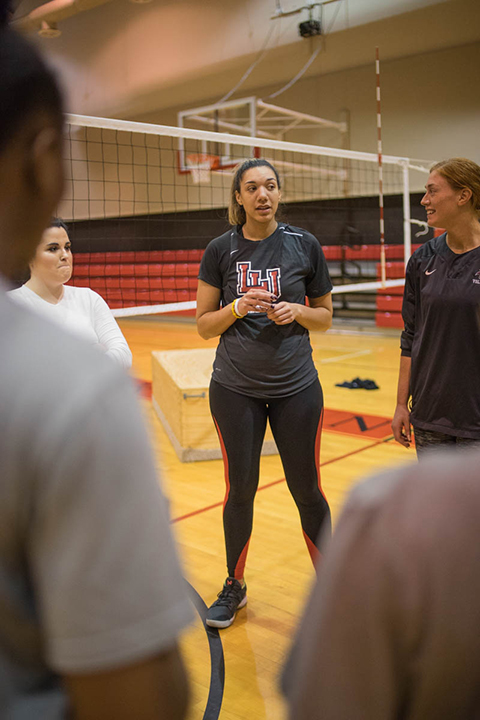 Lamar University volleyball has hired Haley Eckerman to help head coach Michelle Kuester boost the Lady Cards for the 2019 fall season.
Eckerman said she wants to help the student athletes be the best they can be, both on the court and in the class room.
"Volleyball is not going to last them for long," she said. "You have injuries, you have stress, so I think the biggest thing is getting them to realize they have to put school first."
With a 7-20 overall record and a 4-12 Southland Conference record last year, the program is looking to improve next season, and Eckerman's experience as a top collegiate player, as well as in the professional ranks, will be an asset as assistant coach.
"The biggest thing is to get (the players) to have a champion mind and realize how good they can actually be," she said, "I think they struggle mentally with how great of an athlete and a team they can be, if they mentally knew — and team chemistry wise — what it really takes to be a great team and athlete."
A Waterloo, Iowa native, Eckerman played for University of Texas where she was NCAA National Champion, three-time Big 12 Player of the Year, ESPN National Freshman of the Year, and a four-time All- American. She played five years of professional volleyball with GS Caltex in South Korea, Leonas DePonce and the San Juan Capitalinas in Puerto Rico, Proton in Russia, Azerrail in Azerbaijan and Saugella in Italy.
Eckerman said the team has great potential and she has a plan to get to know each player individually, how they play and their mentality. She sent out a survey to each player to get to know them personally and athletically. Questions included what they want to work on this season, what they feel the team's standards are, what their body language looks like when they are having a bad day and how she can help when that bad day occurs.
"For some kids, they need to be called out, and for some kids, it needs to be a pull aside," she said. "Some need you to be aggressive. (It's) what not going to make them get more inside their own head, but what is going to help them get out of that little funk and keep playing."
Eckerman said she wants her players to take her implementations seriously.
"I want to know what their goals are for the season and hold them accountable for it," she said. "You say you want to do something, but if you are not doing it then how are you helping the team. I plan to hold them accountable and to get them to realize I hold them accountable, because I know that is the best for them. If they want to be the best, they are going to have that kind of standard in their head."
Being a student athlete is a battle between education and wins, but education comes first, Eckerman said.
"You have to have the schooling and the grades first before you can even be in the position of being a student athlete," she said. "Like for scholarships, there are standards you have to meet to be a student athlete."
Eckerman advocates tutors if players struggle academically.
"As student athletes, the jock side thinks that tutors are pointless," she said. "They make you seem like a nerd — that is what society has made it to be. But I told them when I was in college, I used those tutors as much as I could, and they have found that it really does help."
It is important for a team's staff to agree on aspirations and strategy.
"We are basically on the same page with getting them to realize how good of a team they can be," Eckerman said.
Head coach Kuester also played college volleyball, so they both understand what their players go through mentally and physically, Eckerman said.
"It is getting them to realize that when we say things, we are not saying it to waste our breath," she said. "We say it because we have been in those situations."
Eckerman literally brings a world of experience to Lamar, and the Lady Cards can build on that experience to chase a championship.