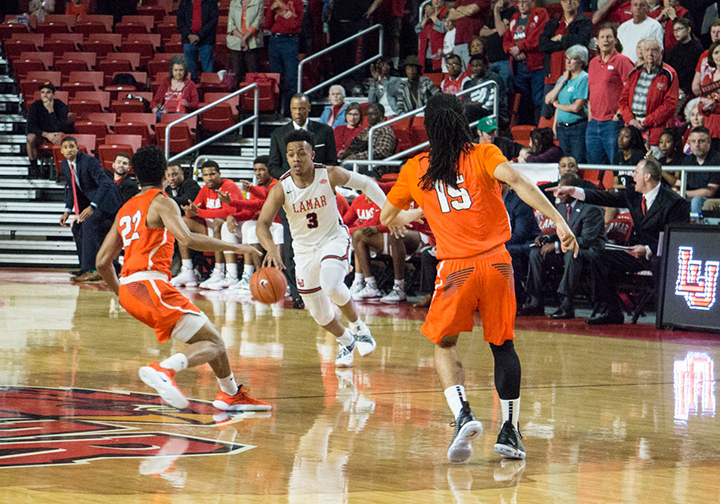 The Lamar Cardinals basketball team defeated No. 1 Southland Conference-seeded Sam Houston State University Bearkats, 75-72, Saturday in the Montagne Center. The win marks the 1000th victory in program history.
"We are very excited to get this win," LU head coach Tic Price said. "We knew it would be a tough game. They wouldn't quit even though we were up at halftime. You don't become 12-0 and quit in games. They got pretty physical in the second half.
"Our players were excited to play in front of former players and coaches and then to play for our 1000th victory was really special for us."
Junior guard, Nick Garth, was a key player scoring 21 points, and made all nine of his free throw attempts. 
The Cardinals shot 20-of-48 (.417) from the field and included five 3-pointers. The Cardinals also improved on their free-throws, shooting 30-of-38 (.789) attempts. 
"We made our free throws again," Price said. "It's been an area we have been working on and I am just glad that it is paying off. "
Freshman guard, Davion Buster, came off the bench and scored 16 points for the Cardinals and was 7-for-13 in field goal attempts.
"We've seen his progression since he first got here," Price said. "It was a transition for him from high school to Division 1 basketball. We always knew he could shoot the basketball but now he is running the team, he is a floor general. He forces teams to guard him because he is an offensive threat. He is a rhythm shooter, he can knock down the threes when we need them."
On the downside, the Cardinals were outrebounded by the Bearkats, 36-60, and 13-5 in second-chance points. The Cardinals made up for it by forcing 17 turnovers converting them for 25 points.
The first half of the game started off slow for both teams as Lamar held the Bearkats to just 26 points. It wasn't until the 8-minute mark that both teams scored over 10 points.
The Cardinals ended the first half with a 15-point edge, 41-26, going into the locker room.
"There was good defense by both teams in the first half," Price said. "Both teams know each other, we scout each other and know each of the opposing players. It was just a matter of being in the right place defensively."
In the second half, the Bearkats gave the Cardinals a fight trimming down their lead to 10, five minutes into the second half.
However, throughout most of the second half the Bearkats would only get as close as two points away from the Cardinals. In the final minute of the game the Bearkats pulled within one when Marcus Harris hit a 3-point sinker. The Cards would respond when Garth made a three of his own.
"That was a big shot," Garth said. "I had to take it for my teammates because we wanted this win bad. I just had my teammates confidence to have me shoot it – I shot it with confidence."
Sam Houston responded to Garth's 3-pointer when Albert Almanza made a three of his own to cut the lead back to one with just three seconds left.  However, the Cardinals made their free throws to secure the victory.
The Cardinals are now 14-12 (7-6 SLC) and return to action, Saturday, as they will travel to take on the University of the Incarnate Word Cardinals. The game will tip off at 7 p.m. in San Antonio.