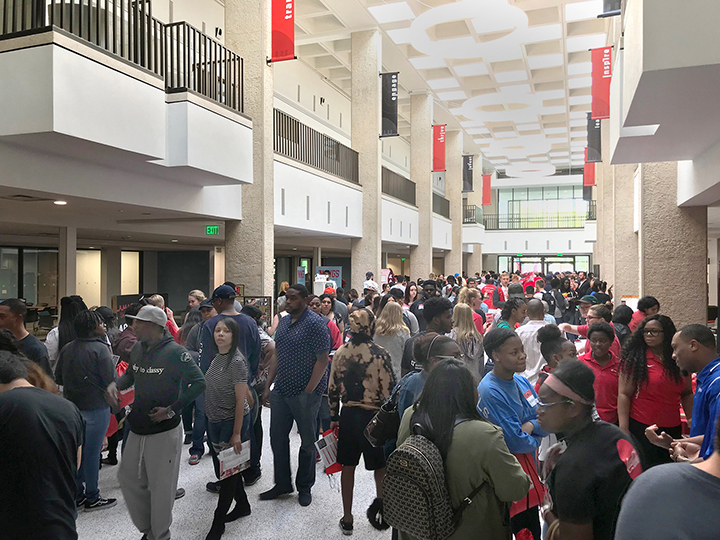 Lamar University's Cardinal View will begin at 8 a.m., Saturday, with check-in at the Sheila Umphrey Recreational Sports Center.
"It's a full day of fun activities for prospective students," Karli Noonkester, Welcome Center coordinator, said. "We start off in the Rec Center where they are welcomed with a T-shirt and a bag full of goodies. Big Red and Lou will also be there."
Noonkester said Cardinal View will have a Mardi Gras theme.
  "We'll have king cakes and coffee for breakfast instead of cinnamon rolls," she said. "Then, they get to talk to admission counselors, and they'll break into academic sessions of their choice."
The academic sessions include Arts and Sciences in the Setzer Student Center Ballroom, Nursing in 240 Mamie McFaddin Ward Building, Fine Arts and Communication in the University Theatre, Engineering in the Sheila Umphrey Recreational Sports Center's McDonald Gym, Education and Human Development in 201 Health and Human Performance Complex, and Business in the Galloway Business Building's Landes Auditorium.
"Each academic session is a little bit different, but most of them have a table for each major that the college offers," Noonkester said.
Participants will have breakout sessions — 'Living at LU,' 'Get Involved at LU,' 'Applying to LU' and 'Financial Assistance' — after the academic sessions, Noonkester said.
"We do a campus tour every 15 minutes, from 10:15 a.m. to 12:15 p.m.," she said.
Noonkester said the student success fair will follow the breakout sessions.
"This is where all of the organizations on campus, and campus resources, line up in the Setzer Center, and have a table with their representatives behind it to tell more about their organizations or campus resources," she said.
There are currently 57 campus resources and organizations signed up for the success fair, she said.
"Come day of, there's always quite a bit more," she said.
The Welcome Center will be offering something new, Taking Care of Business, in the Rec Sports main gym, Noonkester said.
"It's going to be during the breakout sessions, but you can go anytime," she said. "There will be a bunch of computers set up, and they'll help you with FAFSA, Apply Texas and those kinds of things." 
The Welcome Center will also incorporate a new activity, "Nest Numbers," into this semester's event, Noonkester said.
"You find partners with your nest number, and then you enter to win a $500 scholarship," she said. 
Prospective Cardinals will be able to control how they want to spend their day instead of being restricted to a specific schedule, Noonkester said.
"A lot of people, we know, only want to see the residence hall since they have already seen the campus before, so they can knock that out at 8 a.m. in the morning, go to the academic sessions and leave after, if they want to," she said.
Noonkester said that the Welcome Center hosts Cardinal View with the assistance of every college, student employees, recruitment and admissions offices.
"There's a lot of pieces, and, thankfully, we have each college that want to represent themselves in a positive manner, and we know that they're going to do a good job," she said. "We also have recruitment staff at every breakout session to explain what's going to happen for the day, the nest games, and all of that stuff."
Prospective students can sign up for Cardinal View on the day of the event, Noonkester said.
"They get to get everything all in one day, see the college of their choice, the campus, financial aids, and all of those fun things," she said.
Noonkester said she encourages student organizations to get involved because they are representing Lamar.
"The more we love our university, the more they're going to love our university," she said.
For more information, call 880-8316, or visit lamar.edu/admissions.