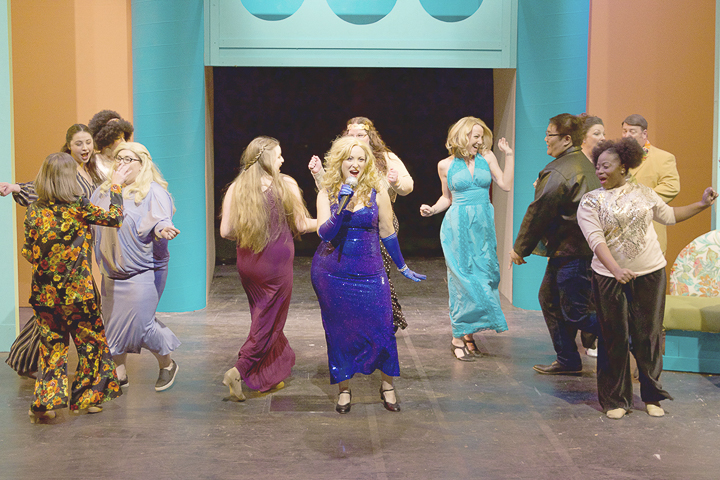 Beaumont Community Players will present the musical, "Disaster," Feb. 22 to March 9 in the Betty Greenberg Center for the Performing Arts.
The musical, written by Seth Rudetsky and Jack Plotnick, directed by Donny Avery will sail the audience away on New York's gambling casino and disco nightclub cruise filled with unforgettable '70s hits and unavoidable natural disasters.
"I'm attracted to a lot of shows that have a lot of silly humor," Avery said. "You have that on top of the music that people know, and I think that's going to be a huge attraction for the show."
Avery said 'Disaster,' the musical is a parody based off of classic disaster films from the 1970s like "The Poseidon Adventure," "Airport," "The Towering Inferno" and "Piranha."
"These big, dramatic, huge disaster films about big earthquakes, tsunamis, tidal waves or infernos," he said. "This sort of combines all of those elements and put it into a musical."
Avery said that the cast is introduced as the boat set sail from New York's pier in the first act.
"We have ten leads, which is great, since everyone gets great little parts and even the ensembles are fantastic because they get to do so much," he said. "In the second act, they first encounter an earthquake, a tidal wave, rats, sharks, fire and all of these things in a hilarious way."
The whole dynamic of the cast throughout the story combined with the music and its humor, sets "Disaster" apart from other musicals, Avery said.
"You get to meet all of these people, and you know their backstories," he said. "I think having that many people on stage at the same time with different story lines flows very well."
Sister Mary Downey (Jessica McGlothin), a nun with a gambling problem relapses back to her old ways on the cruise.
McGlothin said that she can relate to Sister Mary because her character is very judgmental.
"It's kind of funny being that she's a nun, and you're not supposed to be that way," she said. "It's made me realized how I can be judgmental in real life, and it's pointing out that to me and made me rethink about some of my judgmental ways."
Marianne Wilson (Evan Bradford), a reporter for the New York Times waiting to catch a big scoop to kickstart her career.
"She (Wilson) is this really strong and a feminist person, but she also has all of these insecurities that she tries so hard not to let anyone see," Bradford said. "She's trying to live out her ideal while also struggling with feeling like she's not living up to that ideal as well."
Bradford said she loves how funny the production is, and it can put her in the best mood.
"We've heard these jokes so many times at this point, and yet, still, every rehearsal we're on the floor laughing," she said.
The songs help move the plot forward, Bradford said.
"There are several times that you only get a snippet of a song because it's relevant to what's happening, but you don't need the whole song to get the point across really quickly," she said. "That helps the pacing of the show with comedy and everything, it's all about timing, and you need it to move quickly.
"When you're in a disaster, you don't have time to sit around and wonder what to do and so having those short, little snippets of songs mixed in with the full songs really helps move it along."
Avery said that there are songs like 'I Will Survive,' 'Knock On Wood,' 'I Am Woman,'  'Don't Cry Out Loud' and 'Hot Stuff' that are cleverly woven into the show. 
"There's a scene where the chef of the ship is talking to the owner about how the chef can't make hot food because the gas burners weren't working, so the owner is telling the chef that they can't just serve cold food, and that they need 'hot stuff.'"
Avery said that he had to be creative with certain aspects of the production.
"The script is fun because you can sort of interpret things how you'd like, and you don't have to do everything exactly how it says," he said. "There are certain scenes where it's like, 'oh, this is supposed to happened' and 'this is how they did it on Broadway,' but we don't have those capabilities here in Beaumont, so we have to improvise and come up with creative solutions to present that the same way, but in our own way."
One thing Avery wants his audience to take away from this production is laughter, he said.
"We live in a weird time right now and when people come to places, like the theater, they are looking for an escape from whatever day they're having," he said. "They're going to come in here for a couple of hours, and they'll just laugh."
You want theater to open up people's minds and their hearts for them to enjoy themselves."
Show times are 7:30 p.m., tomorrow and Saturday, March 1, 7, 8 and 9 with a 2 p.m. matinee March 2.
Tickets are $23 for adults, $21 for seniors and students, and $12 for children.
BCP is located at 4155 Laurel in Beaumont. 
For more information, visit www.Beaumontcommunity players.com, or call 833-4664.